A DIY attitude can take you far in life.
Not only can it save you money over paying someone else to do the dirty work for you, but you'll get a feeling of accomplishment from conquering life's problems on your own. In addition, you can create custom solutions that perfectly suit your needs.
There are certain things you might not want to tackle twice.
I only needed to replace the wax seal in my toilet once to know I'd rather leave this job to the pros. Ditto on flushing the water heater and snaking the drains.
Okay, pretty much anything plumbing related, I'm out. Can I do it? Sure. Will I?  Not if I can possibly avoid it.
Then there are things that you learn to do on your own and it's like a cartoon lightbulb has gone off over your head.
Once you've installed a backsplash, dyed your own hair, or made a loaf of freshly baked bread, you might feel so accomplished and impressed with the results that you'll never go back to the old way of doing things.
This is how you're likely to feel the first time you successfully complete a custom corset.
If you're into corsetry and you wear these garments daily for waist training purposes, you know the cost of a truly custom design, as well as the discomfort of wearing an off-the-rack model that doesn't fit your body like bespoke.
So why not try your hand and making your own? There is a learning curve and it will likely demand a bit of trial and error, but the end result could be a closet full of custom corsets at far less cost.
If you have the time, here are a few tips to get you started on the path to making custom corsets.
Choosing Materials and Hardware
It's tempting to go wild with textiles and embellishments when you're creating your first few custom corsets, but it's probably best to keep it simple and take a page from those who have been at it for a while. You'll want to start by choosing materials that are robust enough for your intended purposes.
Silk and lace sure are pretty, but these delicate fabrics aren't necessarily designed to hold up to the demands you'll place on a corset. Consider the durable, heavy-weight textiles you normally find when searching for ready-to-wear corsets, from cotton coutil and canvas, to satin and brocade, to leather and PVC.
If you're not quite sure where to start or what weight of fabric to choose, a good option is to peruse the upholstery fabrics at your local textile supplier. This should give you a decent benchmark for fabric weight. Also see: Best Fabric for Corsets: Pairing Material with Purpose
You might also want to look for bias tape, which makes it easy to create finished edges for your garment, as well as waist tape (a non-stretch fabric tape like twill tape, for example) to reinforce the area of the garment under the most stress (i.e. the waist). This isn't a necessity, but when you're first starting out and likely to make some mistakes, it could help to preserve your garment. Don't forget strong and durable polyester thread to hold your garment together.
As for hardware, you'll want steel boning (sprung or spiral) to add needed rigidity to your garment, as well as grommets for the back lacing and busks for closure in the front.
You may want to utilize bone casing, or cotton tubing, to make it easier to keep boning in place, as well as add extra strength in this high-stress area of your garment.
Using the Right Tools
Like any foray into clothing manufacturing, you'll need sewing materials to get the job done, whether you sew by hand or you prefer to use a machine. However, to make corsets, you're also going to need a few specialized tools.
The first thing you'll want to procure is an awl. You may already have one in your garage toolkit, as this handy item is good for all sorts of uses. What makes it ideal for corset making is the fact that the pointed end can be used to pierce textiles and create a hole without tearing the fabric.
Why is this important?  You're going to place a lot of stress on this support garment as you tighten the laces to cinch in your waist. When you damage threads in the weave of your fabric, you create weak spots that can tear under stress. Using an awl to part the threads when creating holes for grommets, busks, and so on will reduce the potential for tears later on.
You'll also need a special tool for installing grommets.  You could use a handheld crimper of some sort, but you're better off splurging on a press that does the hard work for you, especially if you're planning to make more than one corset. Also see: Corset Repair 101: How to Repair/Mend a Damaged Corset
Creating Patterns and Taking Measurements
Once you have your textiles and tools ready, it's time to get to work.
However, you can't just dive in and start cutting fabric.  You need a template, and the good news is you can find all kinds of patterns online, some for free and some for purchase.
The main advantage of buying patterns is that they come full size.  With free downloads, you're going to have to scale them up and you might find that they are incomplete or they lack needed instructions.
You'll have to take precise measurements of your own body, as well, and there are tutorials to help you here. When this is done, you can customize your favorite patterns for your precise measurements, ensuring perfectly-fitted corsets for your dimensions every time.
---
Stay up-to-date with weekly blog posts, waist training tips, and the chance to win one of our monthly corset giveaways, like us on Facebook & subscribe to our mailing list today! Want to find the perfect steel boned corset? Shop some of our favorites: underbust corsets, overbust corsets, corset dresses. You can also shop our corsets by material: cotton corsets, denim corsets, leather corsets, mesh corsets, pvc corsets, and satin corsets.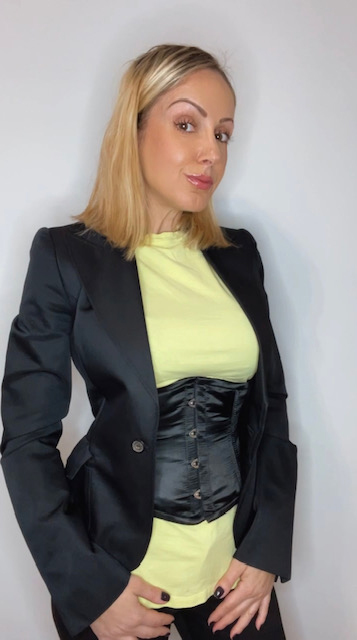 My name is Rachel, I am the owner of Glamorous Corset, a small business founded by me in 2010. Back In 2005, I was in a car accident that left me with a herniated disk. Much to my surprise I learned steel boned corsets were beneficial to several medical injuries including mine. I was always intrigued with corsetry, their history and their beautiful aesthetic. I love sharing knowledge about corsets, educating my wonderful readers and breaking the negative stigma related to corsetry. In combination with my years of research and personal experience I hope my articles are useful and can help anyone who has struggled with some of the same things I have. More about me…