While there's a lot to be said for winging your way to distant shores, there's no denying the absolute nightmare of modern travel.
Sure, we can get from coast to coast a lot faster than traveling by wagon train (about 5 months faster, to be precise) and overseas more expediently than hopping aboard an ocean liner (which would take about a week), but the stresses of getting through TSA checkpoints and squeezing into ever-tightening seats can certainly take its toll.
Then there's the constant conundrum of packing.
With prices going up for checked bags and even carry-ons, you're trying to pack as light as possible, and this often means squishing wrinkle-free, convertible clothing options into a tiny duffel, along with toiletries and other travel necessities.
Where do your corsets fit in?
There are few practical aspects of traveling with corsets you'll need to observe in order to make your life easier and avoid damage or loss of these precious garments.  Here's what you need to know about traveling with corsets.
Saving Space
At home, you've probably found plenty of ideal storage solutions for your corsets, from laying them flat in drawers to draping them over hangers by the lacing.
The right storage can help to extend the usable life of these pricy garment.  Obviously, these methods won't work great for travel.
Sure, you could use a garment bag to keep your corsets flat, but this bulky piece of luggage will almost certainly have to be checked, and this is always best avoided if at all possible.
The best way to save space when packing your corsets is to roll them up and place them in corset bags if you have them, or pillowcases in a pinch.
Whether you're packing just a couple of your favorite corsets or trying to squeeze in several for an extended trip, this is the best way to minimize bulk while protecting rigid components against bending or other potential damage.
Weight Considerations
When wearing a corset, you might not notice the weight of the garment.
However, when you pack several into your weekender duffel, you're sure to start feeling the heft of all those busks and steel boning, not to mention heavy-weight textiles.
The weight of your corsets can quickly add up to a fairly heavy load.
Naturally, this is an important factor for any bags that might be weighed, since you'll be charged for exceeding weight limits.
More to the point, you're going to have to haul a bag full of heavy corsets, and this can lead to sore shoulders and an aching back, especially if you place all of your corsets in your carry-on bag and you have to tote it through airports all day.
The best way to pack your corsets for travel is probably to use a rolling bag.  This will help to reduce the burden on your body, and many rolling bags feature a sturdy framework that will provide added protection for your garments.
Preventing Losses
You might not be terribly distraught about losing a bunch of $5 tees, but when a suitcase full of corsets goes missing, you're going to feel the sting of the financial loss.
Even a handful of corsets could add up to thousands of dollars in merchandise, so you probably don't want to let them out of your site.
This is why it's always best to put corsets in your carry-on, rather than checking them.
Airlines often have monetary limits for coverage of lost or stolen luggage, and a few corsets may exceed the maximum payout amount.  Don't risk it.  Roll your corsets and stow them in your rolling carry-on to ensure the best possible travel experience all around.
---
Stay up-to-date with weekly blog posts, waist training tips, and the chance to win one of our monthly corset giveaways, like us on Facebook & subscribe to our mailing list today! Want to find the perfect steel boned corset? Shop some of our favorites: underbust corsets, overbust corsets, corset dresses. You can also shop our corsets by material: cotton corsets, denim corsets, leather corsets, mesh corsets, pvc corsets, and satin corsets.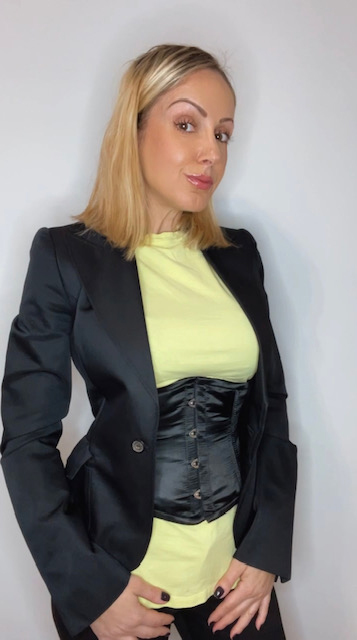 My name is Rachel, I am the owner of Glamorous Corset, a small business founded by me in 2010. Back In 2005, I was in a car accident that left me with a herniated disk. Much to my surprise I learned steel boned corsets were beneficial to several medical injuries including mine. I was always intrigued with corsetry, their history and their beautiful aesthetic. I love sharing knowledge about corsets, educating my wonderful readers and breaking the negative stigma related to corsetry. In combination with my years of research and personal experience I hope my articles are useful and can help anyone who has struggled with some of the same things I have. More about me…