When it comes to apparel, it's imperative to find the right fabric. Textiles not only need to be attractive and suitable for certain occasions, but they must also provide for the utilitarian demands of the garment in question.
Most women wouldn't be keen to don underwear made of vinyl (the chafing, the sweating…need I say more?) but this plastic textile is ideal for rain slickers. Neither would you want an itchy, woolen bikini, but there's nothing better than a wool sweater and socks when temperatures dip below zero.
The point is that certain textiles are better for certain purposes. When it comes to corsets, this means finding fabrics that not only make for attractive undergarments, but that also provide the support and durability required for daily shapewear and/or waist training purposes. What is the best fabric for corsets? Here are a few textiles to consider.
Cotton
In the early days of corsetry, linen was the name of the game because it was lightweight, breathable, durable, and most importantly, affordable. These days, linen has become pricier and less readily available, which is why you'll probably want to buck tradition and go with a modern, cotton corset to gain the same benefits.
Cotton canvas is stiff, robust, and cheap, making it ideal for garments that you want to get a lot of use out of, such as a corset. It isn't the most attractive of corseting fabrics, but it will make for a practical addition to your waist training regimen.
Satin
Let's be clear about one thing where satin is concerned – you do not want to opt for the cheap, thin satin that's popular in costume corsetry. How will you know when you've found appropriate satin? The cost. If you're looking at a satin corset in the $30-50 range, it's probably not going to stand up well to wear and tear.
The great thing about paying a bit more for this textile is that you gain versatility. This lovely fabric means you can fashionably wear your satin corset on the outside of clothing as a stunning accessory to a wide variety of outfits.
Brocade
If you want the elegant appearance of an old-school tapestry, this thick, woven textile can make for a truly eye-catching addition to your wardrobe. A brocade corset is one that you'll definitely want to show off.
Mesh
This relatively new addition to the corset family is both practical and stylish. When worn under clothing, mesh corsets are exquisitely lightweight and breathable, making them ideal for use during warm, summer months. Mesh also lacks the bulk of more robust textiles (even though it is just as strong), which means it can even be worn under lightweight tees and dresses. In addition, mesh corsets are extremely chic when worn over other garments as they allow the colors and patterns beneath to peek through.
Leather
There's no denying that leather corsets can get a bit hot, which is why you'll want to reserve them for the colder months and make sure they're lined with cotton or another breathable fabric if you plan on direct skin contact. That said, there are few corset materials sturdier, more supportive, or longer-lasting than cowhide or lambskin, especially with proper care. You can find both stiff and supple options, and while they can be bulky under clothing, they look fantastic over tees, dresses, and button-down blouses.
---
Stay up-to-date with weekly blog posts, waist training tips, and the chance to win one of our monthly corset giveaways, like us on Facebook & subscribe to our mailing list today!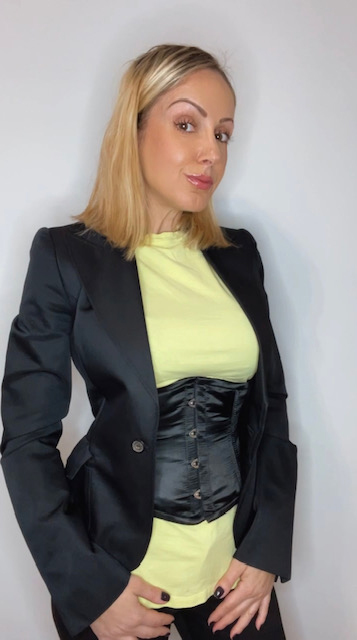 My name is Rachel, I am the owner of Glamorous Corset, a small business founded by me in 2010. Back In 2005, I was in a car accident that left me with a herniated disk. Much to my surprise I learned steel boned corsets were beneficial to several medical injuries including mine. I was always intrigued with corsetry, their history and their beautiful aesthetic. I love sharing knowledge about corsets, educating my wonderful readers and breaking the negative stigma related to corsetry. In combination with my years of research and personal experience I hope my articles are useful and can help anyone who has struggled with some of the same things I have. More about me…