Whether you prefer to say you're buxom, busty, or naturally buoyant, the truth is that some of us are simply better endowed in the chest than others. You may consider it a blessing or a curse, depending on how much attention you like, or if you're an active and athletic sort. However, when you start to search for a corset that fits your lovely ladies, you're bound to run into some trouble.
There's just no denying that plus sizes (in this case, a D cup or larger) are undervalued when it comes to the fashion world. Not only can it be difficult to find garments like Oxfords and blazers that fit larger cup sizes, but even support garments like bras and corsets can seem in short supply when your generous golden globes eclipse your moon.
Okay, I'm done with the puns! If you're looking for a corset that can accommodate larger bust sizes, you aren't entirely without options, even though they might be a bit harder to come by. Here are just a few suitable options for those seeking corsets for big busts.
Underbust Corsets
If you're struggling to find the corset that can contain your larger cups, you might want to consider that you needn't necessarily cover the ladies. There are plenty of underbust options designed to slim your waist without corralling your chest. If your main goal is waist training, pair a waspie, a longline, or any other underbust corset with your favorite brassieres for the comfortable, functional, and versatile support you need to get through the day.
Choosing this option also means you can easily wear your corset over clothing as a fashionable accessory. Underbust corsets can act as a belt or an accent for dresses, blouses, and even office attire, depending on the ensemble, whereas overbust corsets tend to look more like traditional undergarments.
Custom Corsets
One of the potential benefits of corsetry is that you can get your waist training and bust support all in one garment. If this is your goal, then pairing an underbust corset with a bra isn't going to cut it. Unfortunately, it's not all that easy to find overbust corsets designed for the D-plus crowd. What's the solution? Custom corsetry.
In some cases, you may be able to order custom sizing in standard corsets if you pay extra or allow for additional time for construction of the garment. However, this is not offered by most off-the-rack corset companies.
Instead you'll want to look for manufacturers that offer custom corsetry. Often, this comes at additional cost, but the upside is that you'll get a garment that fits you perfectly, from top to tail, so to speak. In addition, a custom corset could last for years with proper care, ensuring you get your money's worth.
It's not always easy for large-busted lasses to find the corseting options that accommodate their ample accoutrements. Whether you're ready to start waist training or you're simply seeking fashionable support garments, however, you can find underbust corsets and custom options to suit your particular size, shape, and style.
---
Stay up-to-date with weekly blog posts, waist training tips, and the chance to win one of our monthly corset giveaways, like us on Facebook & subscribe to our mailing list today!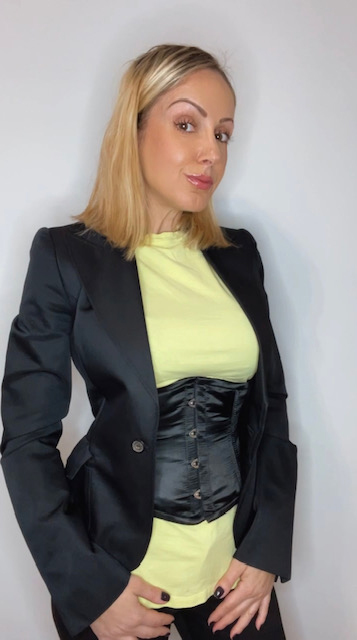 My name is Rachel, I am the owner of Glamorous Corset, a small business founded by me in 2010. Back In 2005, I was in a car accident that left me with a herniated disk. Much to my surprise I learned steel boned corsets were beneficial to several medical injuries including mine. I was always intrigued with corsetry, their history and their beautiful aesthetic. I love sharing knowledge about corsets, educating my wonderful readers and breaking the negative stigma related to corsetry. In combination with my years of research and personal experience I hope my articles are useful and can help anyone who has struggled with some of the same things I have. More about me…