What stops women from wearing men's suits, or men from donning dresses? This is largely a matter of societal norms that define the scope of masculine and feminine roles, but there's no practical reason why men can't wear skirts or women can't wear pants. In fact, we've seen seismic shifts in acceptable forms of dress for males and females over centuries of recorded human history, not to mention the differences between cultures and communities.
What about undergarments, though? These seem to be both functionally and aesthetically designed for one sex or the other. Women, for example, don't necessarily need an opening or a pouch in their underwear, while very few men would benefit in a practical way from wearing a brassiere.
Corsetry, however, is a little different.  While corsets have long been considered a feminine garment, the truth is that they offer a variety of benefits for both women and men.  Do waist trainers work for men?  Why would men want to wear a corset?  Here's the skinny on cinching up for cis males, drag queens, transitioning men, transgender women, and more.
Corseting for Posture
There's a common misconception that men only wear corsets if they want to look like women, but this simply isn't so. While corseting can certainly help to carve out a more feminine figure, some men also wear corsets for purely practical purposes, like improving posture and alleviating back pain, just for example.
Many women, whether they're waist training or not, appreciate the support offered by corsets. Depending on the model, they can not only nip in the waist, tame a tummy pooch, and lift the breasts, but also create a straighter spine and a stronger core.
Even men who aren't interested in a feminine physique can find corsets that offer posture correction, and in turn, minimize one of the most common contributing factors to back pain. While it's not very easy for men to find corsets designed specifically for their shape, there are female styles that tend to work well for the male form, insomuch as they feature less curvature (smaller spring). See: Our corsets that work well for men.
In addition, men sometimes employ the simple trick of flipping a female corset upside down to better suit a form that's wider at the chest and narrower at the hip. For men interested in improving posture, reducing back pain, and often, looking better in their clothes, corsets offer an ideal solution to myriad concerns.
Waist Training Corsets for Body Modification
Whether you're in the process of transitioning, you're already a transgender woman, or you're gender fluid and you like to explore different options through dress, you'll find that waist training corsets can help you achieve the feminine form you prefer. The power of a corset to effect body transformation, for men and women alike, cannot be overstated.
In some cases, corsets can be comfortably cinched to create immediate adjustments to the figure. However, transitioning men and transgender women seeking semi-permanent waist slimming results may also be interested in the prospect of long-term waist training, whereby incremental tightening delivers slimming of up to several inches over time. With corseting, there are options for both instant gratification and more significant, long-term results.
Cross-Dressing
So, we've talked about men interested in the maintaining a masculine form while enjoying the benefits of corsetry, as well as those looking to achieve a more feminine figure in the long term. Somewhere in between lies the wide world of cross-dressing.
Some men enjoy wearing women's clothing in the privacy of their own home. Others like to perform in drag. If costuming and cross-dressing are your comfort level with corsets, you may not be interested in the semi-permanent waist slimming results of waist training, but you can still use corsetry to effect a noticeable change whenever and wherever you don women's clothing.
---
Stay up-to-date with weekly blog posts, waist training tips, and the chance to win one of our monthly corset giveaways, like us on Facebook & subscribe to our mailing list today! Want to find the perfect steel boned corset? Shop some of our favorites: underbust corsets, overbust corsets, corset dresses. You can also shop our corsets by material: cotton corsets, denim corsets, leather corsets, mesh corsets, pvc corsets, and satin corsets.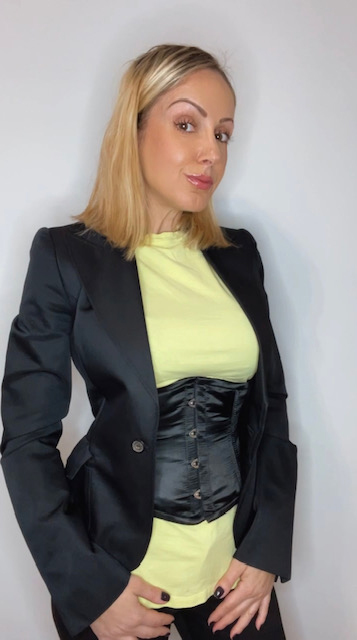 My name is Rachel, I am the owner of Glamorous Corset, a small business founded by me in 2010. Back In 2005, I was in a car accident that left me with a herniated disk. Much to my surprise I learned steel boned corsets were beneficial to several medical injuries including mine. I was always intrigued with corsetry, their history and their beautiful aesthetic. I love sharing knowledge about corsets, educating my wonderful readers and breaking the negative stigma related to corsetry. In combination with my years of research and personal experience I hope my articles are useful and can help anyone who has struggled with some of the same things I have. More about me…