Corsetry is about more than just body shaping. It's about becoming the person you want to be, inside and out. It's about looking good, feeling good, and having the confidence that comes from exhibiting your own unique style and personality through garments. It's about looking in the mirror every day and feeling fierce and fabulous.
It's true that ladies of every shape, size, and age can benefit from adding corsetry to their wardrobe, whether they just want daily support and shaping or they're seeking the long-term transformation of waist training. What about men? What about trans women?
Good news, girls! Corsetry is an inclusive industry and transformation is the name of the game, so for those who are transitioning (or have already done so), those who are gender fluid, those who simply like to work it in a ball gown and heels on a Saturday night, and everyone in between, crossdresser corsets can be an integral part of the complete transformation. How can you find the corset that has you shouting, "Yasss, queen!"? Here are a few ways for all levels of MTF individuals to incorporate corsetry into the mix.
Women's Corsets for Men
Cis-females are not the only ones trying to corral their curves into a classically feminine figure, and while many corsets are made specifically for the female body, there's nothing to stop MTF crossdressers and trans individuals from working them into their daily wardrobe.
The only issue you might encounter is finding a model that works perfectly with your body type. Believe it or not, those of us born to womanhood experience the very same issues. Between apples, pears, and bananas, the female form has got the whole fruit basket covered, and what works for one female figure might not be right for another.
As a result, there are a wide variety of corsets to choose from, including underbust and overbust options, those that extend over the hips while others merely skim the top, those designed for slim versus plus-size silhouettes, and so on. There are even models designed to add curves to more athletic figures. In other words, there are female corsets for every body. Man, woman, or transitioning, you need to try on a variety of corsets to find the one that feels best for you, and keep in mind that other shaping garments (like padded bras/underwear) can work in concert with corsets to help you realize your preferred shape.
Men's Corsets
Women aren't alone in wanting to tame their tummies, slim their waistlines, and create a more ideal body shape. Many men have the same notion and there are corsets designed specifically for their needs and their body types. Unfortunately, many corsets designed for use by men tend toward the idealized masculine shape. While this narrows the waist and accentuates the pectoral muscles, rarely are any considerations made for the addition of hips, which is an important third of the hourglass equation.
Custom Corsets
If all else fails, custom corsets are always an option. They are pricier than ready-to-wear options, but the upside is that you can get the perfect fit for your body and your style preferences, and there are a number of corsetieres catering to the MTF market.
---
Do you have additional questions about crossdresser corsets? Contact us – we'd love to help! If you'd like to stay up-to-date with weekly blog posts, waist training tips, and the chance to win one of our monthly corset giveaways, like us on Facebook & subscribe to our mailing list today!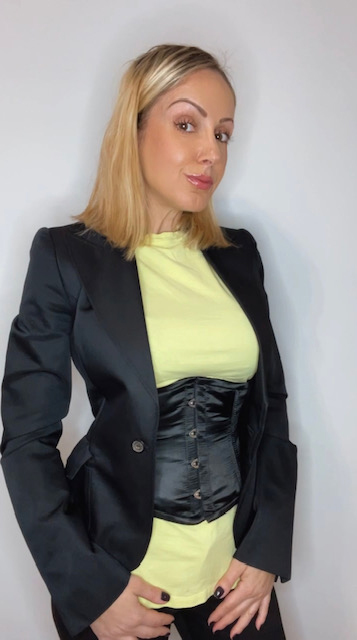 My name is Rachel, I am the owner of Glamorous Corset, a small business founded by me in 2010. Back In 2005, I was in a car accident that left me with a herniated disk. Much to my surprise I learned steel boned corsets were beneficial to several medical injuries including mine. I was always intrigued with corsetry, their history and their beautiful aesthetic. I love sharing knowledge about corsets, educating my wonderful readers and breaking the negative stigma related to corsetry. In combination with my years of research and personal experience I hope my articles are useful and can help anyone who has struggled with some of the same things I have. More about me…