So, you want to wear a corset, but you're afraid of what your friends might think. You know this support garment can add unsightly bulk under modern fabrics and bodycon clothing, so how are you supposed to start your waist training regimen without getting side-eye from friends and coworkers?
It's nobody's business but your own if you decide to wear a corset under clothing, but you know how judgy ladies can be, whether you ask their opinion or not.  If you'd rather just avoid conversations about your choice of undergarments, your best bet is to stealth.  What is stealth corseting and how can you achieve a seamless appearance?  Here's what you need to know about going stealth in your corset.
Starting with Stealth Corseting
The corsets you choose play an important role in keeping these undergarments hidden during wear, and you'll want to start by selecting an underbust corset.  The tightest part of any top is likely to be the bust area, which means this is one place you're sure to have trouble hiding your corset.  With an underbust model, the bulk is most easily hidden, except under the sheerest or tightest tops.
Next, you need to choose features that lend themselves to stealth, such as satiny fabrics that your tees and blouses won't cling to.  Mesh is another great option that offers strong, but lightweight construction that is incredibly breathable.
Hidden boning is a desirable feature if stealthing is your game. Instead of placing boning channels on the outside of the garment, they're situated internally. Better yet, look for sandwiched boning channels for interior comfort and exterior stealth.
Finally, consider corsets in colors close to your natural skin tone. Just as you choose ivory, nude, or mocha bra colors so you can wear white or lightweight shirts, this option makes your corsets nearly invisible under clothing.
As a side note, you may be nervous about the busks in front and the laces in back. Luckily, laces are easily minimized by choosing flat, lightweight ribbon and tucking the ends. You can also wear a vest or blazer for added stealth.
As for busks, you can certainly look for corsets with flat fronts, but you're probably better off just choosing a button-down shirt, so the placard aligns with the busks, or simply selecting a top that's a little looser under the bust, like an empire or A-line design.
Camouflage Corsets with Clothing
No, we're not suggesting that you turn to desert, urban, or jungle camo prints, although these can be cute on occasion, and in moderation. Camo totes in neon colors? Always a fun summer accessory. All-camo wardrobe? Not so much.
Moving on, let's talk a bit about how to make your clothing camouflage the fact that you're wearing a corset. Heavier textiles provide the easiest solution, so instead of choosing a flimsy chiffon blouse, consider a stiff cotton Oxford. Clingy fabrics are also problematic when hiding a corset, so maybe steer clear of bodycon, jersey knit tees or dresses.
As mentioned above, adding a layer, such as a vest or blazer can help to hide one of the bulkier parts of your corset – the laces. But what if it's summer and you're not keen to wear heavy fabrics or layer your outfits?
Believe it or not, your best bet may be not to hide your corset at all. Stealthing is meant to conceal the fact that you're waist training on a daily basis, but beautiful, modern corsetry can serve as a viable part of your visible wardrobe, when you wear it right.
Use a waspie as a wide belt over a tunic top, a shirtdress, a cardigan, or a skirt that sits at your natural waist.  Alternately, choose an overbust model with straps to wear as a fitted vest with a tee, blouse, or button-down.  Add a blazer, and you've got the beginnings of a classic, polished, pulled-together style.
Other Helpful Resources
---
Stay up-to-date with weekly blog posts, waist training tips, and the chance to win one of our monthly corset giveaways, like us on Facebook & subscribe to our mailing list today! Want to find the perfect steel boned corset? Shop some of our favorites: underbust corsets, overbust corsets, corset dresses. You can also shop our corsets by material: cotton corsets, denim corsets, leather corsets, mesh corsets, pvc corsets, and satin corsets.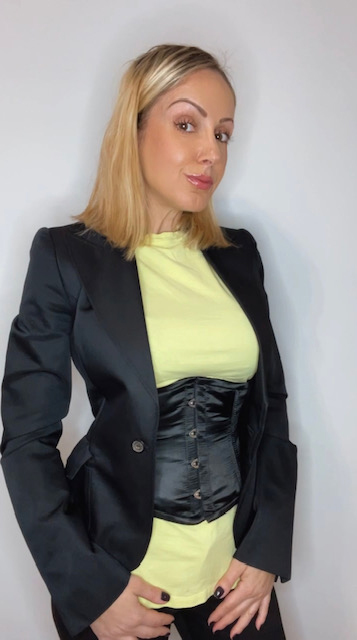 My name is Rachel, I am the owner of Glamorous Corset, a small business founded by me in 2010. Back In 2005, I was in a car accident that left me with a herniated disk. Much to my surprise I learned steel boned corsets were beneficial to several medical injuries including mine. I was always intrigued with corsetry, their history and their beautiful aesthetic. I love sharing knowledge about corsets, educating my wonderful readers and breaking the negative stigma related to corsetry. In combination with my years of research and personal experience I hope my articles are useful and can help anyone who has struggled with some of the same things I have. More about me…