Women can do a lot while wearing a corset, as evidenced by generations of women carrying on completely normal lives while sporting these compression garments.  While you might not want to undertake heavy labor while strapped into a corset, you can certainly don this undergarment during the average work day without worry that it will affect your performance.
Of course, you don't necessarily want to advertise the fact that you're wearing a corset to work.  This can be difficult with a modern wardrobe.  Waist training corsets are designed for strength and durability, and while this worked fine under bulky, Victorian-era clothing, it's not so great when you're wearing a modern top in lightweight rayon, jersey, or chiffon.
That said, there are endless ways to stealth your corset so you can comfortably wear it at work.  Here are a few tips to get you started.
Style Matters
Corsets are going to add a bit of bulk, no matter what, but you can keep it to a minimum by choosing the right styles and features.  For example, and underbust corset is going to add less bulk than an overbust model, only covering an area where a loose top will pull away from the body, aiding your ability to camouflage.
You'll also want to consider the textiles and hardware you choose.  Leather, for example, is going to be stiffer and bulkier than, say, satin or even cotton.  If you're going for stealth, mesh is a great option as it lays so flat and fits close to the body.  You should also avoid embellishments like buckles and bows that are sure to create weird lumps under clothing.
Lace Tucking 101
Even if you can find a corset that's low-profile around the torso, you'll still have to contend with the laces in the back, and the leftover length can look pretty darn weird running down your back.  Choosing satin laces over bulkier nylon can help, but you'll still want to tuck the ends away to flatten and hide them.
If you've been waist training a while and you're pretty comfortable with the process, you can start by trimming down excess length.  From there, skip the double knot on your bow to minimize bulk, pull extra length taut, and tuck up the ends under the bottom hem of your corset.  If you're fairly dexterous, you can also weave the ends through crossed laces, but this can be unnecessarily time consuming. (Also see: What to Do With Extra Laces in the Back of Your Corset)
Choosing Your Garments
You can only go so far with stealthing your corset, and then you'll need to choose a wardrobe that aids your efforts.  Thicker materials are one option, or you could choose A-line or empire waist tops that float away from the abdomen.  Another way to hide the bulkiest parts of your corset is with a blazer over your top, and it's a great finishing piece for any outfit, as well.
Stealthing in Plain Sight
One last way to stealth your corset for work is by hiding it in plain sight, or wearing it on the outside of your clothing.  A waspie corset can easily stand in for a belt when wearing a shirt dress, or you can pair an overbust corset with straps with your favorite Oxford button down to make it look like a vest, especially when you add a blazer to hide laces in back.  Office appropriate attire?  Check.
---
Stay up-to-date with weekly blog posts, waist training tips, and the chance to win one of our monthly corset giveaways, like us on Facebook & subscribe to our mailing list today! Want to find the perfect steel boned corset? Shop some of our favorites: underbust corsets, overbust corsets, corset dresses. You can also shop our corsets by material: cotton corsets, denim corsets, leather corsets, mesh corsets, pvc corsets, and satin corsets.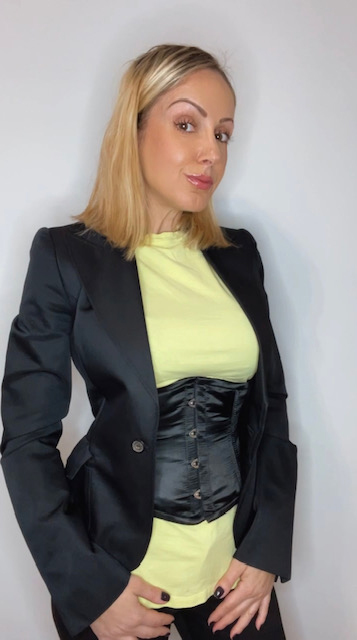 My name is Rachel, I am the owner of Glamorous Corset, a small business founded by me in 2010. Back In 2005, I was in a car accident that left me with a herniated disk. Much to my surprise I learned steel boned corsets were beneficial to several medical injuries including mine. I was always intrigued with corsetry, their history and their beautiful aesthetic. I love sharing knowledge about corsets, educating my wonderful readers and breaking the negative stigma related to corsetry. In combination with my years of research and personal experience I hope my articles are useful and can help anyone who has struggled with some of the same things I have. More about me…