Glamorous Corset doesn't make corsets specifically for men, but we several styles that work very well for men. Men have been wearing corsets a lot longer than you might imagine, so we've mad a collection of our non-curvy corsets perfect for male waist training.
Do Men Wear Corsets?
While many people think of corsets as a feminine garment, there is nothing gendered about them. Today, males (and transgender) also take advantage of the many benefits that corsets have to offer. Men commonly wear corsets to:
Help with posture
Costuming & cross-dressing
Look & style
Among our many customers, we also have individuals who were ascribed men at birth and are now transitioning to female. Like other women, they desire the much-sought after hourglass shape, which can only be achieved by waist-training.
Our Corsets That Work For Men
Dita Underbust Corset
Our Dita underbust corset is a staple for both men and women. This corset's 3 layer construction provides extra durability and support and can be worn upside down (popular for men). This corset comes in a variety of colors and materials, including:
Kelly Underbust Corset
Kelly is Ideal for a long torso. This double boned corset will provide extra durability and support and is available in:
Bella Underbust Corset
Bella is a classic short 8" underbust corset which will cinch the waist to the maximum and will make any outfit stand out. Bella is available in:
Emma Underbust Corset
Emma is a beautiful double steel boned 10" underbust corset featuring a straight top and bottom edge which will compliment most body types. The Emma underbust corset is available in:
Related Articles
Here are some similar articles that may be of interest:
---
Stay up-to-date with weekly blog posts, waist training tips, and the chance to win one of our monthly corset giveaways, like us on Facebook & subscribe to our mailing list today! Want to find the perfect steel boned corset? Shop some of our favorites: underbust corsets, overbust corsets, corset dresses. You can also shop our corsets by material: cotton corsets, denim corsets, leather corsets, mesh corsets, pvc corsets, and satin corsets.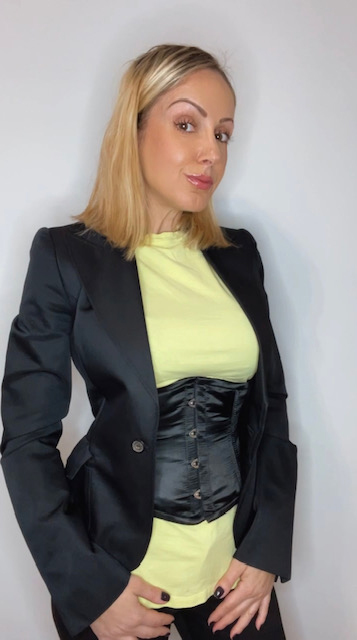 My name is Rachel, I am the owner of Glamorous Corset, a small business founded by me in 2010. Back In 2005, I was in a car accident that left me with a herniated disk. Much to my surprise I learned steel boned corsets were beneficial to several medical injuries including mine. I was always intrigued with corsetry, their history and their beautiful aesthetic. I love sharing knowledge about corsets, educating my wonderful readers and breaking the negative stigma related to corsetry. In combination with my years of research and personal experience I hope my articles are useful and can help anyone who has struggled with some of the same things I have. More about me…