When asked in an interview what she wore to bed, Marilyn Monroe famously quipped that she only wore Chanel No. 5.  While this would be entirely appropriate for your wedding night, you're going to have to wear a little – okay, a lot – more on your wedding day, including a gown and everything that goes underneath.
Unfortunately, there is a lot of pressure on brides to look perfect on their wedding day.  After all the planning, dieting, and exercise you do to prepare for this special day, you naturally want to look stunning in the photos that will grace your walls for the rest of your life.
How can you ensure that you look your best?  It starts with foundations.  In other words, you need to know what to wear under a wedding dress, and more importantly, how to wear it to the best effect.  The support garments you choose will depend on a couple of factors, including the style of your dress and the areas you want to camouflage.
The Shape of your Drape
Slips and corsets and crinoline, oh my!  What will you wear under your dress?  It depends on the design.  In most cases, you're going to want some kind of corset to support your breasts and contour your torso.
Many brides opt for overbust models that provide the greatest compression and support, giving them a sleek silhouette and preventing slouching throughout the event, but you can go with an underbust model if your dress has built-in cups or it's a strapless model that keeps your ladies locked and loaded, so to speak.
If you want to go braless, either choose an overbust model or make sure your dress has appropriate padding and support.  What if you have a low-back gown?  This is just about the only situation in which a corset is not suitable, but you can still get some measure of support with a low-backed bustier. Check out our collection of bridal corsets for some ideas.
Once you've got the top covered, it's time to think about what to wear under your skirt, and there are a variety of slips to consider, including those designed specifically to add volume to mermaid, A-line, and ball gown style skirts.  The right slip will help to maximize the shape of your skirt, enhance your silhouette, and even keep your dress from dragging or getting stuck between your legs as you walk.
Hiding Pesky Problem Areas
Some brides feel perfectly comfortable in nothing but a bra and panties under their wedding gown, but keep in mind that you might be downing a lot of food, or at least champagne and cake, at the reception, and for this reason alone, you may want to add some shapewear under your dress.  Or you might have problem areas you want to camouflage.
Corsetry can help by cinching in your waist, smoothing your torso, and supporting your breasts to give you a flawless, hourglass shape.  Of course, the trick is to make it look as though you're not wearing any support garments, so it's best to choose wedding corsetry designed to lie flat with features like satin panels and lacing.
---
Stay up-to-date with weekly blog posts, waist training tips, and the chance to win one of our monthly corset giveaways, like us on Facebook & subscribe to our mailing list today! Want to find the perfect steel boned corset? Shop some of our favorites: underbust corsets, overbust corsets, corset dresses. You can also shop our corsets by material: cotton corsets, denim corsets, leather corsets, mesh corsets, pvc corsets, and satin corsets.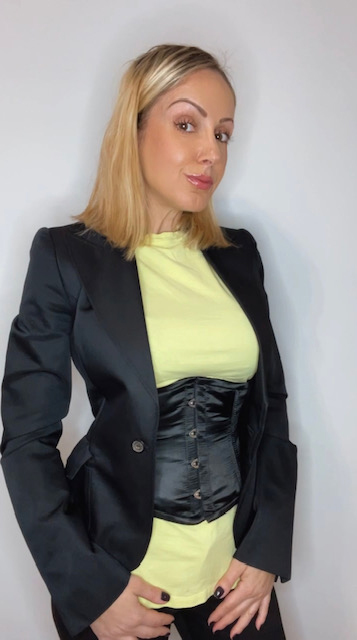 My name is Rachel, I am the owner of Glamorous Corset, a small business founded by me in 2010. Back In 2005, I was in a car accident that left me with a herniated disk. Much to my surprise I learned steel boned corsets were beneficial to several medical injuries including mine. I was always intrigued with corsetry, their history and their beautiful aesthetic. I love sharing knowledge about corsets, educating my wonderful readers and breaking the negative stigma related to corsetry. In combination with my years of research and personal experience I hope my articles are useful and can help anyone who has struggled with some of the same things I have. More about me…