The pursuit of a typically feminine physique need not be confined to the feminine sphere. These days, gender is no longer a one-or-the-other proposition you're stuck with from birth – it has become a somewhat fluid concept that can be expressed in a variety of ways. With people embracing transgender, bigender, gender neutral, and gender fluid lifestyles, it's only natural that fashion trends would change in response, allowing us all to embrace our inner Annie Hall, RuPaul, Laverne Cox, or Caitlyn Jenner. So, when you hear a question like, "Do men wear corsets?", the answer is, "Um, obvi!". In fact, this is nothing new. Men have been wearing corsets a lot longer than you might imagine, and not just because they're totes fabu. Whether you're transgender, transitioning, or toggling between two spirits, there are a number of reasons why corsets could become a staple in your closet. Here are just a few reasons why men of any stripe might strap on a corset.
Support
Traditionally, men have turned to corsetry for the same functional purpose as women: support. Steel boned corsets are designed to provide a rigid structure that cinches in the core, corrects posture, and potentially improves issues that are often responsible for lower back pain. Believe it or not, President John F. Kennedy wore a corset daily as a means of dealing with chronic back pain. In this day and age, with people hunched over keyboards and mobile devices all day, doing god-only-knows what kind of damage to their spines, back pain and poor posture go hand-in-hand. Corsets need not be resigned to the realm of mere fashion or foreplay. Like many garments, they serve a functional purpose, first and foremost. Because of this, men wearing corsets is more common than you might imagine.
Waist Training
Women aren't the only ones in search of a waspie waist. There are plenty of men with ambitions to tame a tummy, whittle a waistline, and flash the appearance of flatter abs, all of which can be accomplished with the aid of the right corset. Of course, there are also men interested in achieving an exaggerated, hourglass silhouette. In some cases, men use corsets to create a more feminine figure, either for personal gratification or to look better in drag, just for example. There are also men who want to maintain a masculine physique even as they significantly cinch their waistline. Masculine corsets are something of a novelty in the industry, but they're becoming more and more popular. In the meantime, men can experiment with custom corsetry as a way to get the precise size, shape, and style of garment they prefer for waist training.
Workin' It
Gurl, you better werk! While some men wear corsets purely for functional reasons, others also want to look fierce. Whether a transitioning man is trying to create a more feminine physique in keeping with her gender preference or a transvestite is looking to amp up the glamazon vibe, donning a corset can add curves for days. In a shifting tide of gender mores, men and women alike are embracing the many benefits of experimenting with corsets, from practical posture support to fashion that's on fleek. Can I get a yass, queen?
---
Stay up-to-date with weekly blog posts, waist training tips, and the chance to win one of our monthly corset giveaways, like us on Facebook & subscribe to our mailing list today! Want to find the perfect corset? Shop some of our favorites: underbust corsets, overbust corsets, corset dresses.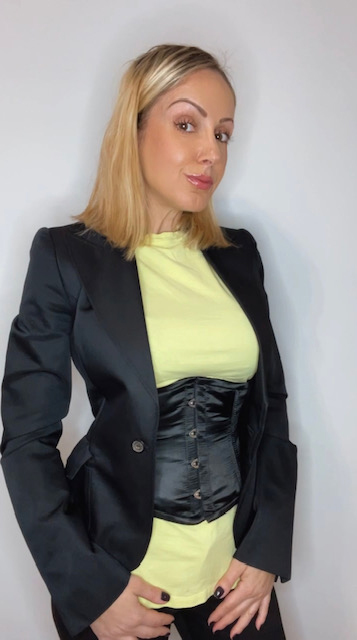 My name is Rachel, I am the owner of Glamorous Corset, a small business founded by me in 2010. Back In 2005, I was in a car accident that left me with a herniated disk. Much to my surprise I learned steel boned corsets were beneficial to several medical injuries including mine. I was always intrigued with corsetry, their history and their beautiful aesthetic. I love sharing knowledge about corsets, educating my wonderful readers and breaking the negative stigma related to corsetry. In combination with my years of research and personal experience I hope my articles are useful and can help anyone who has struggled with some of the same things I have. More about me…