If you're new to the wide world of women's support wear, you might be understandably confused when you encounter the concept of waist training these days.
The idea popularized by internet idols like all the Ks in the Kardashian clan, whereby waist cinchers are worn during workouts, has muddied the waters somewhat, so it's only natural that newbies are perplexed by traditional waist training.
That said, women have used corsets to coerce their core into a slimmer shape for centuries, and this is the type of waist training we're talking about.
If you want to shed inches off your waistline and create a feminine physique of the classic hourglass variety, don't turn to Kim K. and company to show you the way. How does a waist trainer work? We're here to give you the skinny.
What is Waist Training?
Alright, let's clear up any confusion about exactly what qualifies as waist training.
The generally accepted parameters of this activity include using a rigid, steel boned corset to cinch in the waist anywhere from just a couple to several inches for the purpose of achieving semi-permanent results.
In other words, it's not just one-off tightlacing, where you suit up with a corset under your dress for a svelte silhouette at a single event.
Waist training is a process that requires months or years of practice to see significant and semi-permanent waist slimming, and waist trainers utilize stiff, steel bones, sturdy textiles, and adjustable laces to shape the body.
If you're looking to realign your proportions, in or out of a corset, waist training is the way to get the job done.
Getting Started Waist Training
There are two main things you need to get started on your waist training journey: the right corset and a training schedule.
Finding the right corset means taking your measurements, first and foremost. While costume corsetry comes in sizes like S, M, and L, waist training corsets are measured in inches to ensure that every body gets a garment in the perfect proportions.
You also need to consider whether you prefer underbust or overbust options, as well as the length and spring of your garment. You might want to look up some terminology before your buy.
Next you need to consider a waist training schedule.
While it doesn't have to be precise, most people start by seasoning a corset (cinching until it's snug, but not uncomfortable) to avoid warping it by tightlacing too soon. Plus, you want to ease into wearing a corset, especially if it's your first time.
As you can imagine, corsets are a bit restrictive, and you don't want to end up fainting or bruising your abdomen by getting overzealous with the drawstrings.
Start by wearing your corset a couple hours a day, and when you feel comfortable, up the ante incrementally until you're able to wear it all day long.
From there you can tighten the laces a bit at a time, and eventually, downsize to a smaller size corset.
Whether you're looking to tame your tummy while you shed baby weight or you simply want to corral your curves into pinup proportions for good, these are the basics of getting started with the waist training regimen that's right for you.
---
Stay up-to-date with weekly blog posts, waist training tips, and the chance to win one of our monthly corset giveaways, like us on Facebook & subscribe to our mailing list today! Want to find the perfect corset? Shop some of our favorites: underbust corsets, overbust corsets, corset dresses.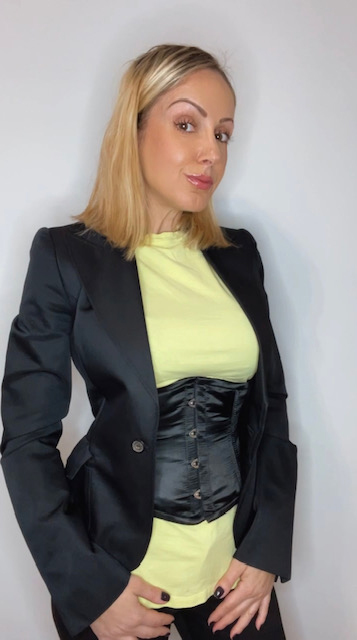 My name is Rachel, I am the owner of Glamorous Corset, a small business founded by me in 2010. Back In 2005, I was in a car accident that left me with a herniated disk. Much to my surprise I learned steel boned corsets were beneficial to several medical injuries including mine. I was always intrigued with corsetry, their history and their beautiful aesthetic. I love sharing knowledge about corsets, educating my wonderful readers and breaking the negative stigma related to corsetry. In combination with my years of research and personal experience I hope my articles are useful and can help anyone who has struggled with some of the same things I have. More about me…