I know what you're thinking – is this a trick question? The easiest corsets to lace on your own are obviously front-lacing corsets. Right?
While this is technically true, what you're going to find, when you start shopping around, is that front-lacing corsets aren't actually that easy to find.
In fact, you'll mostly find only the costume variety with laces in the front. Why?
Because serious waist trainers know that front lacing shows under clothing, and nobody wants the bulge of laces marring the bustline or creating an unsightly bump in the torso.
This is why you'll rarely find front-lacing models in the world of steel boned corsetry, and if you do, you'll soon realize that they're really only good for bedroom wear, as opposed to daily wear under clothing.
At least with laces in the back, you can flatten and tuck them along the curve at the small of your back to minimize bulges, and you can always add a blazer to your ensemble to hide any bulk.  Of course, this also means dealing with laces in the back, and if you don't have help, tying them can be tricky.
So, back to the question at hand.  What style of corset is easiest to lace up yourself?  Here are a couple of handy tips to easily tie corset laces on your own.
Choose a Smaller Corset
No, we don't mean downsizing (See: When to Size Down My Corset) – we're talking not about the circumference of your corset, but rather how tall the garment is, so to speak.
Corset styles can range from tiny waspies that feature 6-8-hole construction (i.e. 6-8 holes per side, for a total of 12-16 eyelets), to longer underbust corsets featuring a dozen holes, to longline corsets that have 16 or more holes.
The easiest models to lace are going to be the shortest ones with the fewest eyelets. Why?
Typically, it is recommended that you lace your corset so the loops that hang loose fall in the middle (as opposed to the top or bottom).
This offers optimal cinching power and ensures even distribution of tension along the length of the garment.
Still, loops are going to land in different spots on your back, depending on the style of the corset you choose. With a waspie corset, the loops are going to be significantly lower than an overbust corset, for example, making them easier to grasp and tie, even if you're not as flexible as the next person.
If you're having trouble with laces, an underbust corset or even a waspie is your best bet for easy lacing on your own. For more information, see How to Tie a Corset on Your Own (With 3 Easy Options!).
A Lesson on Laces
When it comes to self-lacing, certain lacing materials could make a difference.
Many women appreciate the strength and durability of nylon laces (if not the bulk), but satin laces are going to be a lot easier to work with when you're tying them behind you because of the slippery surface of the material.
You'll have far less resistance when pulling them tight and tying your knots, and as a bonus, they'll lie much flatter under clothing, especially when ends are tucked. For more information, see Corset Lacing 101: Common Types of Corset Laces/Ribbons.
Other Useful Resources
How to Lace a Corset (w/Pictures)
Corset Lacing 101: Common Types of Corset Laces/Ribbons
How to Tie a Corset on Your Own (With 3 Easy Options!)
Common Corset Lacing Mistakes: 3 Tips for Waist Training Success
What to Do With Extra Laces in the Back of Your Corset
---
Stay up-to-date with weekly blog posts, waist training tips, and the chance to win one of our monthly corset giveaways, like us on Facebook & subscribe to our mailing list today! Want to find the perfect steel boned corset? Shop some of our favorites: underbust corsets, overbust corsets, corset dresses. You can also shop our corsets by material: cotton corsets, denim corsets, leather corsets, mesh corsets, pvc corsets, and satin corsets.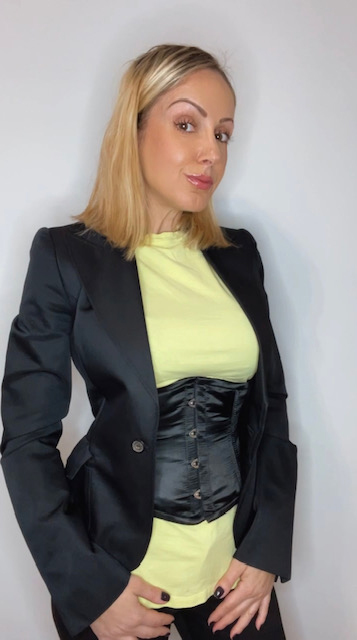 My name is Rachel, I am the owner of Glamorous Corset, a small business founded by me in 2010. Back In 2005, I was in a car accident that left me with a herniated disk. Much to my surprise I learned steel boned corsets were beneficial to several medical injuries including mine. I was always intrigued with corsetry, their history and their beautiful aesthetic. I love sharing knowledge about corsets, educating my wonderful readers and breaking the negative stigma related to corsetry. In combination with my years of research and personal experience I hope my articles are useful and can help anyone who has struggled with some of the same things I have. More about me…