Featured corset: Bella White Satin Corset
Our lives are filled with things. Just think of all the cookware, appliances, and utensils in your kitchen or the cornucopia of toiletries and cosmetics in your bathroom. Think about your furniture or even the art on your walls.
The things in our lives each serve some purpose, from purely functional benefits like toasting your bread to making your home a beautiful and relaxing space. Even the fidget spinner at the bottom of your purse can help to purge nervous energy or entertain you when you're stuck in a waiting room with a dead cell phone battery.
When it comes to the clothing that fills your closet, the purpose of any garment should be twofold. First, you need it to cover your body — because walking around in your birthday suit, while breezy, is likely to get you thrown in the clink. Clothing also helps you to make an impression on others, creating the image of yourself that you want the world to see.
You might not think that a corset has any bearing on the latter, since it's mainly hidden under your other clothing. However, corsets do a lot behind the scenes to change your shape and improve your appearance overall.
What can a corset do to your body? Here are just a few of the improvements you'll enjoy when you slip into a corset and snug up the lacing.
Slim the Waistline
You're probably not surprised to learn that a corset will give you a smaller waist, since this is the main reason that most women reach for one. Thanks to rigid steel boning and lacing used to tighten the garment, a waist training corset can contour your body to make the smallest part of your torso – the waistline – even smaller.
Whether you've started to notice a bit of extra padding around your midsection as you get older, you've given birth and your body isn't quite the same, or that stubborn mid-body jiggle won't budge, regardless of the time you spend in the gym, you'll find that corsetry offers a solution. When you slip into a corset, you'll not only slim your waist, but you'll also create sleek lines that enhance the drape of every outfit.
Create Hourglass Curves
Despite the fact that perfect, hourglass proportions are considered to be the feminine ideal, very few bodies conform to the 36-24-36 paragon. While a corset won't magically transform you into curvy Christina Hendricks (whose purported measurements are 42-30-39, btw), it can help to create a narrower, more defined waist that amplifies your womanly curves, no matter what size you are.
Add Support and Improve Posture
Corsets are designed to provide compression, but as a feminine undergarment, you'll also find that different models provide various types of support, as well. For example, an overbust model can lift and position the breasts, taking the place of a bra.
Underbust models don't necessarily provide bust support, but they can straighten the spine, supporting your back, improving your posture, and making your bust somewhat more prominent in the process. This is especially helpful if most of your day is spent sitting at a desk, where the tendency is to slump.
Put the Kibosh on Cramps
As if better posture and a smaller waist weren't enough to sell you on wearing a corset, it turns out that some women report relief from menstrual symptoms when they add this garment to their daily ensembles. The abdominal compression inherent to a corset not only slims your waist, but it could also help to alleviate cramping (not to mention hide bloating) when your Aunt Flo pays a visit.
Carry Yourself with Confidence
It's normal to wonder, "What can a corset do to your body?" What you might not expect is that a simple undergarment can change not only your body, but your attitude, too. When you stand straight and look svelte, it elevates the way you see yourself.
Looking good and feeling good go hand-in-hand, and when you wear a corset to improve your appearance, the result is that you'll feel more confident. This can boost your mood and give off a positive vibe that people are naturally drawn to.
What Can a Corset Do to Your Body Long-Term?
Many women only ever don a corset for special occasions that require formal wear, such as a wedding, a gala event, or a night at the opera. However, if you're invested in daily wear, you should know that there are also long-term benefits that go beyond merely amplifying your curves to improve the drape of your dress.
If you adopt a safe, long-term waist training regimen and incrementally tighten your corset over weeks and months of wear, you'll enjoy semi-permanent waist slimming. What does this mean? It means that your waist will remain smaller, even when you take your corset off.
Of course, maintaining these results requires continued corset wear, but once you get started with waist training, you'll find that it's no different than wearing a bra or a pair of heels – it will simply become a way of life. Considering all of the benefits you'll gain when you add corsetry to your daily attire, long-term waist slimming is just icing on the cake.
---
To stay up-to-date with weekly blog posts, waist training tips, and the chance to win one of our monthly corset giveaways, follow us on Facebook, Instagram & subscribe to our mailing list today! Want to find the perfect steel boned corset? Shop some of our favorites: underbust corsets, overbust corsets, corset dresses. You can also shop our corsets by material: cotton corsets, denim corsets, leather corsets, mesh corsets, pvc corsets, and satin corsets. Have questions about getting started with waist training or finding the right size corset? Contact us!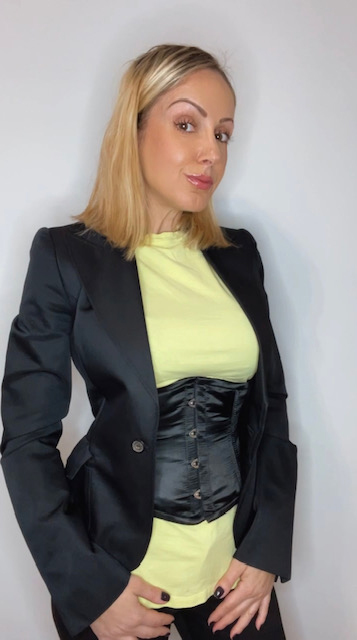 My name is Rachel, I am the owner of Glamorous Corset, a small business founded by me in 2010. Back In 2005, I was in a car accident that left me with a herniated disk. Much to my surprise I learned steel boned corsets were beneficial to several medical injuries including mine. I was always intrigued with corsetry, their history and their beautiful aesthetic. I love sharing knowledge about corsets, educating my wonderful readers and breaking the negative stigma related to corsetry. In combination with my years of research and personal experience I hope my articles are useful and can help anyone who has struggled with some of the same things I have. More about me…