Featured corset: Dita Denim Blue Jean Corset
When you're standing in a department store, looking at a rack of tees or blouses, chances are that you can eyeball a garment and tell if it's the right size. As for pants, you probably need to try them on.
Unfortunately, you might not have either option when you're buying a corset, which is why it's so imperative to take measurements beforehand. Even if you do have the option to try before you buy, knowing your measurements will help you to avoid a lot of time-consuming trial and error.
When you take measurements — and this cannot be stressed enough — they must be accurate. Corsets are not a one-size-fits-all garment – not even close. If you want them to fit snugly and comfortably, precise measurements are essential.
When it comes to learning how to measure the bust, you don't have to reinvent the wheel, but there are a few things you should know to make sure you get it right. Here are some tips and tricks on how to measure overbust proportions to ensure a proper fit.
How to Measure Overbust Areas: Get Some Help
Between raising children, running a household, and advancing along a career path, women really can do it all these days. However, there are certainly times when it's more expedient to have a helping hand, and measuring your bust is a prime example.
Rather than fussing with a cloth measuring tape on your own, ask someone that you feel comfortable with to help you. Alternatively, you can simply head to a nearby lingerie store that offers free fittings. The best way to take your bust measurement is to hold your arms out at your sides and have someone else wrap the tape around your bust line.
Where to Measure
The important thing to keep in mind when determining how to measure the bust is that the measuring tape should remain level. There's a tendency for the soft tape to slip down in the back, and this will mess up the accuracy of your measurement.
You need to measure the circumference of your body at the fullest part of the bust, and this means starting at about the nipples in front and wrapping the measuring tape around your back and under your arms while keeping it horizontally level all the way around.
How to Measure Overbust Areas Alone
Perhaps you don't have a mate on hand to help you measure, and it might not be convenient to pop by a lingerie store for professional assistance. What can you do? The best advice we can give is this: Use a mirror.
It's not the easiest, but women have flown solo across the Atlantic, served as Fortune 500 CEOs, and entered the office of vice presidency, not to mention, you know, creating human life. We can do it!
Just wrap your measuring tape around your torso, hike it up under your arms, use the mirror to make sure it's more or less straight across the back, and pull it snug (but not tight) across your bust. With the right measurements, including bust, underbust, waist, hip, and torso length, you'll be in great shape to choose a fitted corset that helps you reach your waist training goals.
---
To stay up-to-date with weekly blog posts, waist training tips, and the chance to win one of our monthly corset giveaways, follow us on Facebook, Instagram & subscribe to our mailing list today! Want to find the perfect steel boned corset? Shop some of our favorites: underbust corsets, overbust corsets, corset dresses. You can also shop our corsets by material: cotton corsets, denim corsets, leather corsets, mesh corsets, pvc corsets, and satin corsets. Have questions about getting started with waist training or finding the right size corset? Contact us!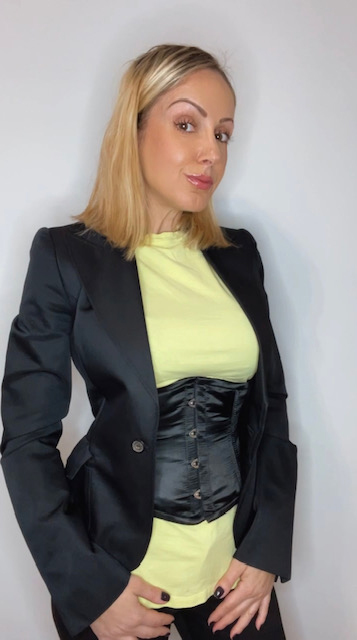 My name is Rachel, I am the owner of Glamorous Corset, a small business founded by me in 2010. Back In 2005, I was in a car accident that left me with a herniated disk. Much to my surprise I learned steel boned corsets were beneficial to several medical injuries including mine. I was always intrigued with corsetry, their history and their beautiful aesthetic. I love sharing knowledge about corsets, educating my wonderful readers and breaking the negative stigma related to corsetry. In combination with my years of research and personal experience I hope my articles are useful and can help anyone who has struggled with some of the same things I have. More about me…