Every bride wants to look her absolute best on her wedding day. It's no surprise—most of us have imagined this milestone from early childhood! With all the excitement, it's hard not to feel pressure. Just imagine the photos that will pass down through the generations.
Even if you've lost some weight, toned up, and you feel fabulous, you might want some added insurance that your dress will fit and flow perfectly from every angle. A corset is often the answer, a readily adopted wedding day asset, worn with pride like so many brides before you.
If you want to feel great and look good, you need to do a little prep work. It requires effort to find the right corset, one that is fitted yet comfortable enough for the big day. You wouldn't step into your wedding dress for the first time on your big day, nor would you slip into new shoes right before going down the aisle. Similarly, a corset takes some foresight.
What can you do to ensure the greatest comfort and a stunning look? Here are a few tips and tricks that promise success when you don a corset as part of your wedding day attire.
Find the Right Corset
Wearing a corset for a formal affair means choosing the right style, fabric, and fit—not only for your body, but the dress that flows on top. Cotton, satin, and mesh are among the best options if you're looking for stealth.
As for style, there are two main types: underbust and overbust. The one you choose will depend on the level of support and coverage you prefer, as well as the cut of your dress. When in doubt, choose an underbust model that will not interfere with your neckline.
Sizing is also incredibly important, so be sure to take accurate measurements before you order a corset. This will ensure not only proper fit, but also maximum comfort.
Season Your Corset
You don't want your corset to feel stiff and cause discomfort on your big day, so take the time to break it in before the big day. Seasoning a corset allows it to conform to your curves, offering optimal support and compression by the time those wedding bells ring.
Choose Your Wedding Dress with Care
If you're set on wearing a corset on your wedding day, you'll have to choose a dress that works with this special undergarment. Low backs are pretty much out, as your corset will definitely be on full display.
You also want to avoid thin, delicate textiles like draped silk or chiffon that show everything. Although there are tricks to hide your corset, even the small bump of boning will show under these precious fabrics.
Test Functionality
Testing your range of motion in a corset is essential preparation for your wedding day. You need to make sure you feel comfortable standing, sitting, dancing, and participating in all the expected activities that go along with tying the knot and celebrating at the reception.
Bring Your Corset to Fittings
You want your dress to fit like a glove, but you need to make sure there's room for your corset—or you could face a significant hitch on the day you get hitched! Just as you bring your heels to make sure the hem of the dress aligns with the height, you need to wear your corset when fitting your dress to account for the extra layer.
Consider Lacing Options
Nylon and polyester laces are common in waist training because they're incredibly durable and hold up well to the rigors of daily tightening and loosening. However, they're not ideal when you're trying to stealth a corset under a wedding dress. In this case, consider lacing up with satin instead—a more flattering and elegant choice for under your special dress.
Wearing a Corset on Your Wedding Day and Beyond
Your corset need not be a one-and-done garment. A good corset comes at a cost because it's a great investment for your wardrobe. You can wear your corset under everyday blouses, sweaters, and dresses, or for special occasions when you want to  slim your silhouette, exaggerate your curves, and ensure a beautiful drape in any ensemble.
---
To stay up-to-date with weekly blog posts, waist training tips, and the chance to win one of our monthly corset giveaways, follow us on Facebook, Instagram & subscribe to our mailing list today! Want to find the perfect steel boned corset? Shop some of our favorites: underbust corsets, overbust corsets, corset dresses. You can also shop our corsets by material: cotton corsets, denim corsets, leather corsets, mesh corsets, pvc corsets, and satin corsets. Have questions about getting started with waist training or finding the right size corset? Contact us!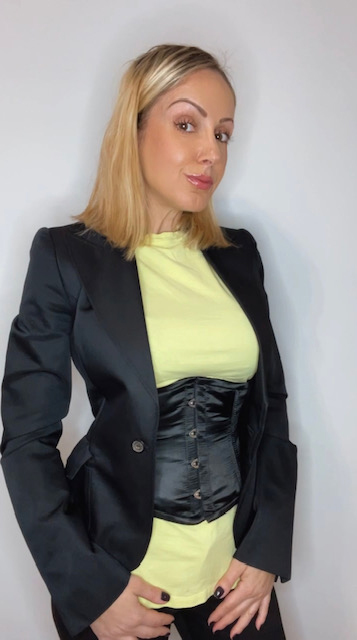 My name is Rachel, I am the owner of Glamorous Corset, a small business founded by me in 2010. Back In 2005, I was in a car accident that left me with a herniated disk. Much to my surprise I learned steel boned corsets were beneficial to several medical injuries including mine. I was always intrigued with corsetry, their history and their beautiful aesthetic. I love sharing knowledge about corsets, educating my wonderful readers and breaking the negative stigma related to corsetry. In combination with my years of research and personal experience I hope my articles are useful and can help anyone who has struggled with some of the same things I have. More about me…