Waist training is sometimes described as an instant way to change or enhance your shape. While it's true that putting on a corset provides instant results, there is a difference between waist training and occasionally wearing a corset.
If you're looking for a fun and sexy fashion accessory that will help you look slimmer under that special occasion dress, a waist-cinching corset is what you need.
However, if you're after a long-lasting change and have heard waist training might help you meet those long-term goals, there is more you need to know. Waist training is a lifestyle change. It takes patience, and rushing the process could cause unnecessary discomfort. The following tips on how to waist train will get you started on the right foot.
Listen to Your Body
Waist training is for people of all sizes, but it's not a one-size-fits-all experience. Your shape, lifestyle, and personal tolerance for corset-wearing will all affect how to waist train in the way that's best for you. That's why the most important tip is to listen to your body.
Wearing a corset is like getting a nice, snug hug. But hugs shouldn't hurt or leave bruises on your hips, and neither should waist training. If you're experiencing pain or having trouble breathing or performing normal tasks, stop wearing your trainer until you figure out why. 
The three main reasons for discomfort are incorrect size, cinching too tightly, or wrong style of corset for your body shape.
Size It Right
Starting your waist-training journey with a correctly sized corset is everything. Don't fall into the trap of thinking that sizing down will help you reach your goals faster. In fact, starting with a garment that's too small will probably lead to frustration and could cause you to give up.
For correct sizing, use a fabric tape measure and measure your waist, torso, underbust, and hips. Check out our complete guide to sizing, or send us an email if you need more assistance. 
Also See: How to Choose the Right Corset Style for Your Body Type
Try Different Styles
Corsets come in different lengths and shapes. They have a variety of hooks, busts, laces, and eye closures. Trying on different styles to see what works best for your body is ideal.
Don't judge a corset by looks alone — either how beautiful it is or how gorgeous you feel in it. Walk and move in a corset to see how well you will be able to function in it on a daily basis.
In general, short-waisted and shorter people may want to avoid long-line or over-bust models, which cover more of the torso and can be more difficult to maneuver in.
Quality Counts
Corsets take a beating. Every day, they get stretched, cinched, and worn for hours. As you progress with waist training, your corset gets cinched even tighter. A good quality corset is both comfortable and durable. Look for quality materials and steel boning for the best results.
Season To Taste
"Seasoning" is the term for breaking in a corset. There are helpful guidelines for seasoning your corset, but the most important step is to take it slowly and let your body guide you. 
To season a new garment, don't lace it too tightly. There will be plenty of time for cinching up those laces, but to start, allow yourself a bit of breathing room. Limit wear to 1–2 hours for the first several days. Over the course of a few weeks, your corset will slowly conform to your curves for a perfect fit.
Take Your Time
Once your corset is seasoned, you can begin a waist-training schedule. Remember, the keyword for success is "patience." Gradually increase your time from about an hour a day to 6–8 hours per day. This may take two weeks or two months — whatever pace works for you is best. 
As you acclimate to wearing your corset longer, you will also start to notice it is getting looser. Resist the urge to over-tighten the laces. Not only will you be uncomfortable, but you also risk damaging the corset.
Track Your Results
Take selfies and record your natural measurements in a journal to track your progress. Waist training is not an overnight miracle, but it can help you reach your goals.
Every fraction of an inch measures your success, so make sure to give yourself credit for a job well done. The more you celebrate your progress, the easier it is to stay dedicated to your training schedule.
More Questions About How to Waist Train?
When done correctly, waist training is safe and effective. Many customers report feeling more confident when wearing their trainers. Maybe it's the improvement in posture, or maybe it's because they are doing something special just for themselves.
Whatever the reason, getting started with waist training is easier if you follow our guidelines. Our friendly customer service agents are always available to answer more questions and help you have a successful experience.
---
To stay up-to-date with weekly blog posts, waist training tips, and the chance to win one of our monthly corset giveaways, follow us on Facebook, Instagram & subscribe to our mailing list today! Want to find the perfect steel boned corset? Shop some of our favorites: underbust corsets, overbust corsets, corset dresses. You can also shop our corsets by material: cotton corsets, denim corsets, leather corsets, mesh corsets, pvc corsets, and satin corsets. Have questions about getting started with waist training or finding the right size corset? Contact us!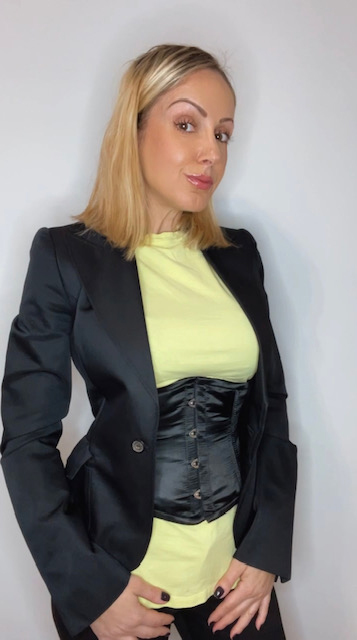 My name is Rachel, I am the owner of Glamorous Corset, a small business founded by me in 2010. Back In 2005, I was in a car accident that left me with a herniated disk. Much to my surprise I learned steel boned corsets were beneficial to several medical injuries including mine. I was always intrigued with corsetry, their history and their beautiful aesthetic. I love sharing knowledge about corsets, educating my wonderful readers and breaking the negative stigma related to corsetry. In combination with my years of research and personal experience I hope my articles are useful and can help anyone who has struggled with some of the same things I have. More about me…