Featured Corset: Bella White Satin Corset
Whether you've just discovered corsets or you've been thinking about starting waist-training for a while, buying your first corset can be intimidating. There are many styles and types to choose from, and you may be unsure about selecting the right fit. 
Before you get too carried away and make a purchase based solely on the gorgeous factor (who could blame you?), consider the following guidelines for buying your first corset.
How to Buy a Corset for Waist Training
Fashion and costume-type corsets are made of many different types of materials. Hey, we're not going to hate — they all have their place. But for waist training, a steel-boned corset is vital.
If you're shopping for a waist-trainer and thinking, "Wow, these are super affordable!" chances are they are made with plastic boning, which can warp and break easily. Investing in a good-quality steel-boned corset will cost less in the long run if you're serious about waist training.
Buying a good trainer doesn't mean you have to take out a second mortgage on the house. You can find excellent trainers for under $100. In addition to steel boning, make sure yours is made from a sturdy textile such as mesh or cotton that can stand up to cinching.
Again, we love a flirty lace corset too, but those aren't made for waist training. They're made for fun.
Selecting Your Style
Understanding the right materials and price range to look for is only the first step in choosing your new trainer. Now you need to decide which style, shape, and size are best. No worries — it's not as confusing as it sounds.
Overbust or Underbust: Which Is Right for You?
When it comes to style, the two main categories of waist trainers are overbust and underbust. An overbust trainer extends up the torso to cover the breasts, fitting very much like a strapless bra. An underbust model does not include breast cups. It stops just under the breast line.
Both types lift and support the torso, and both provide all of the benefits you're looking for in a waist trainer.
Overbust corsets do double duty as a bra, but not all women find the support of a strapless bra to be sufficient. These can also be difficult to camouflage under clothing. That's something to consider if you plan on wearing your trainer to work or while running errands.
If you're unsure how to buy a corset, start with an underbust corset. They are easier to wear, are less constricting, and are a great way to ease into waist training. Once you get used to an underbust you can try the extra coverage provided by an overbust corset.
What's Your Waist Shape?
Many beginners are surprised to learn that corsets come in different shapes. Different shapes help produce different results. So the shape you select will help you meet your training goals.
Hourglass corsets are designed to give you the classic hourglass shape
Wasp corsets divide the body into two segments, like a wasp's, and nip the waist tight
Pipestem corsets compress the body with rigid boning to give an elongated appearance
S curve corsets help give the hips a pronounced "pushed back" shape while thrusting the chest forward
Waist cinchers and corset belts are designed to fit on the waist only, not the entire torso
If you, like so many other women, discover you love waist training and can't wait to expand your corset wardrobe, you will discover several other corset shapes in addition to those above.
They are not as common, but ribbon corsets, bust corsets, and time-period-specific corsets are also fun and beautiful. However, these styles may not technically be for waist training.
Sizing Things Up
Sizing is probably the most important tip on how to buy a corset. Simply put, it needs to be snug enough to provide support but not so snug it is uncomfortable. You should never be in pain or feel like you're struggling to breathe in a properly sized waist trainer.
Start the sizing process by taking these measurements:
Underbust (where breast tissue meets your abdominal wall)
Waist
Hip
Torso length (from underbust to hip line)
You will also need an accurate bust measurement if you plan on buying an overbust corset style. If possible, have a friend help you take this measurement.
The most accurate method is to hold your arms to the sides and have someone wrap a measuring tape around your bust line, making sure they are measuring at the fullest part of your bust. You could also consider going to a lingerie store for professional sizing.
If you have to take your bust measurement alone, use a mirror and do your best to keep the tape straight across your back. Pull it snug, but not tight, across the bust.
These measurements will help ensure you find the right-sized corset even when buying online.
Waist Sizing
The most common mistake first-time buyers make is purchasing a waist trainer that reflects the size they want to be, not the size that fits now. If your natural waist is between 32 and 36 inches, the correct corset size is 30 inches. By using the largest expansion, the corset will fit now and leave plenty of room for sizing down as your waistline slims.
Buying a corset that is too small thinking you'll squeeze into it won't provide the benefits you're looking for. The garment will be too uncomfortable to wear — even if you can cinch it up — and it will most likely tear or become misshapen from excessive stretching.
Good-quality corsets are made from lightweight yet durable materials that are meant to be stressed, but even the best material can only stretch so far without damage.
Wondering How to Buy a Corset? Now You Know!
Congratulations, you're ready to enter the confidence-building, empowering world of waist training. With some basic knowledge and an accurate set of measurements, we know you'll find the right trainer to get you started on your personal path to looking great and feeling even greater. 
---
To stay up-to-date with weekly blog posts, waist training tips, and the chance to win one of our monthly corset giveaways, follow us on Facebook, Instagram & subscribe to our mailing list today! Want to find the perfect steel boned corset? Shop some of our favorites: underbust corsets, overbust corsets, corset dresses. You can also shop our corsets by material: cotton corsets, denim corsets, leather corsets, mesh corsets, pvc corsets, and satin corsets. Have questions about getting started with waist training or finding the right size corset? Contact us!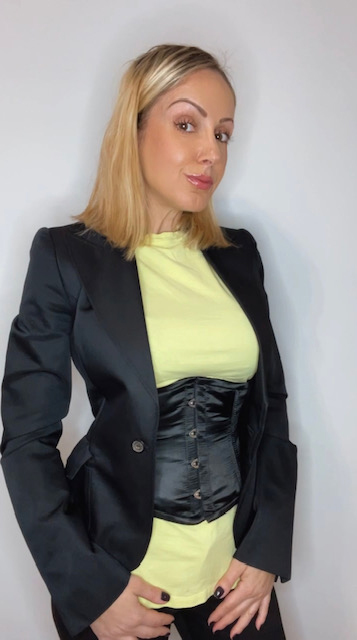 My name is Rachel, I am the owner of Glamorous Corset, a small business founded by me in 2010. Back In 2005, I was in a car accident that left me with a herniated disk. Much to my surprise I learned steel boned corsets were beneficial to several medical injuries including mine. I was always intrigued with corsetry, their history and their beautiful aesthetic. I love sharing knowledge about corsets, educating my wonderful readers and breaking the negative stigma related to corsetry. In combination with my years of research and personal experience I hope my articles are useful and can help anyone who has struggled with some of the same things I have. More about me…