Featured Corset: Jenna Red Satin Corset
If you're new to the world of waist training, or even if you've been at it a while, you might be surprised to learn that there are actually several different corset silhouette styles.
Sure, they all tend to slim the waist, but the silhouette style you choose can have a marked impact on the overall effect, creating more curves or straighter lines, depending on what you prefer.
If you look at a martini glass and a brandy snifter, you'll notice that one is conical while the other is curved.
Sure, they both hold your tasty libations, but the shape of each glass offers different benefits.
While the conical martini glass is designed to stop ingredients from separating, the squat brandy snifter is meant to warm your liquor as you sip, ensuring you enjoy the full bouquet.
As for corsetry, you may prefer specific corset silhouette styles for a number of reasons, once you understand what each unique shape has to offer. Here are the styles you should know about and how they differ.
Hourglass
When entering the world of waist training, many women are looking to not only slim the waist, but create a more classically feminine, hourglass silhouette that nips in at the middle and flares out above and below (i.e. at the bust and hips). This is perhaps why the hourglass corset is among the most popular for modern wearers.
As corset silhouette styles go, this one tends to provide one of the easier adjustments for women just starting with waist training, as it follows the soft lines of female anatomy and enhances the natural curvature of the torso.
If you're looking to define the waistline without losing the roundness of the bust and hips, this is a great option for novices and veteran waist trainers alike.
Cupped Rib
Maybe an hourglass shape isn't defined enough for your taste, or perhaps you're worried about compressing your ribs as you winnow your waist. In this case, you'll be glad to know there's a suitable silhouette for your preferences.
The cupped rib corset style eschews the tapered curve of the hourglass style in favor a slimmer waist that expands to a cupped curve around the ribcage.
Not only does this create a more defined waistline, but it does so while minimizing compression to the front and sides of the ribs, making for more comfortable wear without sacrificing the tiny waist you want.
Pipestem
As you progress through your waist training journey, you may find that you want a more exaggerated look to show off your tiny waist.
Although pipestem corset silhouette styles are generally reserved for advanced waist trainers and tightlacers, they do offer a unique opportunity to show significant slimming of several inches.
The way they do this is by vertically accenting the slimmest part of the corset, or the waistline.
Instead of simply darting in at the waist, the pipestem silhouette extends the waist vertically by 1-2 inches, as if you had a belt around your middle, instead of a string, and this is topped by a cupped shape to curve around the ribcage.
Conical
While popular modern corsetry tends to favor curvy, hourglass silhouettes, this hasn't always been the case.
At different times throughout history, corsets have been used to flatten, slim, and minimize all around, and this was typically accomplished with a conical silhouette style, which is similar to the shape of an ice cream cone.
The conical shape delivers a straighter taper from the top edge of the corset (the bust or underbust, depending on the model) to the waist.
While you'll still enjoy a smaller waistline, this silhouette creates far less curvature. As a result, there could be some discomfort in the rib area (as opposed to, say, the cupped silhouette) for women who already have curvy bodies, while women with naturally narrower ribs may find this shape more comfortable than curvier corsets.
U-Shape
If you're just looking to dip your toes in the waters of waist training, the mild silhouette of the U-shaped corset may be just your speed.
This style is essentially a less defined version of the conical shape, which makes it perfect for anyone seeking only minimal shaping and compression.
Whether you want to start slowly with waist training or you're simply hoping for comfortable slimming and smoothing to look your best in every ensemble, this shape is a great starter piece or a good choice for anyone looking to waist train inconspicuously.
A Note on Spring
When it comes to the silhouette of your corset, you can't forget to consider the spring, or the difference between the circumference of the waist and the circumference of the hip and underbust areas. In essence, it has to do with how extreme the curve of your corset is.
While certain silhouettes naturally feature greater spring than others, you can see differences in spring even among the same type of silhouette. It's important to be aware of this so you can find the shape that best suits your body and your waist training goals.
---
To stay up-to-date with weekly blog posts, waist training tips, and the chance to win one of our monthly corset giveaways, follow us on Facebook, Instagram & subscribe to our mailing list today! Want to find the perfect steel boned corset? Shop some of our favorites: underbust corsets, overbust corsets, corset dresses. You can also shop our corsets by material: cotton corsets, denim corsets, leather corsets, mesh corsets, pvc corsets, and satin corsets. Have questions about getting started with waist training or finding the right size corset? Contact us!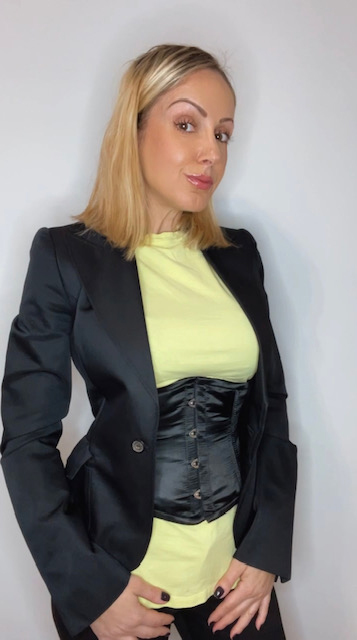 My name is Rachel, I am the owner of Glamorous Corset, a small business founded by me in 2010. Back In 2005, I was in a car accident that left me with a herniated disk. Much to my surprise I learned steel boned corsets were beneficial to several medical injuries including mine. I was always intrigued with corsetry, their history and their beautiful aesthetic. I love sharing knowledge about corsets, educating my wonderful readers and breaking the negative stigma related to corsetry. In combination with my years of research and personal experience I hope my articles are useful and can help anyone who has struggled with some of the same things I have. More about me…