Watch this recent review from Lucy's Corsetry of the LIMITED EDITION Jolie Longline Corset with Skulls from Glamorous Corset.
Video Resources
Featured Corset: Jolie Longline Corset w/ Skulls
Lucy's Corsetry website: https://lucycorsetry.com/
Video Transcription
Hi, everybody. Today, I'm going to be reviewing the Special Edition Skulls Jolie longline corset by Glamorous Corset. Now, in the past I have reviewed the Jolie corset before. But if you remember that review, that was during a period where I was experiencing very rapid weight loss. And I think that was a size 24 or 26, and obviously it was not fitting me properly. And so, I thought that it was only fair that I do another version of the review so that I can show you an accurate portrayal of what the silhouette and the fit is really supposed to look like.
And since Halloween is coming up, I took the opportunity to try one with the skulls on it, so that we can get a little bit spooky in here.
So, without further ado, here's the front, the side, the back, and the other side. So, this is the most teeth I have ever worn. So, moving on to the length and fit of this corset, the center front here is 12 and a half inches at the princess seam from under the bust to the top of the lap here is 10 and a half inches. At the side seam, it is 13 and a quarter inches. And in the center back, it's a little bit longer at 13 and a half. So, even though I call this a long line corset, because it's about 10 and a half inches here and it's 12 and a half in the center front. It's actually one of the shortest long line corsets that I have reviewed on this channel because the front here is less than 13 inches.
So, if you have a little bit of a lower tummy that you need more support for, but you just don't have the length in your torso as in your actual skeletal structure to be able to sit down or move around comfortably in other long line corsets. For instance, if it is too high up here and it hits your bust or when you try to sit down it hits your lap, this might be a good alternative for you because it is a little bit shorter than some other little long line corsets that you still have more of this covering the lower tummy.
And for the circumferential measurements today, I'm wearing the size 22 with a small waist and gap in the back here. And when I measured it at the waistline straight out of the box, it measured true at 22 inches. The under bust here, measured 29 inches. So, this has a seven inch rib spring. And the hip here, which I measured horizontal, parallel to the floor, at the very lowest part, which this was the highest part. So, I measured straight around. And through the back here, that measured 33 inches. So, this has an 11 inch hip spring.
So, if I measured it right from the very bottom, obviously, I'm sort of measuring air here, which is why I didn't take it from the very, very bottom. But if I sort of tried to extrapolate that part of the corset, then you could theoretically fit about a 12 inch hip spring if you measured down a little bit lower.
In terms of the silhouette, it is very, very gently rounded through the ribs here. Although as you get closer to the waistline, that curve sort of just flattens out. You can see that is quite a smooth transition. There are no geometric lines here. So, for those who are interested in compressing your lower ribs for stability or rib training, yes, this will bring in your lower ribs a little bit. Even though it's a bit more rounded up here. And for the hips, it is also gently rounded. Not a really dramatic hip shelf. But it does come up and around the actual hip bone, the axis.
So, let's go to the tabletop portion of this review. And I can show you the other details of this corset close up.
Okay, so here is the Jolie Skulls laid flat. And for the materials, the fashion fabric is obviously this skull themed satin. It is not a cotton. It is a satin print. So, that's pretty cool that it has a sort of sleek feel to it. So, if you are the type of person who you want something a little bit more versatile, in that you can wear this on the outside of your clothing during Halloween, but for the rest of the year, you want to stuff it underneath your clothing, then the satin will allow clothing to glide nicely over top. That being said, if you wear something a little bit shear or light colored, then you will have the design showing through underneath.
And there it feels to be an inner lining in between the satin and the lining here. So, that adds a little bit further strength there. And of course, on the inside, you have your 100 percent black cotton twill.
Here's a close up of the Glamorous Corset label here. So, it's just the same thing on the opposite side. And here is the fabric content and cleaning instructions. And like with all Glamorous Corset corsets, the size is on both sides of each corset. So, you can see a tiny little 22 on each side. And the busy pattern makes it a little bit difficult to see where the seams and the panels are. But I will point them out to you.
So, this is the same pattern as the other Jolie corset. It has six panels on each side or 12 panels total. So, here is panel one, two, three makes the front. Four, five, and six makes the back. So, you can see as per usual, panels, three and four has that curve over the hip here. And panels one and two converge down a little bit more for some control over the tummy. Panels five and six come up a little bit higher for a bit more of the upper back support. They are not very curvy because obviously you have your spine there, so you are not curving much in the waistline in the back there.
And for the construction, it is constructed like all the other corsets by Glamorous Corset in which they use the Welch seam method. And that's the reason that they have the inner lining so that on the side of the seam where you do not have the seam allowance, all the seam allowances are pointed to the back. You will still have two strong and densely woven layers for the bones to settle nicely into for those bony channels there. There are some poorly made corsets out there by other brands where they might make something that looks similar to this. But they will skip the interlining layer. And they'll say, "Oh, the fashion fabric and the lining is enough. That's two layers to sandwich the bones into." But what you will find with this poor quality corsets is that because you don't have the interlining, the bones will start poking out through the fashion fabric eventually. So, that's the difference.
And although it is difficult to see in this corset, I do feel the presence of a waist tape. So, it is your standard waist tape, one inch wide starting from the center front here and going back to at least panel six there. It is invisibly stitched between the layers here. And reinforced with the stitching at the bone channels and the seams there.
The binding is made from matching strips of the skull and satin. Stitched on both the outside and the inside. On the outside, you can see that it is stitched in the ditch for a really clean finish. And on the inside here, you can see that little lip, that top stitch right there. And there are six garter tabs in this corset, three on each side.
The modesty panel on the back of this corset is about five and a half inches wide. So, that will cover a lacing gap of about four inches total. And so, you should keep that in mind if you want to buy this corset in a size where the modesty panel covers the entire lacing gap. So, it is unstiffened, unboned, and it's finished in the same skull fabric here and in the same black cotton lining there. It is attached to one side of the corset with a simple straight stitch. So, if you do not like modesty panels, you can just take a seam ripper, and pull that out if you prefer.
And additionally, there is a half inch wide modesty plocket extending out from the knob side of the bust here finished in the same skull themed satin. The bust is 11 inches long and it has five loops and pins. The last two are a little bit closer together so you have a little bit more support over the tummy here. And it is a half inch wide bust on each side. It is not anchored into a white bone. It is actually anchored into a stainless steel bone. How I know this is by taking a little sneaky peek in the loops here.
And I see that the bone is silver instead of covered in the white nylon dipping. And another way to tell is to use your magnet. And stainless steel bones have a little bit less iron content in them. That is how it kind of resists rusting. It has a little bit of iron content but not quite as much. And so, it will be less magnetic. But stainless steel busts tend to be a little bit more rigid compared to your standard flexible bust in the white bone. So, the center front here, even though it doesn't have an adjacent steel bone that is reinforcing the front here, it is still relatively more rigid.
Likewise, the bones in the back are made from quarter inch wide stainless steel boning. So, even though they are on the narrow side, they are relatively more rigid compared to the white, flat, steel boning. And speaking of bones, let's turn this to the side. There are a total of 12 bones in this corset and double boned on the seams here. So, on the seams, these are a quarter inch wide spiral steel bones. And you can see that these do more strongly attract my magnet. And so, you can see here, two, four, six, eight, ten. And in the back here, twelve for the flat steels. Double that for the other side and that's how you get 24.
Here's a close up of the grommets. So, there are a total of 28 of them, 14 on each side. They are size double zero finished in silver with a small flange around them. And they are spaced a bit more than an inch apart, maybe about one and a quarter inches apart, especially here above the waistline. And I don't see them coming out. I don't see a lot of damage. There are a couple of places where the satin, here, because the stain was printed, the dye doesn't go like right through all the layers, right. This is not like black thread while this is white thread. So, you will see a little bit of where the satin runs from where the grommet was pierced. And you do see that especially around the waistline where there is the most tension. The grommets will want to move slightly towards that center back area there. But this bone is holding the grommets fast. So, these grommets should not rip out because the bone here is preventing the grommets from pulling any more in this direction and ripping the fabric over here.
You can see the grommets on the underside. So, you can see that any of the runs in the satin was just an aesthetic issue. It was not a structural issue because the strength of fabric underneath is holding fast. And you don't see any wear, tearing, or damage around the cotton lining here. So, the grommets, washers are a little bit larger than the top part of the corset, which should be the case. Because that is holding more of the tension. If the washer is too small than the grommet would pop out. But as long as these are holding fast, then it should stay in the fabric. And most of these have rolled okay. There are a couple of splits here and there. But because of the laces here, these are abrasion resistant workhorse style laces. They don't tend to catch or rip very easily. So, they don't catch on any little splits there.
And as per the usual, with Glamorous Corset laces, there is a ton of lacing that comes in this corset. Very, very long. Enough to open the lasing gap a little bit more than 11 inches here. Now, again, that is not to say that I recommend getting a corset that's 11 inches smaller than your natural waist. Because if you just put over the modesty panel here, it really only covers about four to five inches. So, you should be able to at least cinch down to about that much at the absolute. But, yeah, there is a lot of lacing in here. So, you are not going to have any problem getting in and out of this corset.
The Jolie Corset is available in black cotton, beige cotton. Also, black mesh and this satin skull fabric, as you see here. Normally the prices start at 84 dollars. But this one, because it's special and limited edition, this is 99 dollars US. And it's available in closed waist sizes 18 up to 40 inches.
And this concludes my review of the Jolie Skulls corset by Glamorous Corset. I hope you enjoyed this and learned something new. If you did, please remember to click that like button down there as it helps support this channel. If you have any comments or questions about this corset or other corsets on Glamorous Corset, feel free to leave your comment down below. I'd be happy to get back to you and answer your questions.
And if you own this corset or a different Jolie corset, it doesn't matter the fabric or the color, leave your comment down below and let us know how you like it, what you think of it, how it fits you. And I'm sure many other people would be curious to know your thoughts. So, thank you again for watching. And I will see you all next week for another video. Bye.
---
To stay up-to-date with weekly blog posts, waist training tips, and the chance to win one of our monthly corset giveaways, follow us on Facebook, Instagram & subscribe to our mailing list today! Want to find the perfect steel boned corset? Shop some of our favorites: underbust corsets, overbust corsets, corset dresses. You can also shop our corsets by material: cotton corsets, denim corsets, leather corsets, mesh corsets, pvc corsets, and satin corsets. Have questions about getting started with waist training or finding the right size corset? Contact us!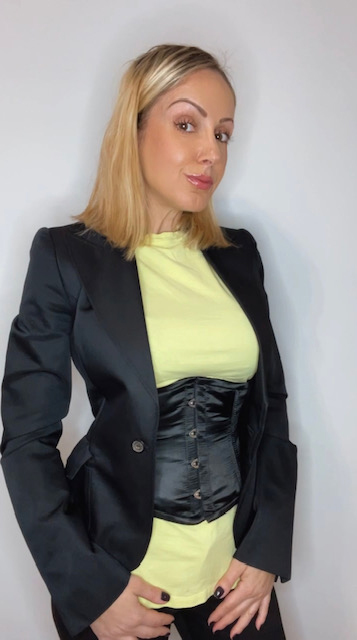 My name is Rachel, I am the owner of Glamorous Corset, a small business founded by me in 2010. Back In 2005, I was in a car accident that left me with a herniated disk. Much to my surprise I learned steel boned corsets were beneficial to several medical injuries including mine. I was always intrigued with corsetry, their history and their beautiful aesthetic. I love sharing knowledge about corsets, educating my wonderful readers and breaking the negative stigma related to corsetry. In combination with my years of research and personal experience I hope my articles are useful and can help anyone who has struggled with some of the same things I have. More about me…