Featured Corset: Jolie Short Black Mesh Corset
There's a common misconception that corsets are nothing more than antiquated torture devices intended to hobble women for the benefit of the patriarchy.
First of all, that's a lot of political and social baggage to unpack for a relatively simple undergarment.
Second, while the notion may have held a grain of truth at one time, modern corsetry is used by educated, independent women who view it as a tool to reach specific goals, not unlike a gym membership or that magical LBD that makes you feel like a million bucks.
What you may be surprised to learn is just how many waist training benefits you can gain through wearing this support garment daily. 
Unlike your average bra, which digs painfully into your shoulders and underbust area, leaving rolls of skin bulging under the arms and around the band, a corset helps to slim, smooth, and shape your torso with a lot less discomfort.
That's right! When worn properly, your corset can be more comfortable than the average brassiere, and deliver incredible benefits you may never have thought of. Here are some of the biggest advantages to choosing a waist training corset for your daily needs.
Semi-Permanent Slimming
If you've always loved the look of an ultra-feminine hourglass figure, but no amount of spot training seems capable of configuring your proportions properly, you'll be amazed by what you can accomplish with the right corset. The perfect fit and your preferred level of spring can deliver the instant gratification you seek, with the hourglass silhouette you've always dreamed of.
It gets better, though. Once you've seasoned your corset for comfortable all-day wear, you can start a schedule of incremental tightening to slowly reduce the size of your waist by anywhere from just a couple inches to four or more. It will take time, and you may need to downsize to smaller corsets along the way, but with daily waist training, you'll enjoy semi-permanent results, even when you're not wearing your corset.
Bust Support
Corsets are largely used to winnow the waist, but the right model will also help to support your bust, and this can be especially helpful for women who are well endowed. Many of us know the literal pain of a large bust, from finding tops that fit properly, to supportive bras that don't cause spillage or dig into shoulders.
With an overbust corset, you can solve a variety of problems associated with large busts. These corsets include cups that keep your ladies locked and loaded, so you no longer need a bra (and you won't have to worry about straps on display). Not only will you gain the support and control you crave, but you'll find that clothing looks better when you use a corset to shape your torso.
Back Support
The modern 9-to-5 can entail hours spent hunched over a keyboard, while popular pastimes and socialization are more often than not spent staring down at mobile devices. The result is a growing segment of society dealing with back and neck pain.
While you're on your own when it comes to breaking the habit of craning your neck while you scroll through Facebook on your phone, a corset can help to provide posture correction for your torso. The rigid steel boning will restrict movements like bending, keeping your back ramrod-straight, whether you're sitting or standing. This not only makes you look tall and slender, but it could help to alleviate back pain and even headaches associated with slouching.
Menstrual Relief
When you consider purchasing a waist training corset, menstrual relief probably isn't among your top priorities. In fact, if you think of your period at all, you might wonder whether a corset will make it worse.
As it turns out, compressing your abdomen during shark week is a great way to reduce the pain associated with uterine contractions responsible for painful cramping. Even if you don't wear a corset daily for waist training, it might be worth it to get one for the few days a month you not only want to minimize cramps, but hide bloating.
Stress Reduction
Corsets aren't indicated as a treatment for anxiety, and you'd be hard-pressed to find a doctor that would recommend them for this purpose. However, anecdotal evidence shows that once wearers get used to the snug compression of a corset around their torso, they find that it helps to relax them, much like swaddling calms fussy babies or thunder blankets deliver constant pressure to minimize dog or cat anxiety during travel or 4th of July fireworks.
Personal Confidence
Among the many waist training benefits you'll enjoy is a boost to your confidence. Whether you want to regain your slim waist after pregnancy, you're looking to shed a few unwanted pounds in concert with diet and exercise, or you simply prefer to look svelte in every outfit, donning a corset can help you to look and feel your best every day.
Even better, corsets could help to spice up romantic encounters when you wear them as part of your bedroom play.  Even if you're not 100% happy with your body, the confidence boost you'll get when you see the instant results of wearing a corset can help to enhance your love life or keep you motivated to reach your weight loss goals.  Of all the benefits you'll gain from waist training corsets, elevated self-esteem might be the most valuable.
---
To stay up-to-date with weekly blog posts, waist training tips, and the chance to win one of our monthly corset giveaways, follow us on Facebook, Instagram & subscribe to our mailing list today! Want to find the perfect steel boned corset? Shop some of our favorites: underbust corsets, overbust corsets, corset dresses. You can also shop our corsets by material: cotton corsets, denim corsets, leather corsets, mesh corsets, pvc corsets, and satin corsets. Have questions about getting started with waist training or finding the right size corset? Contact us!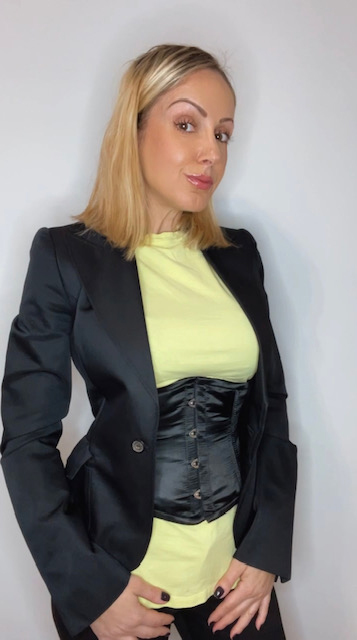 My name is Rachel, I am the owner of Glamorous Corset, a small business founded by me in 2010. Back In 2005, I was in a car accident that left me with a herniated disk. Much to my surprise I learned steel boned corsets were beneficial to several medical injuries including mine. I was always intrigued with corsetry, their history and their beautiful aesthetic. I love sharing knowledge about corsets, educating my wonderful readers and breaking the negative stigma related to corsetry. In combination with my years of research and personal experience I hope my articles are useful and can help anyone who has struggled with some of the same things I have. More about me…