Featured Corset: Jolie Black Cotton Plus Size Corset
For those new to the world of corsets, these garments may seem like magic, what with their ability to smooth your midsection and deliver immediate slimming results, shaving inches off your waist from the moment you cinch.
However, corsets do have their limitations, and it's important to understand what you can and can't expect when you choose different models.
One of the first decisions you'll make when you start waist training is whether you prefer underbust or overbust corsets, although of course, it's not a bad idea to have both in your wardrobe.
If you lean toward underbust, the next question is: do you wear a bra with an underbust corset?
The answer might seem obvious, but the truth is, it will depend almost entirely on your personal goals and preferences.
Here's what you need to know before making assumptions about how to wear and pair your corset with other undergarments.
Coverage and Support
Let's start by exploring what an underbust corset will and won't do.
This type of corset comes in many shapes and sizes, from models that extend from hip to underbust (the area where the underside of your breasts meets your abdomen), to tiny waspies just a few inches high that focus more specifically on your waist.
One defining factor of the underbust corset, however, is that it does not extend to cover the bust.
This means it will not provide any support or shaping for your breasts. Does this mean you need a bra? Not necessarily.
Some women feel perfectly comfortable wearing bralettes or undershirts instead of traditional bras, or using no undergarments whatsoever.
It's important to understand that an underbust corset will not take the place of a bra, but that in no way mandates that you wear a bra with your underbust corset.
What if I Want to Wear a Bra?
Just as there's nothing to stop you from going braless, there's also no reason not to wear a bra with your underbust corset, to ensure the coverage, support, and level of comfort you prefer.
That said, you may naturally run into some issues pairing certain bras with certain corsets.
For example, underwire bras may compete with the edge of a corset that extends right to the underbust area. This could lead to painful pinching if the edges collide, or uncomfortable compression if the edges overlap.
Or you might see unwanted lift as your corset pushes into the bottom of your bra, especially when you bend or sit. So, how do you wear a bra with an underbust corset?
If you prefer to wear a bra with your corset, the easiest and most comfortable solution is to make sure the two don't collide.
This can be difficult if you have a shorter torso, but it starts with choosing shorter underbust corset models that rest well below the underbust area.
You may also want to consider skipping the underwire in a bra if possible, as this can make overlap a lot more comfortable, should you prefer a corset that extends to the bustline
The best option, of course, is to try on a variety of underbust corsets with the bra type you typically wear, making sure to move around and sit to see how everything functions together.
With a bit of trial and error and a solid understanding of what each undergarment offers in terms of support and shaping, you'll find the perfect combination to suit your particular needs and preferences.
---
To stay up-to-date with weekly blog posts, waist training tips, and the chance to win one of our monthly corset giveaways, follow us on Facebook, Instagram & subscribe to our mailing list today! Want to find the perfect steel boned corset? Shop some of our favorites: underbust corsets, overbust corsets, corset dresses. You can also shop our corsets by material: cotton corsets, denim corsets, leather corsets, mesh corsets, pvc corsets, and satin corsets. Have questions about getting started with waist training or finding the right size corset? Contact us!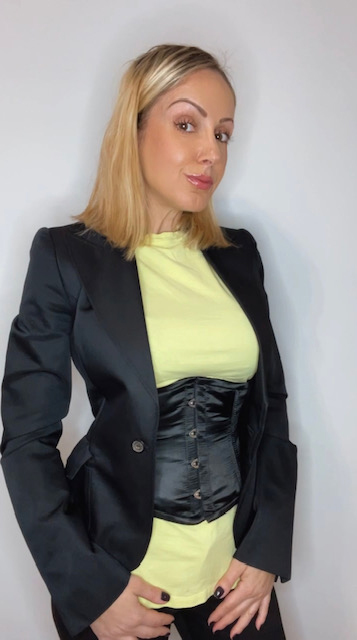 My name is Rachel, I am the owner of Glamorous Corset, a small business founded by me in 2010. Back In 2005, I was in a car accident that left me with a herniated disk. Much to my surprise I learned steel boned corsets were beneficial to several medical injuries including mine. I was always intrigued with corsetry, their history and their beautiful aesthetic. I love sharing knowledge about corsets, educating my wonderful readers and breaking the negative stigma related to corsetry. In combination with my years of research and personal experience I hope my articles are useful and can help anyone who has struggled with some of the same things I have. More about me…