Featured Corset: Jolie Short Beige Cotton Corset
You've probably heard that more is better, and in some cases, it's true.
There are definitely times when doubling up pays off, as with pairing wool socks with cotton ones during the winter to keep your feet warm and avoid scratchy wool on your tootsies, or adding double the stuffing to Oreos.
I mean, who's the genius that looked at an Oreo and thought, "How can we improve on perfection?"
When it comes to corseting, you may wonder if two is better than one. After all, if a single corset narrows your waist by four inches, could you enjoy greater benefit by layering?
Can you layer corsets? Here's what you need to know before you go gaga with girdling.
Layering for Practical Purposes
Double corseting involves wearing one steel boned corset over the top of another.
Can you do this? Yes.
Should you? All signs point to no, at least not if you're hoping to gain some practical benefits in the process.
Doubling up on your corsets will not help to speed the waist training process, and it certainly won't help you slim your waist further than a single corset.
In fact, it's going to add more bulk under clothing, increasing girth and making stealthing nearly impossible. It will do just the opposite of what you hope to accomplish!
If your current corset isn't doing its job, adding a second won't help any more than simply wearing a single corset that's in good shape.
You don't wear two bras when the elastic goes out in one. You simply toss the old one and wear a new bra that offers the coverage and support you need to feel comfortable and beautiful.
The same principle applies to corsets.
The other drawback of layering corsets is the damage it can cause to garments.
When you tighten one corset over another, you risk damaging rigid structures like boning and busks that are not designed for additional constriction from the outside.
If you wear the top corset too loosely, the textiles could rub every time you move, causing undue wear that shortens the usable life of both garments.
The long and short of it is, you should probably leave the double stuffing to your favorite cookie and stick with one corset designed to deliver the compression and support you need on its own.
Layering for Style
Okay, so we just told you not to double up on corsets, but if you're interested in adding a second corset for fashion purposes, there are a couple cheater moves to get the look you love.
If, for example, you prefer to stealth your daily-wear corsets under clothing, but you still want to show off your narrow waist, you could use a waspie corset or even a modern version of the Swiss waist (a wide belt with points in the front and an elastic waistband) as an accent over clothing.
If you like to wear corsets as an outer layer, you could also pair a waspie or yoke over your larger underbust or overbust corset, say to add a splash of fancy fabric or color, for fashion purposes only.
As long as you're careful about how you tighten the top layer (just snug enough to stay in place), you can probably avoid damaging your layers, but maybe save this for special occasions instead of everyday wear.
---
To stay up-to-date with weekly blog posts, waist training tips, and the chance to win one of our monthly corset giveaways, follow us on Facebook, Instagram & subscribe to our mailing list today! Want to find the perfect steel boned corset? Shop some of our favorites: underbust corsets, overbust corsets, corset dresses. You can also shop our corsets by material: cotton corsets, denim corsets, leather corsets, mesh corsets, pvc corsets, and satin corsets. Have questions about getting started with waist training or finding the right size corset? Contact us!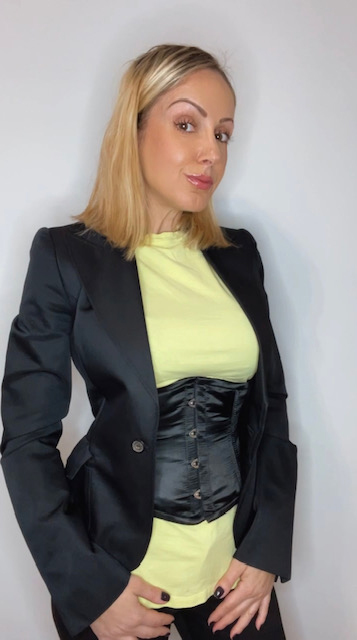 My name is Rachel, I am the owner of Glamorous Corset, a small business founded by me in 2010. Back In 2005, I was in a car accident that left me with a herniated disk. Much to my surprise I learned steel boned corsets were beneficial to several medical injuries including mine. I was always intrigued with corsetry, their history and their beautiful aesthetic. I love sharing knowledge about corsets, educating my wonderful readers and breaking the negative stigma related to corsetry. In combination with my years of research and personal experience I hope my articles are useful and can help anyone who has struggled with some of the same things I have. More about me…