Video Resources
Featured Corset: Bella Black Satin Corset
Lucy's Corsetry website: https://lucycorsetry.com/
Video Transcription
Hi, everybody. Today I'm doing a review on the improved Bella corset by Glamorous Corset. So, here's the front, the side, the back, and the other side. So, the length wise measurements for the Bella center have not changed. But the circumferential measurements have changed slightly for this center compared to the one that I reviewed back in 2017.
So, center front here is six inches high. At the princess seam here to the under bust to the top of the lap here, is six and a half inches. Three and a half are from the waist up, while three are from the waist down. It slides in here, it's the shortest. It's very, very, slightly shorter. It's only six and a quarter inches. And at the center back here, it is seven and a half inches.
Today, I'm wearing the size 24 lace close. So, the waistline is obviously 24 inches. At the top end here, at the under bust, it is 28 inches, so it has a four-inch rip string. And where it is different from the other Bella is that the bottom edge here at the high hip, it is 31 inches. So, this has a seven-inch hip spring. Whereas the Bella that I reviewed before only had a five-inch hip spring.
So, this one actually measures my proportions much better. And I feel that it will actually fit a larger proportion of the population now that it has a little bit more of a generous hip spring. So, even though it is short enough that it's stopping just above my hip bones, that bit of extra space helps to keep the hip comfortable and not put any pressure on the sciatic nerve, which is very important.
And don't get me wrong, I have a long torso as well as a fleshy back. So, I'm still experiencing a little bit of a muffin over the top here. That is not avoidable when I wear a short backed, or low backed center or corset. It's always going to happen. Everybody has skin. But if you have a shorter torso such that the top of this corset comes right up to your under bust area, which is like about here on me, the top of the corset overlaps with your bra band. Then you are going to have much less squish than I have.
And obviously, because this corset is so short, it does not cover or support any lower tummy. So, if you have a very long toros, and if you have panniculitis or protruding lower tummy that you prefer to be lifted up, flattened, and supported, then obviously I would recommend something longer than this. But if that's not a priority to you and/or if you have a shorter torso, then this might be might suitable for you.
Silhouette wise, it is still pretty much U-shaped. It has a gentle curve here. So, I would not really put it in the hourglass silhouette even though the measurements are improved. I would still say that it is still in the slim or gentle silhouette category but definitely a more comfortable version, at least for me.
So, let's go to the tabletop portion of this review and I can show you the other details of this corset closeup.
Alright, so here is the Bella center laid flat and for the materials there are three main layers. The fashion fabric is black satin, as you see here. And there is an interlining in between the layers for a little bit of reinforcement. As well as the lining here is 100 percent black cotton twill. This is what the label looks like. And it's just the same on the reverse. On the other label here, has the fabric content and the cleaning instructions. And the sizing is actually attached to the top binding here and it's on both sides of the corset. It's size 24 on this side. And another size 24 on the other side of the corset.
Turning this corset on its side, it has a four-panel pattern, so eight panels total. One, two, three, four. And it is a relatively simple pattern. Nothing really complicated going on here. Panel one and panel four are relatively on the straighter side. Although there is a tiny little bit of a sort of concave cut-out right at the waistline here. Panels two and three is what carry most of the weight when it comes to shaping on the body and adding that rib and hip spring.
And this was constructed using the Weth Seam method. So, that is probably the reason that they have an interlining between the layers. Because wit the Weth Seam method, you have all of the seam allowance on one side of the seam and not pressed open to both sides. You cannot use the seam allowance to make this front bone here. There is no seam allowance there. So, that's why you need the bone sandwiched between at least two strength layers, something that is going to be thick and densely woven enough for the bone to not poke through over time. You can't put the bone right next to the satin.
And turning to the inside, it was a little bit hard to feel the waist tape in here. And it was a little hard to see it as well because it is invisibly stitched between the layers. But I actually do see a faint outline at the bottom, the waist tape here and the top edge right there. The panel is definitely running at least from the seam between panels one and two here. And all the way to the center back there. One inch wide, invisibly stitched between the layers.
And the binding is made from matching strips of black satin. And this is machine stitched on both the outside and the inside of the corset. On the outside, it's stitched in the ditch. And on the inside, it has a little bit of a wider lip here. Because the satin is a little bit thinner, they were able to fold it and turn it under so that there are no raw or surged edges here.
Because this center is so very short, they decided to omit the garters in this. So, you can see there are no garter tabs on the inside.
And the modesty panel in this corset is about four and three quarter inches wide. So, that will cover a lacing gap of about four inches. And it's unstiffened, attached to one side of the corset here with a row of stitching. So, if you hate modesty panels, you can take a seam ripper and remove that. And it is finished with the same black satin as the outside and the black cotton toile on the inside.
And additionally, there is a quarter inch wide modesty plaquette sticking out from the knob side of the bust here. Also, finished in the same black satin.
The bust in this corset is six and a half inches long and it is about three quarters of an inch wide. It is a stainless steel bust which is why it is a little bit wider and a little bit less flexible than your standard width flexible bust here. It has three loops and pins. All equally distantly spaced.
And this corset has 16 bones, eight on each side. Double boned on the channels here with quarter inch wide spirals. Two, four, six. And in the back here, sandwiching the grommets are two flat quarter inch wide flat steel bones here. And these are also made from stainless steel, so they are a little bit less ferrous. But a little bit stiffer compared to your nylon white dipped bone. And there is a grand total of 14 grommets in the back of this corset. I can't fit them all on the screen here. You can see that they are all spaced about an inch apart. The ones on the top and the bottom here are a tiny little bit closer together just so that they wouldn't catch the binding there. Yeah, so, they are more or less equally distant spaced. They are a size double 00, with a small to medium flange around them and finished in silver.
Underside of the grommet, so you can see nice big washers. The grommets are holding in pretty well. They are not damaging the fabric around it. I'm not seeing any pulling out. They all rolled. Each of them have like a couple of splits here and there. But because of the nature of the workhorse, shoe lash style lashing they don't actually abreact the laces.
And the laces, once again, are the typical workhorse. So, quarter inch wide, black flat nylon. Shoe lace style lacing. A little bit springy. But it does stretch out and lose its springiness over time. Definitely long enough. You can see that the laces when they are stretched all the way out as far as they can go, creates a lacing gap in the back of about 12.5 inches. So, once again, I don't necessarily recommend buying a corset that is 12 inches smaller than your natural waist. However, if you do need a little bit of that extra space or that slack to wrap the corset around yourself comfortably, get in and out of it quickly and easily. You would definitely have enough lacing to do so.
The last time I checked the Glamorous Corset website, the Bella Cincher was available in 11 different color ways. So, it comes in black and white mesh, black, white, and black with stud leather, as well as six different shades of satin. Obviously, I'm wearing the black satin here. But you can also get it in white, blue, green, pink, and red satin. The Bella Cincher is available in waist sizes 18 inches closed waists up to 38 inches. And it is 74 dollars U.S. for the satins. The leather and mesh are a little bit more than that because of the complexity of the construction or the cost of materials.
So, this concludes my review of the improved pattern of the Bella Cincher by Glamorous Corsets. I hope you enjoyed this video and you learned something new. If you did, please remember to click that like button down there because it helps to support this channel. It helps the algorithm do its magic.
If you have this corset, let us know what you think of it, in a comment down below. And you have any comments or questions about this corset, or Glamorous Corset in general, also feel free to leave your comment down below and I'd be happy to get back to you. Thank you all so much for watching. And I will see you all in the next video. Bye.
---
To stay up-to-date with weekly blog posts, waist training tips, and the chance to win one of our monthly corset giveaways, follow us on Facebook, Instagram & subscribe to our mailing list today! Want to find the perfect steel boned corset? Shop some of our favorites: underbust corsets, overbust corsets, corset dresses. You can also shop our corsets by material: cotton corsets, denim corsets, leather corsets, mesh corsets, pvc corsets, and satin corsets. Have questions about getting started with waist training or finding the right size corset? Contact us!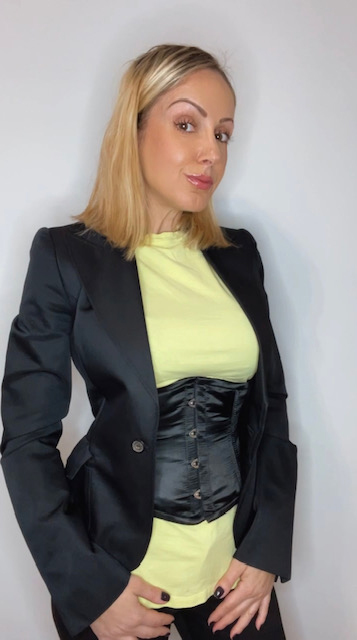 My name is Rachel, I am the owner of Glamorous Corset, a small business founded by me in 2010. Back In 2005, I was in a car accident that left me with a herniated disk. Much to my surprise I learned steel boned corsets were beneficial to several medical injuries including mine. I was always intrigued with corsetry, their history and their beautiful aesthetic. I love sharing knowledge about corsets, educating my wonderful readers and breaking the negative stigma related to corsetry. In combination with my years of research and personal experience I hope my articles are useful and can help anyone who has struggled with some of the same things I have. More about me…