Featured Corset: Emma Black Mesh Corset
It is commonly understood that when you put on a corset, it makes you look skinnier, but this is a bit of a mischaracterization, in the same way that saying having your daily cuppa Joe makes you nicer.
In truth, caffeine makes you more alert and energetic, which in turn makes you more productive, and often, happier and potentially nicer…right until it wears off and you transform into Godzilla rampaging through Tokyo.
So, how do corsets work, if they don't magically make you skinnier?
The truth is, you can see noticeable slimming the moment you slip into a corset and cinch the laces. However, with proper waist training, you'll enjoy much more dramatic and even semi-permanent results.
The process starts with understanding just how corsets work and how to make the most of this reliable and proven support garment.
Steel Boning and Sturdy Materials
In order to create a curvy, hourglass figure, corsets consist of elements designed to compress and support your torso, shaping it into a desired silhouette. This is accomplished with the use of rigid steel boning, sturdy materials that won't be torn asunder under pressure, and lacing that allows you to cinch to your preferred fit.
How do corsets work? By evenly distributing pressure to achieve desired results. It starts with fabric panels in strong, resilient textiles like cotton/canvas, satin, leather, mesh, and so on. These panels are broken up by steel bones, or rods, placed in fabric channels at even intervals around the torso. Some bones are relatively inflexible flat steel, while other are spiral steel that offers a little more give for moving and twisting (although not necessarily bending).
There are also stiff busks in the front of the corset, providing a loop-and-pin closure, as well as laces in the back, threaded through grommets so you can tighten the garment to your desired level of compression. Over the course of a lengthy waist training regimen, you can progress from tightening that reduces your waist by 1-2 inches, to four or more inches, through incremental tightening and downsizing.
Compression and Redistribution
When starting a waist training regimen, it's common to wonder where that extra 2+ inches goes when you slim your waistline. Sorry, but it doesn't magically evaporate. We wish, right?! The beauty of a corset is that it not only compresses, but redistributes, creating an exaggerated hourglass shape in two ways.
So, you've got a bit of extra padding in the middle that you'd like to conceal, but you also want a little more fullness in the bosom and hip areas. No problem. The right corset can compress the midsection, delivering a narrower waist, while also amplifying the chest and hips, to a degree.
How does it work? Well, your mass cannot simply disappear. While fat and internal organs have a bit of give, compressing them too much would be like squeezing a grape. Ouch. A small amount of compression does occur, and over time, floating ribs will start to move inward, but the truth is that organs simply shift around a bit and fat gets pushed up and down, away from the waist.
Choosing corsets with particular features could help you to redistribute your body fat into more pleasing proportions. It's always best to try on a variety of corset styles to find the ones that deliver the results you seek.
Sizing and Spring
Waist training is an intensely personal pursuit, and as such, it requires corsets specific to your goals and preferences. This is why understanding sizing and spring is so important.
In order to find the right corset size, you'll need to take a few key measurements (see our Corset Size Chart & Measurements Guide), including your underbust (the crease where your abdomen meets your bust line), waist, and hips, as well as the length of your torso (from underbust to thigh – or the crease where the abdomen meets the thigh when you sit). If you're interested in overbust models, you'll also need a bust measurement.
Accurate sizing is incredibly important when choosing a corset, and you'll want to look for garments that feature these measurements, rather than typical S/M/L/XL sizing. Waist training corsets should always offer a waist measurement, at minimum, for off-the-rack models, and if you opt for custom corsetry, you can personalize pretty much every part of the garment for a perfect fit.
As for spring, this is the ratio of the waist to the hip measurement. A larger spring equates to a more dramatic flare from waist to hip, or a more defined hourglass.
Semi-Permanent Results
If all you want is a smooth midsection and a slightly more defined waist, a corset can deliver immediate results whenever you feel like adding it to your ensemble. However, if you follow a waist training schedule, you can see more dramatic slimming of the waist and enjoy semi-permanent results. In other words, your waist will remain smaller even when you take your corset off.
In some cases, waist training can also help you on your weight loss journey. Not only do corsets provide an instant confidence boost, thanks to immediate results you can see, but the compression can help to curb eating, similar to a LAP band, because there's less space to fill with food, so you feel full faster. When you understand how a corset works, it will become a tool that helps you to feel and look your best every day.
---
Stay up-to-date with weekly blog posts, waist training tips, and the chance to win one of our monthly corset giveaways, like us on Facebook & subscribe to our mailing list today! Want to find the perfect steel boned corset? Shop some of our favorites: underbust corsets, overbust corsets, corset dresses. You can also shop our corsets by material: cotton corsets, denim corsets, leather corsets, mesh corsets, pvc corsets, and satin corsets.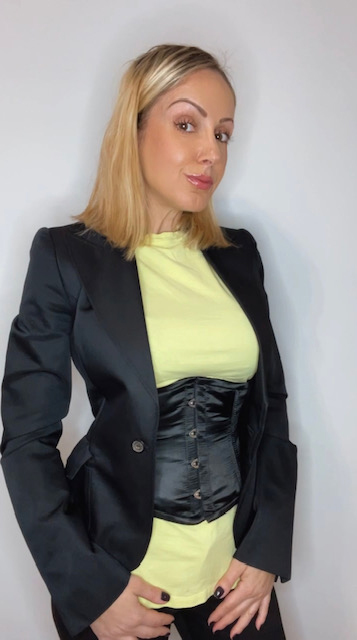 My name is Rachel, I am the owner of Glamorous Corset, a small business founded by me in 2010. Back In 2005, I was in a car accident that left me with a herniated disk. Much to my surprise I learned steel boned corsets were beneficial to several medical injuries including mine. I was always intrigued with corsetry, their history and their beautiful aesthetic. I love sharing knowledge about corsets, educating my wonderful readers and breaking the negative stigma related to corsetry. In combination with my years of research and personal experience I hope my articles are useful and can help anyone who has struggled with some of the same things I have. More about me…