Featured Corset: Jolie Beige Cotton Corset (Plus Size)
There are times in life when you could use some closure: when your Tinder date no-shows and ghosts you, for example, or when the laziest guy in your department gets promoted over you for no apparent reason other than … well, you know. 
Closure is also important when it comes to your corset. Below, you can learn about six different types of corset closures and what they can bring to your life.
Types of Corset Front Closures
Robust Busks
Busks are the gold standard in corset closure. Imagine if your exes made honest listings of everything that went wrong in your relationships and accepted full accountability for their part in it. Busks are the corsetry equivalent of that blissful sense of closure.
Made of steel and featuring pegs on one side and loops on the other (to hook over the pegs), these robust fasteners not only contend with the tension of a cinched corset but also offer a quick-release option in case of an emergency that leaves you with little time to loosen laces in the back.
Lovely Laces
If you love the look of laces on the back of your corset, you'll be pleased to discover you can find them on the front, as well.
While this style isn't as convenient as easy-open busks — and you will have to shimmy into your corset from overhead or the from the ground up — it can be a godsend for those who don't have the upper body flexibility to tighten and tie their laces in the back.
Easy Zip
When some women put on a corset, they feel invincible: it's like wearing a flak jacket. As it turns out, you can take that feeling to the next level with a zip-front corset that practically features military hardware, i.e., a metal zipper that is honest-to-god military spec.
When flanked by steel bones for added support, that zipper should hold strong against the stresses of cinching and the battlefield of daily life.
Saucy Swing Hooks
If you've ever seen a screen door with a hook that latches to a screw eye in the frame, you understand the basic principle of a swing hook. This type of closure delivers incredible functionality, and it also takes form to a whole new level with outstanding decorative flair.
With that being said, this high-profile closure is not made for camouflaging, so you'll have to use your corset as outerwear or constrain it to intimate spaces.
Cancel Closure
If stealthing is your number one goal, you're sick of dealing with pesky pegs, or you simply want an unbroken panel to display a particularly lovely textile, closed-front corsets could be just what you're looking for.
The caveat, of course, is that you'll have to climb in and out of your corset, so to speak, and you may find this tedious. What's more, if you have an emergency sitch, be prepared to slice the lacing.
Hello-Goodbye Hook and Eye
If you see hook-and-eye closures on the front of a corset, it's almost certain that you're looking at a fashion garment rather than an authentic steel-boned waist training corset.
While this type of closure is common in the back of brassieres — and it has the attractive quality of lying flat under clothing — it simply isn't strong enough to survive the tension of a waist training garment. It doesn't take much pressure for the flimsy hooks to bend and buckle, so you'll want to avoid this front closure if your goal is significant cinching.
With the right closure, your corset will support you throughout the day and help you achieve the confidence you deserve. If only all closure in life were so easy to obtain!
---
To stay up-to-date with weekly blog posts, waist training tips, and the chance to win one of our monthly corset giveaways, follow us on Facebook, Instagram & subscribe to our mailing list today! Want to find the perfect steel boned corset? Shop some of our favorites: underbust corsets, overbust corsets, corset dresses. You can also shop our corsets by material: cotton corsets, denim corsets, leather corsets, mesh corsets, pvc corsets, and satin corsets. Have questions about getting started with waist training or finding the right size corset? Contact us!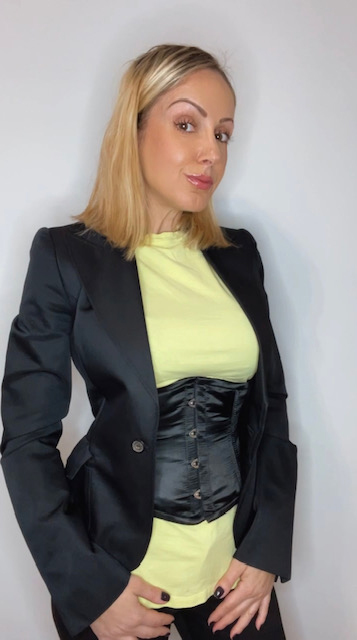 My name is Rachel, I am the owner of Glamorous Corset, a small business founded by me in 2010. Back In 2005, I was in a car accident that left me with a herniated disk. Much to my surprise I learned steel boned corsets were beneficial to several medical injuries including mine. I was always intrigued with corsetry, their history and their beautiful aesthetic. I love sharing knowledge about corsets, educating my wonderful readers and breaking the negative stigma related to corsetry. In combination with my years of research and personal experience I hope my articles are useful and can help anyone who has struggled with some of the same things I have. More about me…