Join me as I partake in the journey of corset training. I will be sharing my knowledge and experience on all the vital things you need to know, when it comes to corsetry. I will be going into detail on how to season your corset, how to lace up your corset and how to wear under / over vintage inspired garments. Also not to mention the results of my corset training and my feedback.
In this video, Miss Baby Daisy introduces her corset training video series and discusses the importance of seasoning your corset using the Jade Curvy Black Cotton Corset.
Video Transcription
Hello Beauties! Looks like a teapot–.
Good morning to you and you and you and you.
Welcome to my channel.
[music]
How are we all doing today? So, it's a beautiful morning here in Manchester. And today, I am going to talk with you all about corsets. I plan to document and share with you my experience on corset training. I plan to wear it for a month and show you how it's going. Show you my life in wearing the corset. I also plan to talk to you about the importance of seasoning your corset. And also, how wearing a corset can change your shape when wearing garments, especially vintage style garments. That kind of need to be like– in the waistline. We will talk more on this later.
And also, how to put on your corset. This will be my preferred way. I'm sure there are plenty of ways to do it. This is all just personal preference. But I thought that I'd share with you, all of it. Why not? Life's too short.
Okay, so as there's a lot to talk about. I've decided to split it up into three separate videos. Episode one, which is today, Importance of Seasoning Your Corset. Very important. Now Episode Two, which will be next week, is how to lace up your corset. And also, I will show you how I style and wear my corset onto vintage inspired. And I saved the best till last, so once my corset training period is done, three months, I will then share my results, share my experience, and share it all with you. So, stay tuned.
Oh yeah, baby. Shall we get it going? Shall we get it started? But first off, coffee. Okay. Coffee first always. I caught it.
Okay, so I decided to go with the Glamorous Corset for my corset training journey. They are a New York based small women owned online company specializing in steel boom corsets. It is in a velvet bag. Got to love velvet, right? Okay, so the dust bag, yes, love it. Got a nice logo on. Drawstrings to keep it all clean and neat. Okay, we have the corset.
Okay, so I chose the Jade Corset. And this was simply because of the measurements and the hips spring feature. But I would highly recommend when buying your corset for corset training that you should check out the measurements and features on the website.
I have a long torso, so this is perfect because it's lengthy. It has a good length in it. Fabric feels very durable. Durable. And it just feels nice and stiff. All of these puns, oh my gosh.
I am going to do a video putting this on with close ups and stuff later on. And stuff? And stuff? Tell me the stuff? Well, first off, I'm just going to talk about the importance of seasoning your corset. And then, we will put it on and get into it.
So, in this little dust bag came a pen. I lucked out. It explains in here. So, in the pamphlet darling, we have, How do I lace my corset up? How do I put on the corset? And how do I season/break in my corset? And how do I clean my corset? You filthy animals, of course we have to clean our corsets. How do I season/break in my corset? I'm going to spill the tea.
This is a vital part of a brand new corset. This isn't made to know what your body shape is like. We all have different ones. And size it, the bones, all of the bonies, they can mold to your shape to make your experience more comfortable. They can mold to your shape, I repeat to make it more comfortable. Let's be honest, corset the training is not going to be super comfortable. It gets in the way. However, it's like buying a brand new pair of shoes and wearing them to walk a marathon. You just don't do it. You just don't. We have to break in the goods. Ease into the goods. And then this way, life is easy-er. Also, it makes the corset's life last longer because if you put on an unseasoned corset, and take it off viciously because it's hurting you– Disclaimer, corsets do not viciously hate anyone. I am just super dramatic. But in the same sentence, you're not doing the fabrics or the bones or the bust any favors. It's putting pressure on this beautifully curated garment. And you want to make it last as long as possible.
These things are made amazingly, prolong the life of your corset. Season your corset.
Okay. I'm going to read this. I hope you all can understand me. I am from Liverpool. But, you know, like I said, I'm dramatic. So, cue the dramatic reading. Okay?
Seasoning/breaking in your corset is basically just wearing it. Seasoning your corset is very important. It's the step to the beginning of the life of your new steel bone corset. We highly recommend this step to prolong the life of your corset. Remember, your corset has never been worn before. So, I've– Wait there. The anticipation.
So, it will feel a bit stiff and rigid. But that's normal. Don't worry, that's normal. It is possible that you will find small gaps at the bottom. Oh, yeah. At the bottom of your corset when you first put it on. Once your corset is seasoned, the gaps will almost, if not completely disappear. So, I'm just going to go off this again. When we move onto wearing your garments over a corset, I have noticed in the past, and I have corsets like this also because they weren't seasoned correctly or because they are a poorly made corset, it happens. It's okay. It's allowed. We all have them.
When you are wearing, for example, a wiggle dress or a pencil dress, and you are wearing a corset underneath, you can kind of seeing it sticking out. It's not the best look. It happens. That's fine. We live. We learn. We live and we learn. But just to get the more polished look baby– Wow.
Let's move on, you can't see that, soak in the sound effects. Soak them in. Smooth in a wiggle dress. Wiggle, wiggle.
Once your corset is on, gently pull in the laces until the corset feels lightly snug. Don't lace it up super tightly at first, it should be snug, but not too tight. Your corset will need time to adjust to your body shape, trying to force your corset can damage the boning, and all the fabric.
Listen to the pamphlet. Listen to your body and let the corset take your shape. You also don't want to cause yourself any discomfort by over tightening too soon. You should start out by wearing the corset 45-minutes to one hour daily for seven to 10-days. This process is called seasoning your corset.
And on that note, I'm going to leave you with some of the key points from my research on seasoning your corset. I get way too excited when talking about these sorts of things. So, hopefully I've mentioned them. If not, here you go.
Point number one to season your corset, wear it for one hour daily and gradually break it in. Each passing day, you can gradually tighten the strings.
Point number two, this can take up to one to two weeks. It just depends on your lifestyle and how active you are.
And point number three, it's quite normal for steel bone corsets to have gaps at the top on the bottom. So, once you've seen a new corset, the gaps should hopefully go, depending of course if it fits you and if it is correctly measured.
There you have it. Lovely chatting with you. See you next episode, Episode Two, where I will be showing you how to apply, how to put on the corset, and how I wear my corset with vintage garments.
Lovely chatting with you. Ta-ta.
---
To stay up-to-date with weekly blog posts, waist training tips, and the chance to win one of our monthly corset giveaways, follow us on Facebook, Instagram & subscribe to our mailing list today! Want to find the perfect steel boned corset? Shop some of our favorites: underbust corsets, overbust corsets, corset dresses. You can also shop our corsets by material: cotton corsets, denim corsets, leather corsets, mesh corsets, pvc corsets, and satin corsets. Have questions about getting started with waist training or finding the right size corset? Contact us!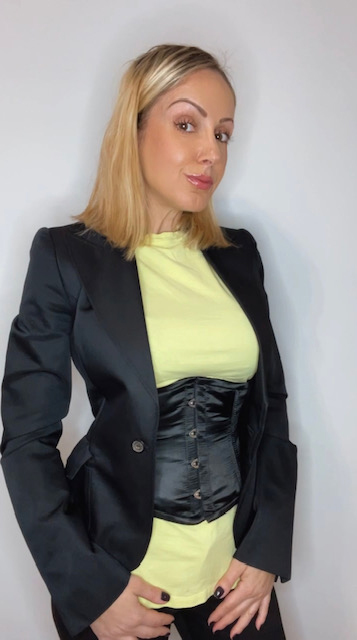 My name is Rachel, I am the owner of Glamorous Corset, a small business founded by me in 2010. Back In 2005, I was in a car accident that left me with a herniated disk. Much to my surprise I learned steel boned corsets were beneficial to several medical injuries including mine. I was always intrigued with corsetry, their history and their beautiful aesthetic. I love sharing knowledge about corsets, educating my wonderful readers and breaking the negative stigma related to corsetry. In combination with my years of research and personal experience I hope my articles are useful and can help anyone who has struggled with some of the same things I have. More about me…