Waist training, in general, is often misunderstood.  You can thank celebrities for muddying the waters with their "waist training" workouts, where they don stretchy cinchers while they exercise – for what purpose is anyone's guess.
As for bonafide waist training, it involves wearing a sturdy, steel boned corset for several hours each day with the intention of incrementally reducing the size of one's waist, leading to semi-permanent waist slimming results.  That said, you don't necessarily have to waist train in order to add these beautiful and functional support garments to your wardrobe.
The idea of waist training can seem intimidating to the uninitiated, but you can definitely dip your toes in the waters of corsetry without going straight to slimming your waist by four inches or more.  In fact, women (and men) wear corsets for a variety of reasons.  While you might decide down the line to start waist training, here are just a few reasons why you might want to give corsets an experimental whirl in the meantime.
Up Your Style Ante
Plenty of people turn to corsets for cosmetic, rather than functional reasons.  Corsets have long been used for fashion by people from all walks of life.  They've been worn by drag queens to cut a more feminine figure; artists like Madonna have used them in stage costumes; and average women wear them every day on the outside of clothing, using waspies as belts and overbust corsets in place of vests, for example.
Whether you're waist training or not, corsets can be used for everything from cosplay to enhancing your everyday ensembles.  Wear them under clothing for a smooth appearance or add them over a blouse, tee, or shirtdress as an accessory or an extra layer for added style.  You'll find that corsets are an extremely versatile and attractive addition to any wardrobe.
Prep for Your Big Day
For many women, a wedding is the first time they ever wear a corset, and it's not hard to see why.  Most wedding dresses are fitted on top, and a corset not only helps to smooth the torso, it also ensures that you stand upright, and in the case of overbust corsets, eliminates the need for a bra.
While it's best to wear your corset for a few days to get comfortable before the big day, don't be surprised if you end up liking how it feels.  It's a great tool in your style arsenal any time you don formal wear, but you might also end up using it daily, or even waist training at some point.
Improve Your Posture
It's not uncommon these days to suffer back pain, what with sitting at a desk, hunched over a keyboard all day.  Some people have taken to wearing corsets not for their figure, but to add support, improve posture, and even combat back pain.
Look and Feel Fabulous
Even if you're not waist training, per se, a corset can still offer everyday benefits like smoothing your torso, correcting your posture, and helping you look great in every outfit.  Just cinching your corset snugly can improve how clothing fits your body, boosting your confidence without causing any discomfort or dramatically changing your shape.
---
Stay up-to-date with weekly blog posts, waist training tips, and the chance to win one of our monthly corset giveaways, like us on Facebook & subscribe to our mailing list today! Want to find the perfect steel boned corset? Shop some of our favorites: underbust corsets, overbust corsets, corset dresses. You can also shop our corsets by material: cotton corsets, denim corsets, leather corsets, mesh corsets, pvc corsets, and satin corsets.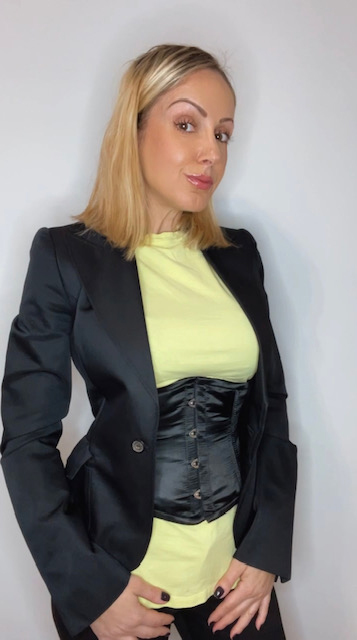 My name is Rachel, I am the owner of Glamorous Corset, a small business founded by me in 2010. Back In 2005, I was in a car accident that left me with a herniated disk. Much to my surprise I learned steel boned corsets were beneficial to several medical injuries including mine. I was always intrigued with corsetry, their history and their beautiful aesthetic. I love sharing knowledge about corsets, educating my wonderful readers and breaking the negative stigma related to corsetry. In combination with my years of research and personal experience I hope my articles are useful and can help anyone who has struggled with some of the same things I have. More about me…