Featured Corset: Jenna Black Leather Corset
Transitioning from a male to a female form is a lengthy, painful, and often frustrating process, but for trans women, it is a necessary step toward making the outside match the inside.  When your physical body represents your self-image, you can face the world with confidence and joy, and ultimately, live your best life.
One great way to support the transformative process is through corset training for trans women. You can achieve incredible results over time with feminizing hormone therapy, sexual reassignment surgery, and a range of cosmetic surgical procedures, but with the right support garments, you can instantly achieve a more feminine form.
Corsetry has served for centuries as a means of transforming the female body, and there have even been similar garments designed to sculpt the male form.  However, transgender women face particular challenges that cisgender males and females don't – notably the desire to feminize an AMAB form. 
How can corset training for trans women help to ease the transformative process and support other aspects of transitioning and living as a woman?  Here's what you should know.
Inclusive Intimates
The commercial landscape hasn't always been kind to underserved groups like the trans community, but corsetmakers are, by and large, an extremely inclusive group. This may be due to the fact that modern corsetry suffers from a certain marginalization in its own right, or perhaps it's simply the act of making taboo, intimate garments that's created a culture of acceptance and inclusivity among waist training aficionados.
Either way, the corseting community can offer something of a soft place to land for trans women struggling to achieve their ideal feminine form. Corsetmakers are accustomed to working with varied body shapes and sizes, which makes them uniquely qualified to serve a diverse range of genders and sexual identities.
Whether you're looking for the best ways to fit off-the-rack corsets to your current body shape or you prefer custom garments, you'll find a welcoming attitude and a can-do approach when you turn to corsetry as part of your transformative process. You should always feel free to ask questions to ensure the best chance of finding the right support garments for your body and your personal preferences.
Creating a Feminine Silhouette
The main reason most people start waist training is to achieve a physical transformation.  A corset is a powerful tool in any woman's wardrobe, but it can be especially helpful for trans women looking to create a feminine silhouette.
Whether you want to look better in your clothing, with subtle waist definition, or you're hoping to accomplish significant, semi-permanent waist slimming of up to several inches to enhance hourglass curves, corsetry can help you to reach your goals.  When you choose steel boned corsets and follow a sensible waist training regimen, you'll not only see immediate results, but substantial changes over time.
Bolstering Your Confidence
In addition to the physical benefits of waist training, you'll find that corset training for trans women can have positive psychological effects, as well.  Corsetry not only winnows your waist, adds feminine curves, and helps to improve posture; it also makes you feel strong and confident.  You may start to think of it as a sort of armor in your battle to become your true self.
This may be a byproduct of the physical effects you can achieve with a well-fitted corset, but it could also be related to the perception of a corset as an inherently feminine and intimate undergarment.  Although it's not unheard of for men to use corsets for a range of purposes (from slimming the torso, to improving posture), the corset is historically a feminine garment that can help you to feel most fiercely female during and after transition.
Corset Training Safety Considerations
We all enjoy instant gratification, but when it comes to significantly altering your body, you know better than anyone it's a marathon, not a sprint. When you slip into a corset with the intention of slimming your waist or amplifying curves, just make sure to follow a suitable waist training regimen, listen to your body, and take your time.
Progressing in a safe manner will help you to avoid bruising, discomfort, or garment warping that could derail your waist training efforts. Slow and incremental waist training ensures comfort, confidence, and predictable results.
There's a common misconception that waist training can harm your ribs, but when you understand that your rib cage is flexible, thanks to costal cartilage (connective tissue), you'll see that waist training simply repositions the ribs and soft tissue of the waist. Luckily, an AMAB body has a bit more room for compression in the torso, due to the lack of a uterus.
Picking the Perfect Corset
It's always wise to try a variety of corsets before choosing the best options for your body, but generally speaking, an underbust corset works best for transgender females. 
For starters, you won't have to worry about it fitting both your waist and your chest at any point during transition, or after, and it will work with any bra, making this style extremely versatile. It also offers greater potential for dramatic waist reduction to emphasize hourglass curves, and it's easier to stealth under clothing, or even wear over clothing, say as a substitute for a wide belt.  Look for a model that starts just below the bustline/pecs, or change it up with a waspie for special occasions or specific outfits.  Wherever you are in the transition process, having the right corset can help you achieve your ideal form, increase confidence, and live your truth.
---
To stay up-to-date with weekly blog posts, waist training tips, and the chance to win one of our monthly corset giveaways, follow us on Facebook, Instagram & subscribe to our mailing list today! Want to find the perfect steel boned corset? Shop some of our favorites: underbust corsets, overbust corsets, corset dresses. You can also shop our corsets by material: cotton corsets, denim corsets, leather corsets, mesh corsets, pvc corsets, and satin corsets. Have questions about getting started with waist training or finding the right size corset? Contact us!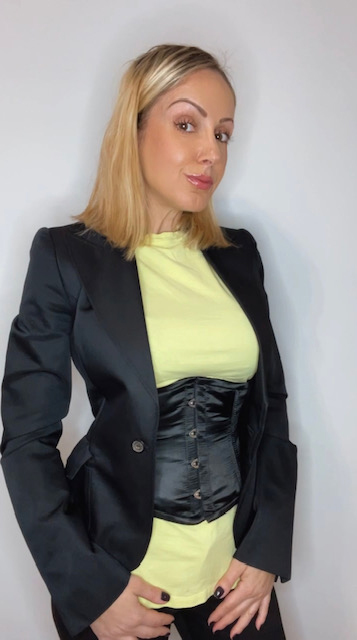 My name is Rachel, I am the owner of Glamorous Corset, a small business founded by me in 2010. Back In 2005, I was in a car accident that left me with a herniated disk. Much to my surprise I learned steel boned corsets were beneficial to several medical injuries including mine. I was always intrigued with corsetry, their history and their beautiful aesthetic. I love sharing knowledge about corsets, educating my wonderful readers and breaking the negative stigma related to corsetry. In combination with my years of research and personal experience I hope my articles are useful and can help anyone who has struggled with some of the same things I have. More about me…