You don't have to peruse the pages of fashion magazines to know that women's bodies are all different. We can't all be a Jenner, Hadid, or Delevingne! I'm not even totally sure those people stack up to the shiny images from their own ad campaigns. There are, however, plenty of ways to feel beautiful in the skin you're in, even if you'd like to make a few tweaks.
There's nothing wrong with wanting to embody feminine ideals, whether you're wearing cosmetics or the latest fashion trends, and if what you want is to adopt a curvy, hourglass figure, you'll be happy to hear that shapewear can help you to reach your goals.
When you find that fad diets and spot training simply aren't going to give you the results you crave, it's time to turn to tried-and-true textile traditions. If you're asking yourself, "How can I get an hourglass figure?", the answer is simple: a steel boned corset.
Getting Started
First of all, you need to understand that there are different types of corsets, and not all of them will help you to achieve the slimmer waist you want. If you subscribe to the efforts of Kardashians and other celebs, you might think a waist cincher will do the trick.
Unfortunately, this product is designed to smooth a lumpy midsection, and it won't offer the rigid support needed to create new curves. Costume corsetry, outfitted with plastic boning, is sure to prove similarly ineffective.
What you need is a steel-boned, waist training corset that is specifically designed to shape and taper your waist line. With the right corset, you can even reduce the size of your waist (in inches) incrementally over time.
Finding the right corset requires some time, effort, and willingness to try on a lot of different shapes, sizes, and styles of corsets (underbust, overbust, etc.). When you get it right, though, you'll be able to get the hourglass figure you've always dreamed of.
Your Waist Training Regimen
Waist training doesn't happen overnight. Sure, you can strap on a corset, squeeze your innards within an inch of their life, and likely end up bruising yourself for beauty. This is not the right way to train your waist long-term, however.
With a proper regimen of waist training you'll slowly work your way up to wearing a comfortable corset throughout the day, and you can incrementally reduce the circumference of your waist in the process, until you've lost as much as four or five inches (or maybe more if you're losing weight with diet and exercise in the meantime).
Lasting Results
If what you really want is a gorgeous, curvy, hourglass figure that remains even when you strip to your skivvies (or less), you'll find that scheduled waist training with a proper corset provides the lasting results you're looking for.
In time, you can achieve a slimmer waist and preserve a more pronounced curve in your midsection whether you're wearing your corset or not. These changes are not 100% permanent, but as long as you keep up with waist training, you'll enjoy the hourglass silhouette you prefer, in or out of your corset.
---
Want to learn more about achieving an hourglass figure? Stay up-to-date with weekly blog posts, waist training tips, and the chance to win one of our monthly corset giveaways, like us on Facebook & subscribe to our mailing list today!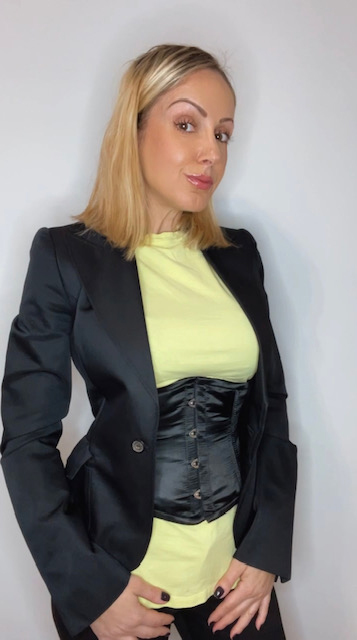 My name is Rachel, I am the owner of Glamorous Corset, a small business founded by me in 2010. Back In 2005, I was in a car accident that left me with a herniated disk. Much to my surprise I learned steel boned corsets were beneficial to several medical injuries including mine. I was always intrigued with corsetry, their history and their beautiful aesthetic. I love sharing knowledge about corsets, educating my wonderful readers and breaking the negative stigma related to corsetry. In combination with my years of research and personal experience I hope my articles are useful and can help anyone who has struggled with some of the same things I have. More about me…