Have you ever looked at your daughter's Barbie doll and wondered why this is the feminine ideal, and more importantly, why your figure flat-out refuses to conform? No? Just me? Well, I'll bet you've at least looked at shapely celebs like Kim K. or the Victoria's Secret angels and wistfully wished your curves were a little more, well, curvy.
If you're the type that enjoys a healthy diet and exercise regimen, the crash diet nonsense is out of the question, and spot training will only get you so far. What's a sensible, modern girl to do? Perhaps the answer is to go old-school.
Corsets haven't been the norm since your great-great-granny's Victorian heyday, but the concept of waist training is making a comeback of late, as women seek ways to affect a curvy, feminine physique without starving themselves or spending their entire lives at the gym. What's the scoop on these antiquated undergarments? Here are just a few of the pros and cons of waist trainers.
Pros of Waist Trainers
One of the best reasons to turn to waist training as a means of trimming your midsection is that you'll enjoy instant results. From the moment you cinch those laces, you'll be a transformed woman. A proper corset can not only streamline your silhouette, but it may force you to improve your posture, which also makes your figure look fantastic. For the perpetual sloucherella, a steel-boned corset can be a real pick-me-up, so to speak.
Now, you might wonder why you should choose a corset over, say, a waist cincher. The answer is simple: performance. While a waist cincher can smooth your body, it simply doesn't have the support structure in place to truly shape you. Furthermore, a waist training corset can offer semi-permanent results. When you get in the habit of wearing it daily, eventually your waist will retain its more concave shape, even when you slip out of your corset.
Finally, and perhaps most importantly, you're going to feel great. Adding a corset to your life can kick your confidence up a notch or three. Whether you're bouncing back from childbirth, you're in the process of getting in shape with diet and exercise, or you simply want better control over your body now and in the future, the right corset and a waist training regimen can help you to look and feel fabu.
Cons of Waist Trainers
The only major drawback of wearing a waist trainer is that there can be an adjustment period. In the beginning, you're bound to feel some discomfort and restriction. This really isn't any different than breaking in a new pair of shoes.
Over time, with a proper waist training schedule, you'll grow accustomed to wearing a corset throughout the day and you may even find that you enjoy the added support it provides. Some women call it a comforting hug. Just make sure to take your time picking a comfortable and perfectly fitted corset, follow a suitable waist training schedule – your corset should never cause you pain! – and you'll get all the benefits of waist training without any downside.
---
Want to learn more about the pros and cons of waist trainers? Contact us – we'd love to help! If you'd like to stay up-to-date with weekly blog posts, waist training tips, and the chance to win one of our monthly corset giveaways, like us on Facebook & subscribe to our mailing list today!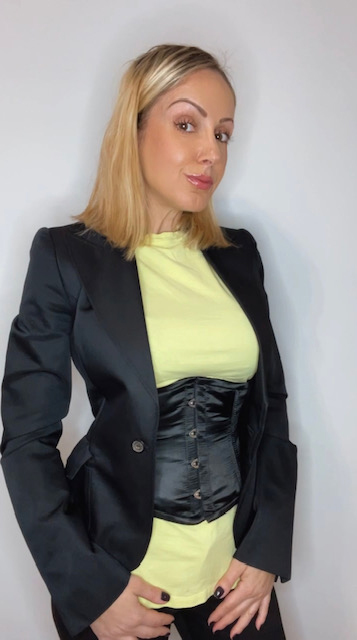 My name is Rachel, I am the owner of Glamorous Corset, a small business founded by me in 2010. Back In 2005, I was in a car accident that left me with a herniated disk. Much to my surprise I learned steel boned corsets were beneficial to several medical injuries including mine. I was always intrigued with corsetry, their history and their beautiful aesthetic. I love sharing knowledge about corsets, educating my wonderful readers and breaking the negative stigma related to corsetry. In combination with my years of research and personal experience I hope my articles are useful and can help anyone who has struggled with some of the same things I have. More about me…