When you hear terms like "waist taming" and "waist training", you might start to think of your waist as a caged animal in a circus, awaiting your command. Allusions to the ribcage aside, you actually do have some options when it comes to making your waistline conform to your desire for a curvy, feminine frame, and the right products will help you to reach your goals.
Of course, you first have to find the right products, and this can be extremely confusing, considering how the use of waist cinchers in exercise has erroneously been labeled as waist training – you can thank vacuous Facebook and Instagram celebs for that snafu (not going to name any names, kk). What you actually need is a traditional waist trainer, which you may know better as a corset.
Even so, you need the right type of corset if you want to gain waist training benefits. What do waist trainers do and how can they help you to gain the slammin' summer bod you've been dreaming of? Here's what you need to know.
Instant Reduction in Waist Size
Not just any corset will do if you want to start a waist training regimen. You need a sturdy, steel-boned corset with heavy-duty busks in the front and lacing in the back. Even so, there are several models to choose from, with underbust, overbust, longline, and other options to choose from. There are also different levels of spring to suit your body type or preferred level of curve from waist to hip.
While you should look for specific hallmarks of waist trainers, the good news is that you can select from a variety of options for fit and aesthetics. What you'll get when you put on your waist trainer is an instant reduction in waist size of at least a couple of inches that can transform your figure dramatically. You should always choose the right size of corset to begin with, and take the time to figure out what level of snugness is comfortable for you during training. Don't overdo it!
Results Over Time
The best thing waist trainers do is transform your figure long-term. While waist tamers, which include cinchers and costume corsetry, will smooth lumps and bumps, they don't really work to reduce your waist size, per se.
When you get on a waist training schedule, however, you'll find that your robust corset not only provides immediate shape-changing results, but over time, with consistent wear, your waist will remain smaller even when you're not wearing your corset. These results aren't permanent, though. If you stop waist training your body will spring back over time.
Take Your Workout to the Max
No, we're not advocating wearing your waist training corset during intense workouts! Remember, a corset is very different from the flexible cinchers celebrities wear to the gym. That said, a waist trainer can be an integral part of your diet, exercise, and weight loss goals. When you see the instant results waist trainers provide, you may be motivated to continue working toward health and fitness goals, looking good and feeling confident every step of the way.
---
Want to learn more about what waist trainers can do for you? Contact us – we'd love to help! If you'd like to stay up-to-date with weekly blog posts, waist training tips, and the chance to win one of our monthly corset giveaways, like us on Facebook & subscribe to our mailing list today!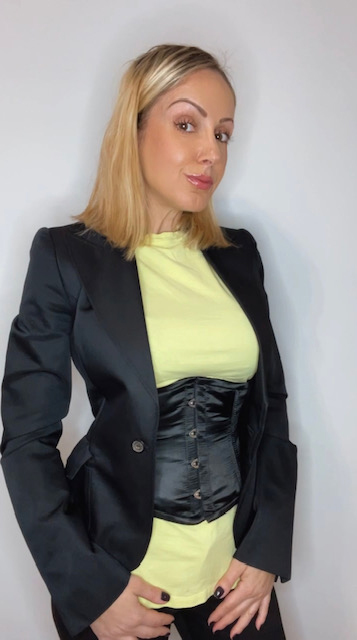 My name is Rachel, I am the owner of Glamorous Corset, a small business founded by me in 2010. Back In 2005, I was in a car accident that left me with a herniated disk. Much to my surprise I learned steel boned corsets were beneficial to several medical injuries including mine. I was always intrigued with corsetry, their history and their beautiful aesthetic. I love sharing knowledge about corsets, educating my wonderful readers and breaking the negative stigma related to corsetry. In combination with my years of research and personal experience I hope my articles are useful and can help anyone who has struggled with some of the same things I have. More about me…