Featured Corset: Elvira White Satin Corset
There's a common misconception that expanding gender identity categories are something new. The truth is that it's just becoming more socially acceptable to discuss this taboo topic and embrace one's gender identity in order to embrace your true self and lead an authentic life.
Whether you're a cis female or you're transitioning to womanhood, creating a feminine figure that makes you feel beautiful and confident is incredibly important. With so many unrealistic beauty ideals forced on women, it can be difficult to fit your unique body into the narrow box of prescribed standards, and sadly, you may fall into the common trap of thinking you're not good enough.
Loving yourself starts with seizing your feminine power and realizing that confidence is an inside job — it comes from within. That said, there's also power in looking in the mirror and seeing the feminine silhouette that makes you feel strong and radiant.
How can a corset help you embrace your gender identity with contouring, compression, and support?
Finding the Right Corset
Before you can don a corset and amplify your feminine curvature, you first have to understand the options available to you, so you can choose the perfect fit for your body and your goals. While the right corset will provide the comfort and confidence you crave, an ill-fitting garment could have the opposite effect.
There are a couple of things you need to focus on when it comes to finding a proper corset for your needs. First, you'll want to identify your goals, whether you're looking to create a defined hourglass figure, you want to significantly slim your waistline, or you simply want a snug undergarment for smooth contouring under clothing.
From there, you need to take accurate measurements to ensure the corset you choose fits you like a glove. Selecting the right style is also important to ensure a comfortable fit and maximize overall benefits — and of course, there's also the off-the-rack versus bespoke debate to consider.
The Importance of Accurate Measurements
You wouldn't grab a bra without making sure it's your band and cup size, and the same attention should be paid to choosing a corset. Basic measurements include:
Underbust (the crease where breasts meet the abdomen)
Waist (where it pinches in when you bend to the side)
Hip (at the hip bone)
Torso length (underbust to the crease between thigh and torso when seated)
You may also want to take a bust measurement (at nipple height) if you're considering overbust corsets.
With these measurements on hand, you have the best chance to find an authentic, steel-boned corset that will meet your needs.
Don't ever buy corsets that come in S/M/L designations, as these are considered "fashion" or "cosmetic" corsets. They won't have the rigid steel boning and robust textiles needed to shape your body.
Style Points
When it comes to corset style, there are two main categories: underbust and overbust – pretty self-explanatory.
You'll find additional options ranging from short waspies to longline corsets. You'll want to pay attention to spring -– or the ratio between the waist and the outer edges (top and bottom) of the corset (i.e., how much it curves in at the waist).
The options you choose may depend on your body shape, your personal goals, and how you plan to wear these garments (under or over clothing, for example).
The Benefits of Bespoke
Bespoke means tailor-made, and as you can imagine, this can be an expensive option. The reason to choose bespoke corsets, if you have the means, is to get a garment that is precision-made to fit your body and help you reach your shaping goals.
It's also ideal for non-typical body types that struggle with off-the-rack options. The good news is that the corset industry in general is geared toward acceptance and features shapes to suit many different body types, so there are options to explore if you can't afford something custom-made.
Contouring Feminine Curves
Now that you understand the basics of size and style, it's time to consider what you want from a corset. Contouring is a given, and many cis and trans women alike turn to corsets as a way to create feminine curves or the traditional hourglass figure.
While it's important to remember that all types of female bodies are beautiful, whether they're curvy or athletic, there's also nothing wrong with wanting to see a certain shape in the mirror. The trick is to enhance what you already have instead of trying to fight it.
The right corset can slim your waist and increase curvature, but it should always feel snug and comfortable, rather than vice-like.
Adding a Waist-Training Regimen
If you don a corset and you're unhappy with a waist reduction of just a couple of inches, you may want to start a waist-training regimen.
Over the course of several weeks, months, or years — depending on your level of comfort and commitment — you can see a loss of several inches with a safe and appropriate waist training regimen. You can even enjoy semi-permanent results.
Supporting a Transition
There's no way to overestimate the challenges of transitioning to the gender that reflects your identity, but there's also no substitute for the freedom and joy of living as your authentic self.
While there are many resources to help you through your physical, psychological, and emotional transformation, curating a new wardrobe that represents your gender identity is an important step — and one that you can undertake immediately.
Corsets can be an invaluable part of transitioning to womanhood, supplying the compression, support, and shaping that help you see the feminine curves that will define your new body and validate your feelings as an outward expression.
It's hard to explain the emotional value of a simple undergarment, but when it helps you see yourself as you want to be, it becomes a powerful tool for transformation and self-love.
---
To stay up-to-date with weekly blog posts, waist training tips, and the chance to win one of our monthly corset giveaways, follow us on Facebook, Instagram & subscribe to our mailing list today! Want to find the perfect steel boned corset? Shop some of our favorites: underbust corsets, overbust corsets, corset dresses. You can also shop our corsets by material: cotton corsets, denim corsets, leather corsets, mesh corsets, pvc corsets, and satin corsets. Have questions about getting started with waist training or finding the right size corset? Contact us!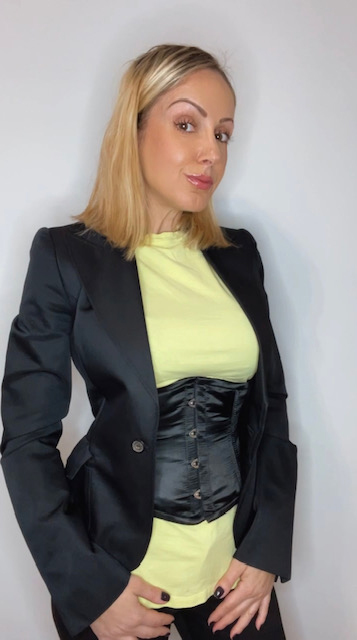 My name is Rachel, I am the owner of Glamorous Corset, a small business founded by me in 2010. Back In 2005, I was in a car accident that left me with a herniated disk. Much to my surprise I learned steel boned corsets were beneficial to several medical injuries including mine. I was always intrigued with corsetry, their history and their beautiful aesthetic. I love sharing knowledge about corsets, educating my wonderful readers and breaking the negative stigma related to corsetry. In combination with my years of research and personal experience I hope my articles are useful and can help anyone who has struggled with some of the same things I have. More about me…