Featured Corset: Jenna Black Satin Corset
Some girls are really excited to don their first bra and enter the vaunted hallways of womanhood. But unfortunately for others, sometimes the initial response is more like inconsolable sobbing.
Since your teen years, you might have become accustomed to digging straps, underwire imprints, and bulges that no amount of elastic seems able to tame. You might have accepted the constant tugging on strapless bras intent on migrating south, sewing straps to the cup because metal connectors constantly flip sideways, and dealing with gaps and spillage because no matter how you try, you simply cannot find a bra that fits perfectly.
Thankfully, in some cases, wearing a secure, strapless corset instead of bra might be an option. While this might not be the right option for everyone, it could be a godsend for the ladies out there who hate bras, but can't abide the thought of free-boobing it.
Instead of asking "Is there a bra like a corset?" consider whether subbing a corset for a bra can provide everything you want and more. Here's why tossing brassieres in favor of corsets could be just right for you.
Get Locked and Loaded: A Corset Instead of Bras
Whether you're interested in waist training or you're sick to death of donning uncomfortable bras that don't really work for your body, corsets are a potentially transformative option to consider.
Let's just start with the double whammy of bras that dig into your skin at certain places (straps or underbust) and bulge in others (underarms, back, etc.). Why, just why?
With a properly sized corset, you can not only avoid uncomfortable digging, but you can also smooth everything out for a refined appearance. Plus, corsets shape your whole torso, creating a sleek contour that defines your shape to your personal liking. It's hard to argue with looking and feeling great in your undergarments!
Say Goodbye to Troublesome Straps
Do your straps dig into your shoulders and back? Maybe they gap at the top curve of your breast. You might be dealing with both of these issues, along with straps that show under lightweight tops.
Of course, with strapless bras, you just trade one problem for another, with slippage and/or spillage and a lack of needed support.
Corsets can solve all of these issues, helping you live your best strap-free life.
Enjoy Compression AND Support
It's true that corsets are prized for their ability to compress your midsection, providing a slimmer waistline and feminine, hourglass figure. However, they can also provide incredible support for your bust when you choose the right model.
Although some underbust models extend right up to the crease, offering some lift, an overbust model is your best bet, as it delivers both coverage and support. This is particularly appealing with a larger bust, as it completely eliminates the need for a bra.
Increase Comfort and Confidence
There are a lot of myths surrounding corsets, the most common being that they trap you in a vice-like cage of discomfort that minimizes your ability to function normally. If Victorian women could ride bikes and play tennis in corsets, you can certainly carry on your daily activities!
The thing is, you don't have to cinch yourself to shallow breathing capacity, and this is, in fact, discouraged, except for experienced tightlacers. You don't even have to waist train. You can simply don a corset, cinch it to a snug and comfortable level, and get on with your day. This will actually increase your ability to function, without having to constantly adjust your bra, helping you to feel confident in every ensemble.
Is There a Bra Like a Corset?
There are bras marketed as being "like" corsets, but the truth is, you're not going to gain the benefits of a corset unless you actually wear one.
If you're totally over the bras that have been your constant companion and frequent frenemy since adolescence, it might be time to give corsets a try. You'll likely be surprised by the level of comfort, confidence, and freedom you experience!
---
To stay up-to-date with weekly blog posts, waist training tips, and the chance to win one of our monthly corset giveaways, follow us on Facebook, Instagram & subscribe to our mailing list today! Want to find the perfect steel boned corset? Shop some of our favorites: underbust corsets, overbust corsets, corset dresses. You can also shop our corsets by material: cotton corsets, denim corsets, leather corsets, mesh corsets, pvc corsets, and satin corsets. Have questions about getting started with waist training or finding the right size corset? Contact us!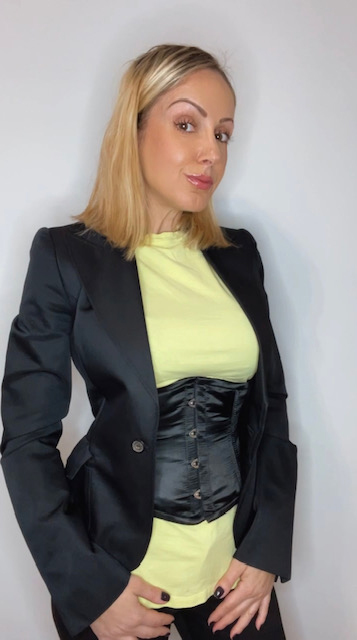 My name is Rachel, I am the owner of Glamorous Corset, a small business founded by me in 2010. Back In 2005, I was in a car accident that left me with a herniated disk. Much to my surprise I learned steel boned corsets were beneficial to several medical injuries including mine. I was always intrigued with corsetry, their history and their beautiful aesthetic. I love sharing knowledge about corsets, educating my wonderful readers and breaking the negative stigma related to corsetry. In combination with my years of research and personal experience I hope my articles are useful and can help anyone who has struggled with some of the same things I have. More about me…