Check out this recent review of our Jolie Short Black Cotton Corset from Hollandsch Meisje – a vintage styling and fashion blogger.
I would like to preface this review with reminding you that you don't need or have to wear any kind of shapewear but that it can be a fun addition to your wardrobe if you choose to use it. I personally don't wear it on a daily basis but like to wear it with certain outfits or during photo shoots to give outfits something extra. It is very pleasing to suddenly have a very defined waistline that enhances a vintage silhouette but stretchy repro feels equally good too!
This is a review of a corset kindly gifted to me by Glamorous Corset. A women-owned small business from the US. For this review I've had great advice on how to wear and take care of corsets. The main reason I've agreed to the review is because there is a lot of misinformation and not very much representation for my body type. At least not any that I could easily find!
There's plenty of scary stories about how unhealthy and dangerous corsets are, but ultimately a corset is an undergarment. When used correctly it is very comfortable to wear in the same way a well fitting bra is comfortable to wear!
Which brings me to my first point in the review: fitting and advice. The Glamorous corset website had excellent fitting advice and you can ask for personal advice as well. After discussing what I was expecting from the fit and effect of my corset, as well as looking at my measurements, I was recommended an underbust corset style. This was a super helpful way of determining the right fit!
The corset came with a booklet with information on how to properly wear and care for your corset. And most importantly how to break it in!
You can really see the difference even after a few days, especially when you pay attention to the modesty panel underneath the laces. And the more flexible areas of the corset underneath the bust and around the hips/tummy area. (Where I've put my hands to illustrate) These areas are also what make this particular corset so comfortable and suited for my shape!
Read the full review at https://hollandschmeisje.com/glamorouscorset/.
---
To stay up-to-date with weekly blog posts, waist training tips, and the chance to win one of our monthly corset giveaways, follow us on Facebook, Instagram & subscribe to our mailing list today! Want to find the perfect steel boned corset? Shop some of our favorites: underbust corsets, overbust corsets, corset dresses. You can also shop our corsets by material: cotton corsets, denim corsets, leather corsets, mesh corsets, pvc corsets, and satin corsets. Have questions about getting started with waist training or finding the right size corset? Contact us!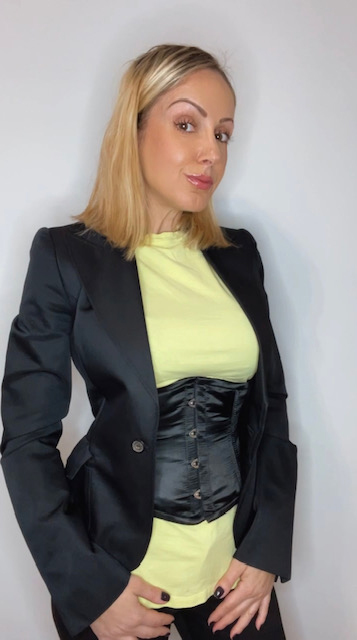 My name is Rachel, I am the owner of Glamorous Corset, a small business founded by me in 2010. Back In 2005, I was in a car accident that left me with a herniated disk. Much to my surprise I learned steel boned corsets were beneficial to several medical injuries including mine. I was always intrigued with corsetry, their history and their beautiful aesthetic. I love sharing knowledge about corsets, educating my wonderful readers and breaking the negative stigma related to corsetry. In combination with my years of research and personal experience I hope my articles are useful and can help anyone who has struggled with some of the same things I have. More about me…