Featured Corset: Kayla Beige Mesh Corset
When you're new to the world of corseting, understanding the benefits and uses of each different style and material can be confusing. Over or under the bust? Can I wear my trainer over clothes? How tight is this thing supposed to be? Yes, you have a million questions, and that's natural when you're starting something new. We're here to help, so let's talk about fabric. 
Mesh or Cotton — What's Best?
Both cotton and mesh fabrics offer benefits for corsets and waist trainers. Pricing for both materials runs about the same (both are affordable), so neither choice will help or hurt your budget. Snap, you thought it was going to come down to dollars and cents, didn't you? Sorry, no help there.
Do we recommend buying a cotton corset or two? Definitely—they are an excellent value and practical addition to your corset wardrobe. Durability is a good quality in a corset. Cotton canvas is somewhat stiff, which makes it durable. But canvas isn't exactly the prettiest flower in the garden. 
Marvelous Mesh
Mesh corsets are lightweight, breathable, and oh so comfortable. Yeah, they are sexy bishes, and they know it. Like all women, mesh corsets don't just look fantastic. They are also strong. The open weave of a fishnet mesh may look delicate, but the little bit of stretch in mesh makes it incredibly durable.
If you're the kind of confident that likes to wear her trainer over clothes—hurray and yes—mesh is where it's at. Because they are so lightweight, you can wear mesh corsets under lightweight summer clothes without notice. The peekapoo patterns of a mesh garment add textural interest and of course, loads of sexy to your style.
Types of Mesh
All mesh corsets offer the flexibility and stylish appeal of an open weave, but different types of mesh each have something unique to offer. Some mesh materials like bobbinet and tulle are typically only available in custom-made designs. Fishnet and corsetry mesh corsets are readily available from most retailers.
Corsetry Mesh
Corsetry mesh is a finely woven net made from synthetic threads. It is stiffer than fishnet and provides more structure while still being more flexible than cotton corsets with multiple layers. The downside of corsetry mesh is that it's not very breathable and can feel uncomfortable against bare skin.
Fishnet Mesh
Fishnet has a hexagonal design that offers maximum flexibility. The woven strands are made of cotton or polyester. It is the coolest type of mesh, and the popularity of this mesh makes fishnet corsets easy to find. Fishnet is timeless in its sex appeal. Admit it, all you have to do is think of fishnet stockings, and you get a little aroused. Go ahead, do it now. We'll wait.
If there is a con to wearing a mesh corset, it's the little hexagonal imprints the material leaves on the flesh. But wait, maybe that's a plus.
Fishnet corsets offer the most benefits and some of the best available styles outside of custom garments. They also do what they are supposed to, which is to help you stand tall, look amazing and feel like you run the world (because you do).
---
To stay up-to-date with weekly blog posts, waist training tips, and the chance to win one of our monthly corset giveaways, follow us on Facebook, Instagram & subscribe to our mailing list today! Want to find the perfect steel boned corset? Shop some of our favorites: underbust corsets, overbust corsets, corset dresses. You can also shop our corsets by material: cotton corsets, denim corsets, leather corsets, mesh corsets, pvc corsets, and satin corsets. Have questions about getting started with waist training or finding the right size corset? Contact us!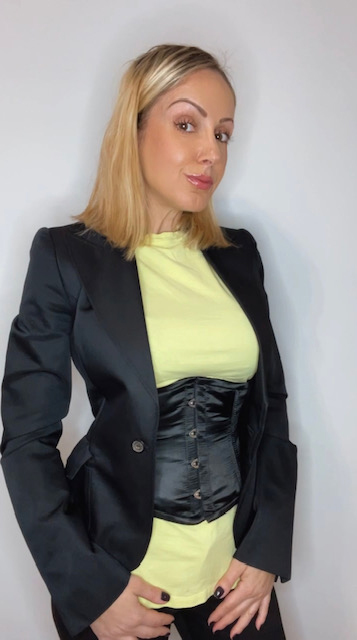 My name is Rachel, I am the owner of Glamorous Corset, a small business founded by me in 2010. Back In 2005, I was in a car accident that left me with a herniated disk. Much to my surprise I learned steel boned corsets were beneficial to several medical injuries including mine. I was always intrigued with corsetry, their history and their beautiful aesthetic. I love sharing knowledge about corsets, educating my wonderful readers and breaking the negative stigma related to corsetry. In combination with my years of research and personal experience I hope my articles are useful and can help anyone who has struggled with some of the same things I have. More about me…