Featured Corset: Jolie Black Cotton Plus Size Corset
Putting on your underwear over your pants is certainly one way to make a bold fashion statement. But in the process, you'll lose out on the functional benefits this garment has to offer—namely, protecting your sensitive bits from chafing.
Also, let's be honest here… if you wear underwear over your pants, people will worry about the state of your psyche. It's less a fashion statement than a cry for help.
Does the same principle apply to corsets? As it happens, corsets not only maintain their support and compression functionality (whether you wear them under or over clothing), but they also help to enhance your ensembles in a variety of ways.
Can a corset be worn as a top? It definitely can, and you could gain several style benefits in the process.
How Can a Corset Be Worn as a Top?
You might think wearing visible undergarments is automatically racy, but you can dress your corset up or down and make it as sexy or staid as you like, depending on what you pair it with. Here are a few examples of how to achieve the look you prefer.
Simply Replace Your Top
You wouldn't necessarily want to wear an overbust corset with leather leggings or a mini skirt to the office, but this look is perfectly acceptable for an evening out clubbing. If you need a little more coverage, simply add a tuxedo or bolero jacket to the mix.
Since evening attire tends to be on the fancy side, this is an excellent opportunity to show off luxurious fabrics like satin or leather, as well as embellishments like buckles or bows.
Treat It Like a Vest
There are a couple of things you need to do to make a corset office-appropriate. First and foremost, choose a suitable corset. You'll want to lean toward plain fabrics like cotton that aren't too flashy and if you're going overbust, pick a straight neckline instead of a sweetheart that emphasizes the breasts. You could also go with an underbust model.
Next, wear a shirt underneath. A crisp Oxford button-down is the most professional option, but a blouse without too many frills should also work fine.
With a pair of slacks and perhaps a fitted jacket, you'll look put together and professional. Simply pair your corset with a simple, soft jersey tee and jeans for a laid-back weekend look.
Wear It in Place of a Belt
This one is simple and versatile. Whether you're wearing slacks and a blouse, a skirt and cardi, or a dress, you can add a waspie-style corset over the top. It will emphasize your waist and serve as a wide belt to add scads of sophisticated style to your every ensemble.
Have Fun with It!
You don't need to ask, "Can a corset be worn as a top?" All you really need to know is how to do it right, and there are so many ways to pair your corset with blouses, tees, slacks, skirts, dresses, and jeans that you really can create a fun look without missing a beat in your waist training regimen.
---
To stay up-to-date with weekly blog posts, waist training tips, and the chance to win one of our monthly corset giveaways, follow us on Facebook, Instagram & subscribe to our mailing list today! Want to find the perfect steel boned corset? Shop some of our favorites: underbust corsets, overbust corsets, corset dresses. You can also shop our corsets by material: cotton corsets, denim corsets, leather corsets, mesh corsets, pvc corsets, and satin corsets. Have questions about getting started with waist training or finding the right size corset? Contact us!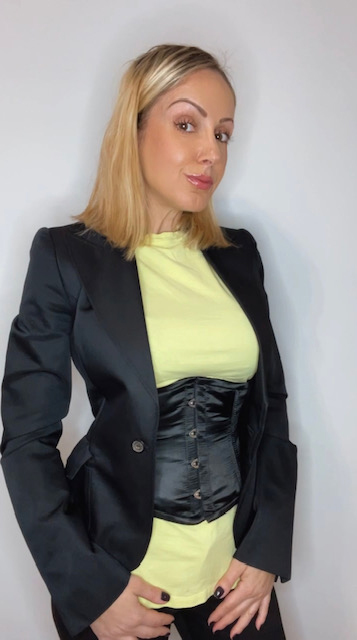 My name is Rachel, I am the owner of Glamorous Corset, a small business founded by me in 2010. Back In 2005, I was in a car accident that left me with a herniated disk. Much to my surprise I learned steel boned corsets were beneficial to several medical injuries including mine. I was always intrigued with corsetry, their history and their beautiful aesthetic. I love sharing knowledge about corsets, educating my wonderful readers and breaking the negative stigma related to corsetry. In combination with my years of research and personal experience I hope my articles are useful and can help anyone who has struggled with some of the same things I have. More about me…