Featured Corset: Bella Pink Satin Corset
Any time you purchase a new garment, you can enjoy a range of benefits, such as looking great, covering problem areas, and feeling comfortable and confident. However, you might also find yourself dealing with side effects like pinching, chafing, and poor fit.
When adding a corset to your daily ensemble, you naturally want to find options that deliver all of the benefits with none of the side effects. You should know going in, though, that this garment is designed specifically for support and compression.
It can deliver benefits like noticeable waist size reduction, hourglass contouring, and better fit. You can even see semi-permanent waist slimming results if you waist train on a schedule. Of course, there could also be additional side effects.
The good news is that you can avoid any potential downsides by selecting the right garments and listening to the signals your body sends you.
For example, you might be among the rare few that find, "My waist trainer makes me feel nauseous!" This is not normal. What can you do to avoid this issue as you progress through your waist training journey?
Waist Trainer Makes Me Feel Nauseous – or Does It?
First, you need to understand if it's actually your corset or something else making you feel nauseous. Whether you've just started waist training or you've been at it for a while, you might naturally wonder if your compression garment is to blame for feelings of nausea.
However, nausea could also be from illness, diet, pregnancy, anxiety, or any number of other factors. To determine whether core compression is a factor, try loosening your corset during wear or going without it entirely for a couple of days. If it turns out your corset is causing nausea, chances are you've been cinching too tightly, or you may have a garment that's not the right size or shape for your body. Luckily, you can remedy these issues easily.
Selecting the Right Corset
We all come in different shapes and sizes, and we all have our own needs, preferences, and level of personal comfort when it comes to corsetry. Feeling comfortable in your corset requires that you select a garment suitable for your body.
With the right style, size, and waist training regimen, you have the best opportunity to enjoy a comfortable and successful experience.
Style
The style of corset you choose should work for your body. The right style will alleviate the potential for discomfort.
For example, if you're already curvy, you might want to choose a garment with a more significant spring (the ratio between the narrow waist and wider hip/bust areas). You may not feel comfortable in a longline model if you have a short torso.
Sizing
There's no quibbling here. If your corset doesn't fit right, it's going to cause discomfort like chafing, pinching, poking, bruising, or possibly nausea. Corsetry requires precise measurements, including:
Underbust
Waist
Hip
Torso (from underbust to hip)
If you prefer an overbust model, you'll also need a bust measurement. Once you have the right size and style of corset, you just need to season it to fit snugly to your body, then follow a waist training schedule to narrow your waist over time. If you feel nauseous or suffer discomfort, simply back off and take a gentler approach to the process.
---
To stay up-to-date with weekly blog posts, waist training tips, and the chance to win one of our monthly corset giveaways, follow us on Facebook, Instagram & subscribe to our mailing list today! Want to find the perfect steel boned corset? Shop some of our favorites: underbust corsets, overbust corsets, corset dresses. You can also shop our corsets by material: cotton corsets, denim corsets, leather corsets, mesh corsets, pvc corsets, and satin corsets. Have questions about getting started with waist training or finding the right size corset? Contact us!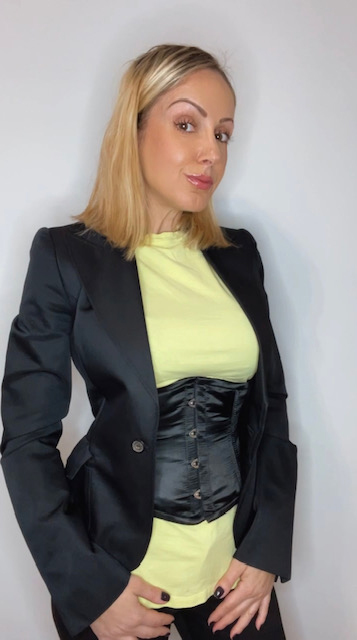 My name is Rachel, I am the owner of Glamorous Corset, a small business founded by me in 2010. Back In 2005, I was in a car accident that left me with a herniated disk. Much to my surprise I learned steel boned corsets were beneficial to several medical injuries including mine. I was always intrigued with corsetry, their history and their beautiful aesthetic. I love sharing knowledge about corsets, educating my wonderful readers and breaking the negative stigma related to corsetry. In combination with my years of research and personal experience I hope my articles are useful and can help anyone who has struggled with some of the same things I have. More about me…