Corset stealthing sounds like it could be the title of the next Mission Impossible movie, but it simply means hiding your corset under your clothes. Hey, your undergarments aren't everyone's business unless you want them to be.
When worn on the outside of clothing, a corset can add a layer of style to almost any outfit. Some corsets are so gorgeous no one would ever guess you are waist training —  they just think you're incredibly fashionable. While waist training does require a daily commitment, that doesn't mean you are stuck showing everyone your corset every day if you don't want to. That's why it's important to learn how to wear a stealthing corset.
What Are the Best Stealthing Corsets?
All waist-training corsets are stiff and contain rigid bones and bumpy laces in the back. Though a properly seasoned corset fits "like a glove," the truth is that no corset is going to totally disappear. However, making good choices about color, fabric, and fit will help you keep your business private.
Color
Forget elegant florals and timeless brocades — a stealthing corset should match your skin tone as closely as possible. Stick with shades of ivory, brown, tan, peach, nude, or beige. 
Fabric
One of the best corset fabrics to hide under clothing is satin. Because satin is smooth and somewhat slippery, almost any style of top or dress will glide right over it without bunching or sticking. However, unsupported satin can wrinkle and give in to stress. Choose a satin corset that's fused with a backing for extra durability. 
Cotton twill is not as smooth as satin, but it is an excellent second choice. One advantage of cotton twill is that it won't generate static. It's also more breathable and more comfortable for long hours of wear.
Edge Shape
When shopping for a stealthing corset, look for one with top and bottom edges that are straight or gently rounded. Corsets with dramatic swoops and points are beautiful, but those points tend to bow when you move and could poke out under clothing.
Boning
Boning is an essential component of a good-quality corset, but when it comes to stealthing, not all boning is equal. Look for garments with smoothly finished bone channels that won't show through or cause your clothing to bunch up. Sandwiches and internal boning channels are the best options. External channels are often recommended because of the comfort they provide, but you may have to trade a small measure of comfort to keep it stealthy.
Closures
Waist training corsets typically have a front busk to make them easy to put on and take off. Unfortunately, a busk may cause a line of bumps to show underneath a fitted dress or blouse. A corset with a closed front is a better option. It may take a minute or two more to get the garment off and on, but the smooth front will more than make up for the inconvenience.
A corset isn't a corset without laces. Keeping your backside stealthy is a little more complicated. Using a shorter lace reduces bulk, but it may not be possible to tuck in the ends of a shorter lace. A longer lace provides the extra inches needed to hide the ends under the corset, but too much extra could create a bump that ruins your smooth look.
On the topic of laces, using flat satin instead of cotton laces will also help. Sain laces provide the strength you need without any extra bulk.
Fit and Season Well
No matter how carefully you choose color, fabric, shape, or closures, if your corset doesn't fit well, it won't hide well. Make sure you start with the right size and style of corset for your body shape, and take time to season it properly for the perfect fit. Check out our guidelines for taking the right measurements and breaking in a new corset slowly and safely. 
Pick the Right Clothes
When you want to be stealthy, leave the skin-tight bodycon outfits in your closet. Choose thicker fabrics and looser clothing that skims the body without clinging. Clothing with patterns will help hide the lines of your corset and distract the eye from any bumps or ridges you can't control.
Are You Ready to Go Stealth?
There is no one "right" corset for stealth waist training. The best options encompass a combination of features that fit your specific needs. Start with a good-quality garment that fits your body correctly and is well-seasoned. Choose a color that is as close as possible to your natural skin tone, and avoid bulky boning and laces as much as you can.
At Glamorous Corset, we offer a variety of corsets for every need. If you need help selecting a stealthing corset, contact us for assistance. 
Other helpful articles:
---
To stay up-to-date with weekly blog posts, waist training tips, and the chance to win one of our monthly corset giveaways, follow us on Facebook, Instagram & subscribe to our mailing list today! Want to find the perfect steel boned corset? Shop some of our favorites: underbust corsets, overbust corsets, corset dresses. You can also shop our corsets by material: cotton corsets, denim corsets, leather corsets, mesh corsets, pvc corsets, and satin corsets. Have questions about getting started with waist training or finding the right size corset? Contact us!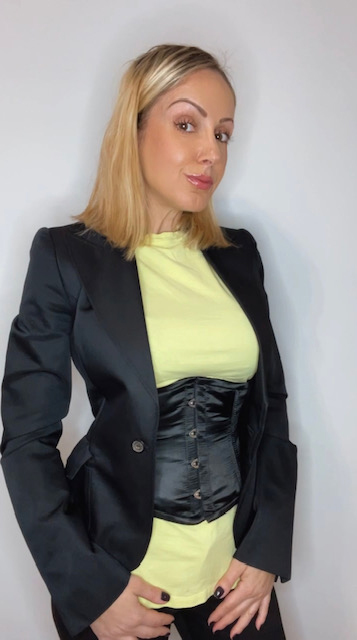 My name is Rachel, I am the owner of Glamorous Corset, a small business founded by me in 2010. Back In 2005, I was in a car accident that left me with a herniated disk. Much to my surprise I learned steel boned corsets were beneficial to several medical injuries including mine. I was always intrigued with corsetry, their history and their beautiful aesthetic. I love sharing knowledge about corsets, educating my wonderful readers and breaking the negative stigma related to corsetry. In combination with my years of research and personal experience I hope my articles are useful and can help anyone who has struggled with some of the same things I have. More about me…