Featured Corset: Bella Blue Satin Corset
Life is all about adventure, but you definitely want the right garments when trying a new activity. Could you opt for average sweatpants when you jog? Sure, but eschewing high-tech running pants' breathable, wick-away properties will leave you soggy and chafed in places you'd rather not think about.
Similarly, it's incredibly important to choose the right corset if you want to get into waist training. However, this can be tough for the uninitiated. While most of us have tried on a yoga pant or three, very few have worn or even looked at a corset.
You're probably asking yourself, "What type of corset should I get?" With a bit of information about how these specialized support garments work, you can avoid getting a lemon of a corset and find one that perfectly meets your needs.
What Type of Corset Should I Get for Waist Training?
There is only one acceptable answer here: steel boned. If you want to wear a corset purely for fashion, you can purchase a costume-type corset for bedroom shenanigans or trips to the club. For waist training, you need the strength of steel boning to contour your torso in specific ways.
How can you tell the difference? There are a few ways. First, there could be a significant difference in price point. Because fashion corsets use plastic boning, they can be made much more cheaply.
With that being said, some brands use their name to justify jacking up prices. However, if you're buying from a mainstream lingerie company, you can generally assume you're getting a costume corset.
The next thing to consider is sizing. Fashion corsets usually come in typical S/M/L/XL type sizing. Because accurate sizing is so important for effective waist training, steel boned corsets tend to note a range of measurements, including waist, bust, hip, torso length, and spring.
In addition, steel-boned corsets feature sturdy busks and robust textiles designed to stand up to the tension put on them when cinched. If you're looking at a corset with flimsy lace, low-grade satin, hook and eye closures (like on your bra), and flexible boning, it won't work for waist training.
Different Corset Styles
Now that you know how to spot a waist-training corset in the wild, it's time to determine which style you want. There are several different options to consider.
Overbust or Underbust
There are two overarching categories when it comes to styles of corsets: overbust or underbust. As you may have guessed, overbust models extend upward to cover the breasts, much like a strapless bra. 
On the other hand, underbust models do not include cups for your breasts. Instead, these corsets stop at the underbust area or the crease where breast tissue meets the abdominal wall.
While both add lift and support to your torso, an overbust model will also support the breasts, subbing in for your average bra. However, not everyone is comfortable with this level of coverage. Some also have trouble hiding an overbust model under clothing. In such cases, an underbust model can still slim your waist.
Corset Shapes
Whether you choose overbust or underbust corsets, you'll find that these garments come in a wide range of waist shapes. Why is this important? The different shapes produce different results and entail varying levels of relative comfort.
Hourglass and waspie corsets cup the ribs and nip in at the waist, slimming the waistline while creating minimal compression on the ribs. These models are great for nearly everyone, from beginners to seasoned waist trainers. 
Like the pipe stem, others can compress ribs, while a u-shape can become problematic if you like a long line as it presses on the hips. Conical styles, popular in the 18th century, are notorious for putting pressure on ribs as they taper straight down to the waist like an ice cream cone.
These models are better for advanced users attempting to create a very specific body shape.
The Importance of Sizing
We've answered the question, "What type of corset should I get?" but sizing is still one final consideration. You'll need to take several key measurements to ensure that your corset fits snugly and comfortably. Typical measurements include:
Underbust
Waist
Hip
Torso length (underbust to hip)
If you prefer overbust models, you'll also need an accurate bust measurement. With these measurements, you have the best chance to find the right size corset for your body. 
You'll also want to make sure you understand spring or the ratio between the waist and the corset edges. This is responsible for the flair of the garment or how small your waist looks relative to the bust and hips.
With a good understanding of corset styles, shapes, and sizing, you can find the best waist training corset to help you reach your goals and avoid buying the wrong garment.
---
To stay up-to-date with weekly blog posts, waist training tips, and the chance to win one of our monthly corset giveaways, follow us on Facebook, Instagram & subscribe to our mailing list today! Want to find the perfect steel boned corset? Shop some of our favorites: underbust corsets, overbust corsets, corset dresses. You can also shop our corsets by material: cotton corsets, denim corsets, leather corsets, mesh corsets, pvc corsets, and satin corsets. Have questions about getting started with waist training or finding the right size corset? Contact us!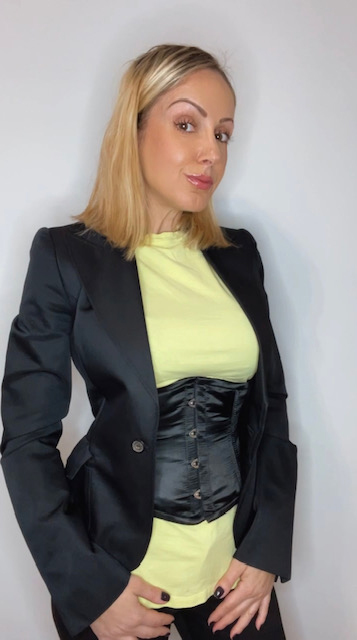 My name is Rachel, I am the owner of Glamorous Corset, a small business founded by me in 2010. Back In 2005, I was in a car accident that left me with a herniated disk. Much to my surprise I learned steel boned corsets were beneficial to several medical injuries including mine. I was always intrigued with corsetry, their history and their beautiful aesthetic. I love sharing knowledge about corsets, educating my wonderful readers and breaking the negative stigma related to corsetry. In combination with my years of research and personal experience I hope my articles are useful and can help anyone who has struggled with some of the same things I have. More about me…