Featured Corset: Dita Black Cotton Corset
Certain articles of clothing are easy to put on. You can pop a T-shirt over your head, pull on a pair of jeans, slip into your flip flops, and be out the door in less than a minute. Other clothing options require some assembly. 
Corsets are one such garment. Once you've watched a few tutorials on different lacing styles, it's time to consider whether you want to wear garters or, as they're sometimes called, suspenders.
These stretchy straps attach to your corset on one end and your thigh-high stockings on the other, helping to ensure that your stockings don't fall. All you need to know is how to attach garter straps to your corset to get this show on the road!
Locate Garter Loops
First, you need to know where your garters go. Since they're meant to hold up your stockings, you might guess they attach to the bottom edge of your corset, and you would be correct.
When you look at the inside of your corset, you'll find loops sewn into the lining along the bottom edge. They're typically oriented in an upward direction to lie flat during wear.
There are two reasons for this. First of all, it prevents the loops from peeking out from the bottom edge of your corset when you're not wearing garters. Secondly, it's for comfort during wear.
About Face
Now that you've found your garter loops, the next thing you need to know is how to orient your garter straps appropriately.
Garters are very similar to the removable straps that come with strapless bras. They have a similar hook at one end and a slide in the middle for adjustment. However, while the slide on a bra strap is usually shaped like a squared figure eight, the slide on garters may include a metal lock.
When flipped down, this lock lies flat. It's important to place this facing outward—away from your leg—if you don't want to get poked when wearing your corset. When attaching garters, lay your open corset face down, pull down the garter loops, and slide in the hook so that the locking side of the slide is also facing down, away from you.
Well Adjusted
Once your garters are attached, you can cinch into your corset and pull on your stockings (or vice versa). Next, attach garters to your stockings.
When this is done, you may find some garters are too tight or loose. You can adjust them simply enough by flipping the flat lock up into an open position, then pulling up to tighten or down to loosen straps to your desired position. Flip the lock closed, and you're good to go.
Four of a Kind or Six Pack?
Most corsets include four or six garter loops, although occasionally, you'll find the odd garment that has more. Glamorous Corset models all come with six garter loops and garters for your convenience. The only exceptions are Bella, Lexi, and Gia models, as these short waspies aren't suitable for use with garters.
---
To stay up-to-date with weekly blog posts, waist training tips, and the chance to win one of our monthly corset giveaways, follow us on Facebook, Instagram & subscribe to our mailing list today! Want to find the perfect steel boned corset? Shop some of our favorites: underbust corsets, overbust corsets, corset dresses. You can also shop our corsets by material: cotton corsets, denim corsets, leather corsets, mesh corsets, pvc corsets, and satin corsets. Have questions about getting started with waist training or finding the right size corset? Contact us!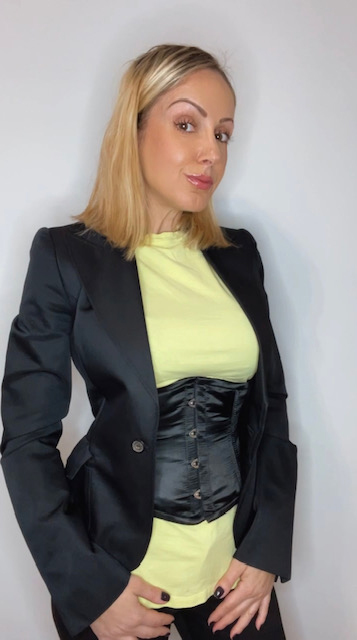 My name is Rachel, I am the owner of Glamorous Corset, a small business founded by me in 2010. Back In 2005, I was in a car accident that left me with a herniated disk. Much to my surprise I learned steel boned corsets were beneficial to several medical injuries including mine. I was always intrigued with corsetry, their history and their beautiful aesthetic. I love sharing knowledge about corsets, educating my wonderful readers and breaking the negative stigma related to corsetry. In combination with my years of research and personal experience I hope my articles are useful and can help anyone who has struggled with some of the same things I have. More about me…