Featured Corset: Jenna Bridal Satin Corset (Plus Size)
It is said that patience is a virtue, but in this fast-paced world of instant gratification, it can feel like an unnecessary hindrance, especially when it comes to achieving a slimmer waistline. While waist training is a proven way to achieve semi-permanent results, you wouldn't be remiss in questioning the timeline for results.
How long does it take a waist trainer to work? There is no single answer to this question. It will depend on a range of factors, including your body, your goals, and striking a balance between safety, comfort, and how aggressively you want to pursue speedy results. 
That said, here's what you can generally expect when you undertake a waist training regimen.
Instant Gratification
Your eyes lit up at that headline, didn't they? It's true that you'll see results the first time you lace up a corset, but don't get ahead of yourself.
Corsets are designed to slim your waist by at least a couple of inches right off the bat. Even if you're not accustomed to wearing this compression garment, most people can tolerate this level of slimming reasonably well.
If this is your goal, congratulations! You've found your answer. If, on the other hand, you're looking to reduce your waistline by four or more inches, you're going to have to start a waist training regimen that includes incrementally cinching laces tighter over time, and potentially even downsizing your corset at some point.
Short-Term Slimming
In your first few weeks of waist training, you're likely to be working your way up to wearing a corset for several hours a day, starting with just a couple of hours daily and then adding another couple every few days until you're comfortable sporting this compression garment from morning to night.
Ideally, you'll want to wear a corset for about 8-10 hours each day for waist training purposes.
As a result, you won't see significant slimming during this time. The main goal in the beginning is to get to the point where your corset becomes just another part of your wardrobe, snug but comfortable under your clothing (or over, if you prefer to make it part of your visible ensemble).
The good news is, once you're on board with all-day wear, you can start the next segment of your waist training journey: incremental cinching.
Long-Term Results
When people ask, "How long does it take a waist trainer to work?" what they really want to know is when they'll achieve their goals. In other words, they're concerned with long-term results. Whether you want to reduce your waist by four, six, or ten inches, you should anticipate at least several weeks or months of training to reach your goal.
At this rate, you can achieve significant results in a safe and comfortable manner, increasing your chances of long-term success.
While there are limits to how much you can reduce your overall waist size, based on your starting size and other factors like concurrent weight loss, for example, you will eventually enjoy semi-permanent results if you stick with your regimen of daily wear.
How Long Does It Take a Waist Trainer to Work for Me?
It's important to understand that your waist training journey is unique. Results will depend on factors like your goals, comfort, and dedication, as well as how your body responds to a corset.
The corset you choose and how well it works with your body are also a consideration. For example, if you already have a curvy figure, you might be able to adopt a more pronounced spring, where the waist of the garment is much smaller than the outer edges. This could create a more defined curve and perhaps increase cinching potential.
However, a considerable spring might not work for every body type. While some people find corsets instantly comfortable, others may not take to the compression as well, possibly prolonging the timeline.
The point is not to set hard deadlines or compare your progress to others, but to be present in your own journey, listening to your body and loving it at every stage as you move closer to your ultimate waist training goal.
---
To stay up-to-date with weekly blog posts, waist training tips, and the chance to win one of our monthly corset giveaways, follow us on Facebook, Instagram & subscribe to our mailing list today! Want to find the perfect steel boned corset? Shop some of our favorites: underbust corsets, overbust corsets, corset dresses. You can also shop our corsets by material: cotton corsets, denim corsets, leather corsets, mesh corsets, pvc corsets, and satin corsets. Have questions about getting started with waist training or finding the right size corset? Contact us!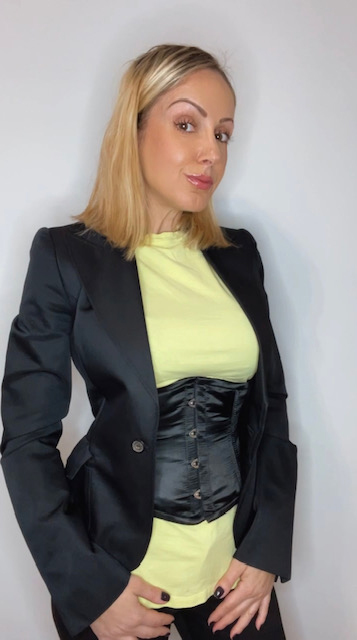 My name is Rachel, I am the owner of Glamorous Corset, a small business founded by me in 2010. Back In 2005, I was in a car accident that left me with a herniated disk. Much to my surprise I learned steel boned corsets were beneficial to several medical injuries including mine. I was always intrigued with corsetry, their history and their beautiful aesthetic. I love sharing knowledge about corsets, educating my wonderful readers and breaking the negative stigma related to corsetry. In combination with my years of research and personal experience I hope my articles are useful and can help anyone who has struggled with some of the same things I have. More about me…