Corsets are enjoying renewed popularity, but these supportive garments have been on the garment scene in one form or another for hundreds of years. They are fashionable, functional, and admittedly sexy, but what is the purpose of a corset, really?
Women and men wear corsets for a variety of reasons, and the most common reason has remained the same through the centuries.
What Is a Corset?
A corset is an undergarment that has served one main purpose throughout time: to visually change the shape of a person's body.
However, the shaping effects have changed with fashion trends. For example, Elizabethan corsets were designed to flatten a woman's bust line and make her torso appear to be more cylindrical.
During the Victorian Era, corsets that created an hourglass shape became popular. At the same time, men began to wear corsets to flatten their stomachs and provide back support.
Corsets are constructed with laces in the back that can be tightened or loosened to fit the wearer perfectly. To be used as a waist trainer, the laces are incrementally tightened on a schedule as the wearer's waist slowly becomes smaller.
There are several different styles of corsets on the market today. The most popular style fits under the bust, but overbust and belt corsets are also available. Most modern corsets are made from mesh material with steel bones that give the garment structure.
Wait, Men Wear Corsets Too?
Yes, corsets are for men too. Like many fashion elements, trends come and go. Stockings, wigs, and high-heeled shoes were once staples of a man's wardrobe. Today, men are wearing corsets again for the same reasons women wear them: for better posture, a smoother-looking physique, waist training, cosplay, and cross-dressing.
Corsets Give You Control of Your Figure
Many transgender women prefer corsets because they create a more feminine hourglass shape. In addition, corsets adapt to each person's unique body shape.
For those who weren't born with the idealized curvy figure, the flexibility of corsets makes them more comfortable than many other types of undergarments that aim to shape the torso.
What Is the Purpose of a Corset?
When it comes down to it, the main purpose of a corset is to change your body shape. Whether you want to look curvier, taller, straighter, or less busty, the right corset can help you achieve that aesthetic.
While changing your look is the main purpose, there are also many benefits to wearing a corset you will experience along the way. Consider the following benefits when choosing your corset.
Improved Posture
Bad posture is bad for your health. It can lead to headaches, digestive discomfort, and back pain. Wearing a corset puts your body in the correct "Sit up straight!" position Mom always scolded you about.
Back Support
Properly fitted corsets don't limit your mobility; in fact, they add an extra layer of support to your back as you move. Wearing a corset long-term may help relieve pain in people with chronic back problems.
Confidence Boost
Corsets help your clothes look better and allow you to stand taller and feel stronger — so you can't help but feel more confident. Many corset wearers report the snug hug of a corset makes them feel emotionally stronger and protected, which gives them more confidence to face daily challenges.
Reduced Waist Size
Waist training is real, and it works. Though it is not a permanent change, a corset can help you achieve the slender waist look you desire. It's a great tool to help you stay inspired to meet other fitness goals.
Appetite Control
The firm fit of a corset slightly compresses your abdomen. This light pressure helps you to feel full with a smaller portion of food. Corsets don't restrict your ability to eat in any way, but they help you be more aware of that feeling of fullness before you've overeaten.
Bust Support
Overbust corsets are especially effective for supporting the bust. Many large-busted women prefer wearing corsets instead of underwire bras because they are more comfortable, and the extra back support helps relieve neck and spine problems related to heavy breasts.
What Can a Corset Do for You?
The answer to "What is the purpose of a corset?" ultimately depends on the person who's wearing it. There are many excellent reasons to wear this supportive undergarment, but the best reason is that it makes you feel good about yourself. 
---
To stay up-to-date with weekly blog posts, waist training tips, and the chance to win one of our monthly corset giveaways, follow us on Facebook, Instagram, & subscribe to our mailing list and YouTube channel today! Want to find the perfect steel boned corset? Shop some of our favorites: underbust corsets, overbust corsets, corset dresses. You can also shop our corsets by material: cotton corsets, denim corsets, leather corsets, mesh corsets, pvc corsets, and satin corsets. Have questions about getting started with waist training or finding the right size corset? Contact us!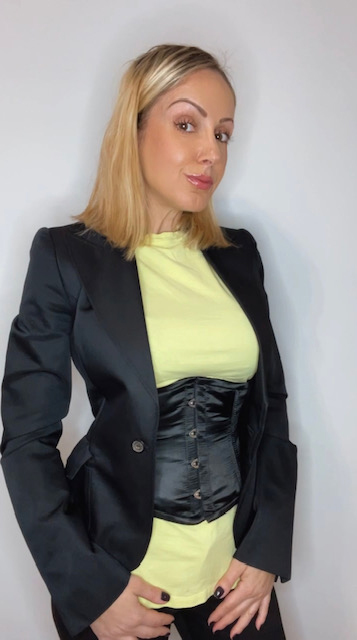 My name is Rachel, I am the owner of Glamorous Corset, a small business founded by me in 2010. Back In 2005, I was in a car accident that left me with a herniated disk. Much to my surprise I learned steel boned corsets were beneficial to several medical injuries including mine. I was always intrigued with corsetry, their history and their beautiful aesthetic. I love sharing knowledge about corsets, educating my wonderful readers and breaking the negative stigma related to corsetry. In combination with my years of research and personal experience I hope my articles are useful and can help anyone who has struggled with some of the same things I have. More about me…