Featured Corset: Gia Black PVC Corset Belt
Corsets are stylish, classic, and popular for waist training, but many people wonder about their long-term effects. You may want to know whether you would enjoy wearing a corset or waist trainer for an extended period. Aren't they pinching, squeezing torture devices that parade as undergarments? 
Absolutely not! The truth is, when worn as recommended and fitted correctly, corsets can be more comfortable than the average underwire bra. Once you understand the long-term effects of wearing a corset, you might be inspired to start wearing one yourself.
It's All About the Fit
Getting the most from your corset starts by wearing the right style, shape, and size for your body.
If you buy a pair of shoes that are two sizes too small and have a higher heel than you're used to, your feet will hurt after a long day of standing. That doesn't mean the shoes were at fault.
The same is true for corsets. It's understandable you might be excited to see your waist slimming with the help of a corset, but buying one that's too tight won't get you there faster. To make sure you enjoy and benefit from corset wearing, follow these tips for a good fit:
Measure your underbust (the area directly under the bottom of your breasts
Measure your natural waist (find your natural waist by bending to the side and noting where it creases)
Measure your hips
Measure the length of your torso from the underbust to the top of the hip
Take your bust measurement if you want to wear an overbust style
Reserve corsets with S/M/L/XL sizing for fashion wear only
Avoid long-line corsets if you have a short torso
Read the dimensions of a corset to find the correct size for your body
A well-fitting corset should feel like a firm hug without any uncomfortable pinching or poking. It should not restrict your breathing or prevent you from moving naturally.
Once you've found the garment that works best for your body shape and size, you can start enjoying the long-term effects of wearing a corset.
5 Long-Term Effects of Wearing a Corset
To get the most from a waist-training garment, you should follow a schedule. Once your garment is properly seasoned (stretched to fit your body), you can start wearing it daily and slowly increasing the length of time it's on your body. With regular wear, you can experience the following five benefits.
1. Weight Loss
A corset isn't a magic pill for losing weight, but it is a helpful tool. How can waist training help with weight loss? Wearing a trainer discourages you from overeating.
The snug wrap of a corset around your waist slightly compresses your stomach, making you more aware of that satisfied feeling when you've had enough to eat. Wearing a corset at mealtimes will naturally help you control your appetite without feeling deprived or hungry.
2. Better Posture
Poor posture is responsible for a variety of problems. Slouching and slumping can lead to neck pain, back pain, and headaches. Whether your job requires you to sit at a keyboard all day or you have bad posture habits for other reasons, wearing a corset can help.
A corset keeps your torso in the proper upright position when sitting. When you wear one long-term, you develop the habit of sitting up straight even after you take the garment off.
3. Pain Relief
A study available in the National Library of Medicine confirms that long-term corset wearing can relieve lower back pain. The study found that people with chronic lower back pain experienced less muscle fatigue and improved pain levels after wearing the corset for six months.
While participants in the study wore medical corsets, the structure of any high-quality corset is similar.
4. A Trimmer Waist
There's a reason it's called "waist training." Once your corset is properly seasoned and you start incrementally tightening the laces, it's possible to reduce your waist size by four inches or more.
Results from corseting alone are not permanent. However, wearing a corset does provide an immediate visual change to your body that can help inspire you to stick with a healthy lifestyle.
5. Increased Confidence
Doing good things for yourself is an immediate confidence booster. Taking the first steps to get started with waist training makes many corset-wearers feel empowered. Achieving any goal, big or small, increases feelings of self-esteem.
The other long-term effects of wearing a corset also add to your confidence level. Standing straighter, getting healthier, reducing back pain, and looking the way you want to look are all positive achievements to feel proud of.
Are You Ready to Wear a Corset?
Whether you want to lose a few pounds, get that snatched look, or enjoy the confidence that comes with standing taller, wearing a corset can help.
The long-term effects of wearing a corset are just that — long-term. You won't notice a major change overnight. It can take two weeks or more to season a new corset and begin the process of tightening the laces, but the benefits are well worth the wait.
---
To stay up-to-date with weekly blog posts, waist training tips, and the chance to win one of our monthly corset giveaways, follow us on Facebook, Instagram, & subscribe to our mailing list and YouTube channel today! Want to find the perfect steel boned corset? Shop some of our favorites: underbust corsets, overbust corsets, corset dresses. You can also shop our corsets by material: cotton corsets, denim corsets, leather corsets, mesh corsets, pvc corsets, and satin corsets. Have questions about getting started with waist training or finding the right size corset? Contact us!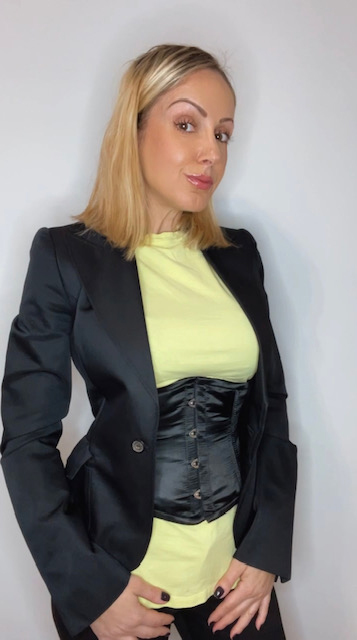 My name is Rachel, I am the owner of Glamorous Corset, a small business founded by me in 2010. Back In 2005, I was in a car accident that left me with a herniated disk. Much to my surprise I learned steel boned corsets were beneficial to several medical injuries including mine. I was always intrigued with corsetry, their history and their beautiful aesthetic. I love sharing knowledge about corsets, educating my wonderful readers and breaking the negative stigma related to corsetry. In combination with my years of research and personal experience I hope my articles are useful and can help anyone who has struggled with some of the same things I have. More about me…