Women have long known the difficulties of conforming to feminine standards for hair, makeup, and clothing trends, among other things.  For men who dress in drag, these difficulties are often multiplied because they find themselves working with garments designed for the feminine form, not to mention a social stigma that can make it hard to find suitable alternatives.
For all that, though, this strong and resilient community of enthusiasts and performers has found ways to make it werk, with tips, tricks, and hacks to elevate every ensemble without compromising the ability to dance, strut, and vogue for hours.  If you're just entering the world of drag, one of the most important garments in your wardrobe is the corset, so you'll want the right one and you need to know how to size a corset for drag.
What styles and features are best going to suit your needs?  How can you find the size that's right for your body and that still allows you to move with agility?
The Importance of Steel Boning
Corsets are designed to hug you in all the right places, enhancing an hourglass silhouette, or in the case of drag, creating a curvy figure that is largely lacking in the male form.  This is why it's so important to use proper, steel boned corsetry.
The average fashion/costume corset simply doesn't have the strength to shape your body to new contours, and if you try, you'll likely end up with a torn panel or a bent piece of plastic boning stabbing your midsection.  Waist training corsets are designed to stand up to a lot of cinching, which is why they're designed with robust textiles, rigid steel boning, and frequently, extras like an inner lining and modesty panels to meet your practical needs and deliver longevity. (See: Authentic Corsets vs. Fashion Corsets: What's the Difference?)
Short in the Torso, Long on Versatility
Before we get to sizing, let's discuss the style of corset best suited to drag.  Because corsets are created to serve the female form, they can prove problematic for men in certain areas, particularly the bust and hip.
While you can easily add padding at the bust, you might be better off using a bra for this purpose, as it could offer greater support and coverage, helping you to avoid issues like spillover or even cutlets popping out at inopportune moments.  Add padding to the hips can also be tricky, especially if you're moving around a lot.
The ideal course of action is to skip overbust and longline models altogether and opt instead for underbust corsets or waspies.  Waspies tend to be ideal for nipping in the waist and helping to create the illusion of an hourglass, but you could use a longer overbust with one simple alteration: just flip it upside down. (Tip: See Does Glamorous Corset Make Corsets for Men? for a list of our best corsets for men.)
Female corsets are going to be narrower at the top, under the bust, and wider at the bottom, flaring for the hip, but men tend to have opposite dimensions, with a wider rib cage and a narrow hip.  When you flip the garment and lace accordingly, you may enjoy a better fit, although your busks will open on the opposite side. (See: Wearing a Corset Upside Down: Why Would You Do It?)
Your best option is to find a corset made for a man, as it will account for your difference in proportions, or if you have the money, invest in a custom garment that will fit you perfectly.  Otherwise, consider choosing a shorter underbust model or a waspie to gain the most benefit with the least potential for ill-fit.
Sizing Considerations
The trick with finding the right size of corset is to take accurate measurements, and you'll need a few.  If you choose an underbust model, you'll need to measure the circumference of your torso under the bust (below the pecs, where the underwire of a bra would rest), your waist (aim for about an inch above your belly button), the hips (at the hip bone), and your torso length (from the underbust line to the bend of your hip – try measuring when seated and sitting up straight). (See: Corset Sizing Chart)
If you're having trouble finding corsets that suit your measurements, remember, you can always try flipping them to get closer to your natural dimensions and avoid the need for added padding to fill in the gaps.  Don't forget to ask about the hip spring (the difference in circumference between the hip and the waist of the garment).  You'll likely want the smallest spring.  In terms of waist size, you'll typically want to have the option to size down at least four inches.
Corset Measurements for Men
A – Ribcage: Measure right under your pecs.
B – Natural Waist: Measure at the smallest part of your waist usually right above your belly button.
C – Hip: Measure right above hip bone, this is where your jeans would usually sit.
D – Torso: Start with the measuring tape right under the pecs, sit in a chair, and measure to the hip crease (where your leg bends at the hip when seated). Do this at each hip and use the shorter measurement, if one side is shorter.
Other relevant articles:
---
Stay up-to-date with weekly blog posts, waist training tips, and the chance to win one of our monthly corset giveaways, like us on Facebook & subscribe to our mailing list today! Want to find the perfect steel boned corset? Shop some of our favorites: underbust corsets, overbust corsets, corset dresses. You can also shop our corsets by material: cotton corsets, denim corsets, leather corsets, mesh corsets, pvc corsets, and satin corsets.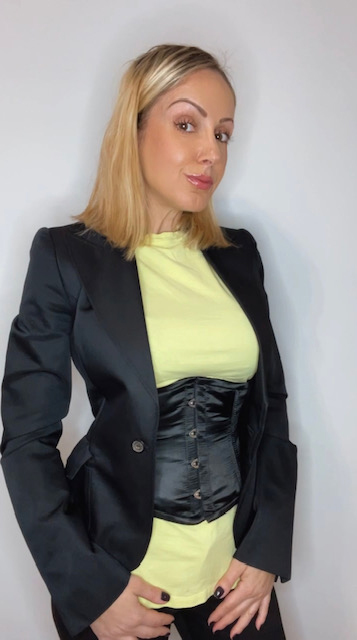 My name is Rachel, I am the owner of Glamorous Corset, a small business founded by me in 2010. Back In 2005, I was in a car accident that left me with a herniated disk. Much to my surprise I learned steel boned corsets were beneficial to several medical injuries including mine. I was always intrigued with corsetry, their history and their beautiful aesthetic. I love sharing knowledge about corsets, educating my wonderful readers and breaking the negative stigma related to corsetry. In combination with my years of research and personal experience I hope my articles are useful and can help anyone who has struggled with some of the same things I have. More about me…