See customer photos: Fantasy, Halloween & Cosplay Corsets
If you were one of those kids who begged their mother to let them wear their Halloween costume long after the trick-or-treats were over, you probably already know what costume play, or cosplay, is. 
For everyone else, the idea of costume and performance art may be a bit confusing. Why would responsible adults want to dress up as fictional characters and hang out together in public places? Because it's fun, that's why — incredibly fun. It also provides an outlet for creative costume designers and mega-fans to show off their talents.
Comic-Con, Renaissance Faires, and More
There are many places where you can enjoy cosplay without worrying about what the neighbors think — and many more if you are courageous enough not to care.
Gatherings that celebrate specific genres of entertainment, such as comic book conventions and movie franchises, are filled with people dressed up like their favorite superheroes and other characters.
It's also not unusual to see people in costume for special events like the opening of the latest action movie. Renaissance fairs have long been popular among those who are fascinated with the fashion and customs of the medieval and post-medieval eras. 
Some people enjoy cosplay so much they plan themed parties or even cosplay weddings to provide themselves and their friends the opportunity to get into costume.
Corsets and Cosplay are a Natural Pair
Because some version of the corset has been around for hundreds of years, incorporating one into a cosplay costume is easy. Both men and women use the dramatic proportions created by a corset to enhance their looks.
Tips for Wearing a Corset in Cosplay
Some popular female characters are famous for their hourglass figures. Including a corset for a Wonder Woman costume or a Renaissance-era character is a no-brainer. Even if your favorite character doesn't have an obvious corset in their costume, there are still ways to enhance your play with a waist-cinching garment.
1. Train with Your Corset
If you're new to corset wearing, don't take a new corset right out of its box, and plan on wearing it all weekend at your favorite event. It takes time to season a corset so it fits correctly and feels comfortable.
Follow the recommended guidelines for getting the right fit and allow yourself two or more weeks to break in the garment so you can wear it with confidence. Make sure to practice wearing your corset with your full costume to confirm all the elements work together.
2. Use a Fashion Corset
Not all corsets are created equal. An unboned corset belt, like our black PVC belt, can give you the illusion of an hourglass shape without the compression of a more traditional cinched garment.
If you're only interested in corset-wearing for cosplay, you may not want the expense or the commitment of wearing a fully boned version. A fashion corset belt may be the right option.
3. All Sizes can Wear Corsets
One of the great things about cosplay is you can put on a costume and be someone else for a while. Don't limit yourself because you think your curves are too ample. If you're bold enough to embrace cosplay, embrace all of your beautiful self.
Whatever your size, make the effort to take accurate measurements to ensure you start out with a great fit.
4. Batman Does It — So Can You, Bro
Yes, men can and do wear corsets, too. If you enjoy cosplaying female characters or want to put a new spin on a classic costume, getting some curvy help from a corset can bring your costume to life.
Men who are looking to create a traditionally masculine superhero shape might try wearing the Dita underbust corset upside down for a less feminine silhouette.
5. Engage the Animal Within
Not all cosplayers take human forms. Aliens, magical forest creatures, and mythical beasts come in many different shapes. A corset might help you create the non-human proportions you need to make your costume look the way you want.
6. Know Your Fashion Era
Velvet and PVC corsets are both sexy and touchable, but these materials are not from the same fashion period. Do your research to know which materials are appropriate for your era of cosplay. Small details are what make your costume a success.
Loosen Up for Cosplay
Cosplay is play. You may want to eat a turkey leg, drink a few pints of warnong (that's Klingon ale for you non-Trekkies) or engage in some fantasy swordplay. It's not necessary to tighten your corset all the way, especially if you're not already adjusted to a waist-training routine.
Even with a little extra room, a corset will still provide the support and shape you need for costuming. Loosen those ties and give yourself the comfort to have fun. 
---
To stay up-to-date with weekly blog posts, waist training tips, and the chance to win one of our monthly corset giveaways, follow us on Facebook, Instagram & subscribe to our mailing list today! Want to find the perfect steel boned corset? Shop some of our favorites: underbust corsets, overbust corsets, corset dresses. You can also shop our corsets by material: cotton corsets, denim corsets, leather corsets, mesh corsets, pvc corsets, and satin corsets. Have questions about getting started with waist training or finding the right size corset? Contact us!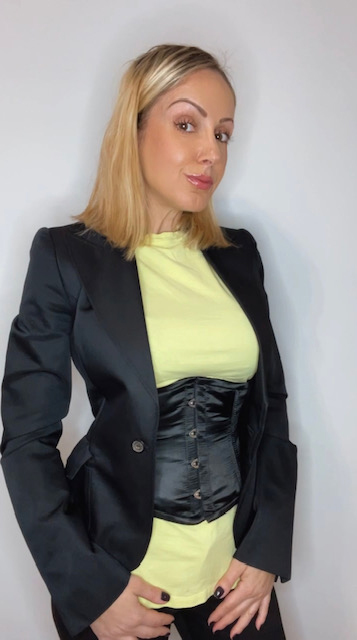 My name is Rachel, I am the owner of Glamorous Corset, a small business founded by me in 2010. Back In 2005, I was in a car accident that left me with a herniated disk. Much to my surprise I learned steel boned corsets were beneficial to several medical injuries including mine. I was always intrigued with corsetry, their history and their beautiful aesthetic. I love sharing knowledge about corsets, educating my wonderful readers and breaking the negative stigma related to corsetry. In combination with my years of research and personal experience I hope my articles are useful and can help anyone who has struggled with some of the same things I have. More about me…