Time travel hasn't been invented yet, but you can still experience the romance and ribaldry of the Renaissance era once a year when ye olde Renaissance Faire comes to town. Whether you're chowing down on chicken legs and guzzling grog, cheering your favorite knight at the tournament, or making eyes at that cute bard across the tavern, the Ren Faire offers a fun way to while away a weekend.
Naturally, you'll want to dress the part when you attend — you won't want to give off that tourist vibe in jeans and sneakers when everyone else is dressed to party like it's 1599.
Many girls and women can't resist the urge to don a flower crown, flounce around in frilly layers of skirts, and live out their princess fantasies. Even women who lean toward the more accessible world of wench-wear than the courtly drama of royal regalia will jump at the opportunity to let their feminine flag fly at the Ren Faire.
Whether you're a busty lass or you cut a slim silhouette, there's one garment that will pull your whole look together and truly transport you to a more fanciful time in women's fashion: a corset. How can you complete your Ren Faire attire with the help of a corset, and what benefits will you enjoy in the process?
Styling for Success
Start by learning more about the typical garb for ladies living in this era. Newcomers to the scene might not want to drop a pile of gold on the fancy brocades and heavy detailing demanded by the aristocracy. This leaves two options: peasant or middle class.
Peasant Garb
Peasant or tavern wench styles offer relatively easy entry, thanks to just a few layers (a shift, skirt, and bodice) traditionally available in a limited range of earthy hues. Adding a steel-boned corset will not only help to bring structure to your outfit but also create a more stylish appearance without too much extra hassle or expense.
Middle-Class Costuming
If you want to take it up a notch and increase your styling opportunities, costuming for the middle, or merchant class, is a great option. This type of outfit would traditionally include undergarments like a chemise, petticoats, and stockings, as well as a filler material like a bustle or farthingale to add volume to skirts.
Next would come underskirts, overskirts, sleeves, and of course, the corset, which might be covered by a bodice matching the overskirt. Accoutrements like wigs and hats, along with jewelry and low-heeled shoes, would complete the look.
Since this is the Renaissance Faire — and not the actual Renaissance — you can take some liberties when it comes to costuming. The many layers of this outfit can be a lot to deal with, especially on a hot day. You may want to skip some skirts and perhaps the bodice, which will also save you some expense. As a bonus, you can show off your fancy corset instead, especially if you have a plain overskirt.
Suitable Corset Styles
Modern corsets are often of the strapless variety, but for your Renaissance look, an overbust version that features straps is more suitable, particularly if you plan to wear it in place of a bodice. You can choose corsets with laces or busks in the front if you prefer, but a closed flat solid front is also period appropriate.
If an underbust corset is better suited to your comfort level and your budget, there's no reason you can't work it in, especially if you go with a wench-style ensemble. Just remember that you will need a bra with this style, whereas you can go braless if you choose an overbust model.
Fit and Flatter
As with any corset, you'll want to look for features that offer the best fit and flatter for your figure.
Even within the overbust style, you have plenty of options. For example, you could opt for a longline style if you have a longer torso or a shorter style better suited to a petite stature. Proper measurements (bust, underbust, waist, hip, and torso length) will help immensely.
Pay particular attention to the spring of your garment. This is the difference in ratio between the waist and hip, or how much the corset flares from the waist. Consider that you may need a bit of extra spring to accommodate bulky garments like a farthingale and layers of skirts.
Lift and Support
In addition to adding chic styling to your Ren Faire garb, a steel-boned corset will amplify the hourglass shape that was the goal of this period attire, especially when paired with a farthingale or bustle.
Your corset will give you a lot of lift and support, regardless of your bust size. With your fantasy Renaissance look on lockdown, all that remains is to hit the festival, grab a goblet of mead, and enjoy a taste of the olden times!
---
To stay up-to-date with weekly blog posts, waist training tips, and the chance to win one of our monthly corset giveaways, follow us on Facebook, Instagram & subscribe to our mailing list today! Want to find the perfect steel boned corset? Shop some of our favorites: underbust corsets, overbust corsets, corset dresses. You can also shop our corsets by material: cotton corsets, denim corsets, leather corsets, mesh corsets, pvc corsets, and satin corsets. Have questions about getting started with waist training or finding the right size corset? Contact us!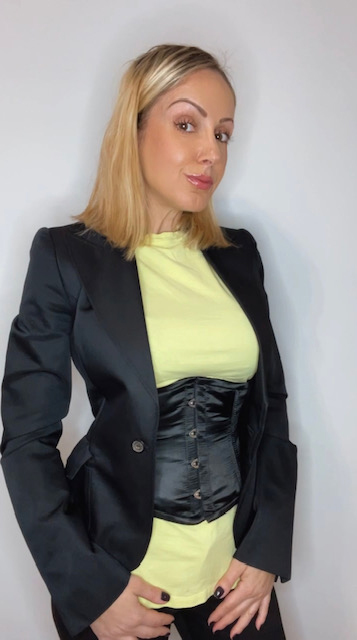 My name is Rachel, I am the owner of Glamorous Corset, a small business founded by me in 2010. Back In 2005, I was in a car accident that left me with a herniated disk. Much to my surprise I learned steel boned corsets were beneficial to several medical injuries including mine. I was always intrigued with corsetry, their history and their beautiful aesthetic. I love sharing knowledge about corsets, educating my wonderful readers and breaking the negative stigma related to corsetry. In combination with my years of research and personal experience I hope my articles are useful and can help anyone who has struggled with some of the same things I have. More about me…