In this video, Gorgeously Vintage talks about how a corset can enhance you silhouette and give you the perfect 1950's shape!
Video Transcription
Bonjour, my dearies. My name is Milena and welcome back to Gorgeously Vintage. So, in this video we'll talk about our corset that can enhance your figure and make our vintage style garments look even more stunning on you.
Glamorous Corsets sent me this amazing steel bone corset. They don't pay me. They just saw that I was loving corset and vintage style. They offered to send me one, which is so, so sweet and I'm super excited to tell you about my waist training journey and why I love steel bone corsets so much. And corsets and vintage style are really the pair because there are a lot of specific style and vintage style, especially in the 1950s that requires an hourglass shape. You want to really have a defined waist. I find that sometimes a corset is your best friend to achieve this look.
They sent me the Jolie short 26 inches and my waist is currently at 30 inches. So, it's a four inch reduction, which is when it's all closed up. This is quite normal for a corset. If you don't want to be tight laced, I would recommend to really, really listen to your body, you really need to break the corset in like an old pair of shoes. So, you really need to take it slow. There are some steps to follow before tight lacing the corset and closing it up. You need to make sure to break in your corset before applying any pressure on your body.
When it comes to lacing the corset, you want to lace it properly, so you have the pressure evenly distributed around your body. You want it to be secure and just tight enough so it sits well on your body. This way you will not feel any pain, nor pressure if the corset is well seasoned.
Personally, I use my corset to wear in the house while I'm sewing long hours. It helps me for my back. It helps me support my back and I do not have any more back pain since I'm using my corset to sew. It's really, really, really useful for me. And sometimes I am using it while wearing dresses for photoshoot. But I don't really wear it for everyday life.
I'm going to lace up my corset and show you how I do it. There are a lot of ways to do it, but this is how I prefer to do it. And after that, I'm going to show you my silhouette in seven different dresses. We can have quite a good idea of the difference of the silhouette it can give. Right now I'm not wearing any corset, I'm wearing a regular bra and regular undergarment. We will see with this dress how it looks.
And so, you want to clip the bottom, clip first, and place it right on your hips. And after that, go for the top one and wiggle it until all the clips are clipped.
Needs a little practice at first, but you will manage after a couple of times that you try it out. So, you see now it is well placed on my body. I have a lot of gapping right here. So, I still have a lot of room. We will tighten it with the first two strings and adjust afterwards. The important thing is that you want the strings and your back panels to be parallel, so it's important that there is the same space in between the top and the bottom of the corset so that the back panel of the same amount of spacing. So, this is where you need to adjust your corset, just need to pull on the x's and readjust.
Let's pull the upper strings. Like I said, mine is not completely closed because I'm not finished with my seasoning. But when I got it, it was like opened six inches. So, my body is getting used to it.
So, you see now on the front, I'm pretty happy with it right now. On the back.
Now the tricky part, it's now time to tie it. I don't recommend just wrapping it around your waist and tying it because you can damage the steel bone of your corset. So, I'm going to show you a technique that I saw in a waist training Facebook group, and I thought that it was the most practical. So, you go at the back, and you just do a simple loop, like so. You bring them up and tuck it underneath the center back panel. You do the same for the other side.
And then you turn around, you bring the string underneath the corset, and you bring them in the center front. You'll have a lot of space here, so it's not uncomfortable. And you do the same thing. And you bring them down the back. Do another loop. Go back to the front. And you tuck them this time underneath here. And after that, you just need to tuck your laces under like so, where there is no laces hanging around, nothing in the back, so if you put it under your clothes it will show. So, here it is. I can move around. I'm feeling real comfortable. I can bend over. It's really helping me support my back when I am sewing because if you are seamstress like me, you are always arched back on your sewing machine. And sometimes you can have a round back. It's not good for back support. So, it's a really good back support. I'm feeling super comfortable.
If you want to start your waist training journey, their prices are super amazing and the quality is incredible. So, I highly recommend it if you want to try and buy one for yourself. I have a promo code, so please feel free to use it. You can save money. As I said, I'm not paid to do this. But I thought I would share my knowledge because I love corsets so much.
And now, I'm super excited to show you the silhouette differences while wearing a corset and while not wearing one between all my seven dresses that I picked out for you. So, let's do a [inaudible].
Let's see how the pink dress looks while wearing the corset. As you can see, it's not just the waist, very nicely. This dress wasn't sewn for corset wearing but I think it looks very nice while wearing or not wearing the corset. It does have a slight difference in the shaping. Now you can see as I'm wearing another style of dress that some of them are getting very, very loose at the waist and the bust because of the corset that gives me a very unique and defined hourglass shape. This one is also getting super loose because I did make this dress without wearing a corset. As you can see, I get a lot of shaping out of it. Same thing here, I think this dress looks a lot nicer with the corset. So, you can really see the example. It gives me like eight inches reduction on the dress that I can pull out in my back. This one is particular because it is a steel bone in it and it's already really shaped. You cannot see any difference with it. But it's still looking really nice with the corset or without it. This one, I think it's the one that you can really see the difference. Look how much looser fit it is with the corset. I love it so much while wearing the corset. I think I should make more dresses fit to wear with the corset.
In conclusion, I love the dramatic shape and corsets really give me that. I think I am going to incorporate much more often a steel bone corset in my wardrobe.

That's it for today's video. I hope you found it interesting and you can easily see how wearing a corset can enhance your hourglass figure and make vintage style garment look even more flattering on you. Please let me know in the comment section if you have any more questions about corsets. I will be happy to answer them.
Thank you so much to Glamorous Corsets for gifting me this amazing corset. This is my new best friend here. I'm wearing it almost every day. And if you want to save some money, you can use the code GorgeouslyVintage15 to save 15% off on your next purchase.
As per usual, if you like vintage style and sewing, please make sure to subscribe and like this video. And I will see you soon in the next video. Au revoir my dearies.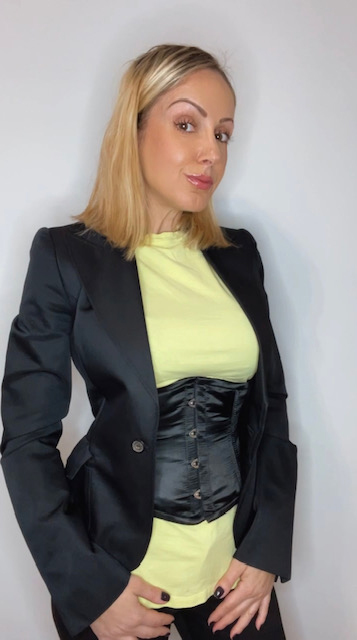 My name is Rachel, I am the owner of Glamorous Corset, a small business founded by me in 2010. Back In 2005, I was in a car accident that left me with a herniated disk. Much to my surprise I learned steel boned corsets were beneficial to several medical injuries including mine. I was always intrigued with corsetry, their history and their beautiful aesthetic. I love sharing knowledge about corsets, educating my wonderful readers and breaking the negative stigma related to corsetry. In combination with my years of research and personal experience I hope my articles are useful and can help anyone who has struggled with some of the same things I have. More about me…