It is not unusual for experienced corset wearers to keep their garments on for 12 hours or more every day. In most cases, donning a corset is safe and provides various benefits to the wearer. However, there are some situations or times in life when the healthiest choice is to retire your waist-training gear, at least for a while.
Baby on Board
There's a reason maternity clothes emphasize comfort — two reasons, actually. First, when you're growing a new human in your body, you deserve to feel cozy at all times. The second reason is clothing that's too tight around the waist, including corsets, can endanger your health during pregnancy.
Heartburn
Heartburn and acid reflux can already be a problem when you're pregnant. Restricting your abdomen with a corset can put extra pressure on the stomach, forcing food and digestive acids back up toward the chest.
Reduced Circulation
Your body is working extra hard in many unseen ways during pregnancy. Almost immediately, blood vessels begin expanding to prepare for the increased flow that's needed to provide for the baby and placenta. Corsets and other clothing items that constrict circulation should be avoided.
Each woman's pregnancy and postpartum health are different, but generally, you can resume corset wearing 8 to 10 weeks after delivery. Consult with your doctor and follow all of their recommendations.
Your Body Says "No"
When all recommendations are followed, most people who try corsets enjoy them safely. No matter your size or shape, a properly sized and seasoned garment should fit like a tight hug. There should be no pinching or squeezing, and your ability to breathe comfortably should not be impaired.
To make sure you're starting out on the right foot, follow these tips for proper fit and wear:
Take accurate measurements: Don't just guess at your dimensions
Start with the correct size: "Sizing down" will result in discomfort and may potentially destroy the garment
Choose a corset style that works best for you: For example, people with a short waist should avoid long-line or overbust corsets
Season the garment slowly: Follow the manufacturer's recommendations
Our website provides a number of resources for fitting, seasoning, and wearing your corset with comfort in all types of situations. Feel free to contact Glamorous Corsets before ordering if you still have questions.
Warning Signs It's Time to Take a Break
While waist training is a positive experience for most people, it may not be for you. Even if you have worn a corset successfully in the past, you should discontinue use if you experience:
Difficulty breathing
Skin irritation
Pressure marks
Pain
Digestive issues, such as heartburn or acid reflux
Numbness or tingling in your back or thighs
It may not be necessary to discontinue use permanently. Give your body a break for several weeks and try again, making extra sure you're following all comfort guidelines.
Why You Shouldn't Fight through the Pain
You may be tempted to grin and bear it. Beauty is pain, right? Wrong. Especially when wearing a compression garment like a corset, it's crucial to err on the side of caution.
Discomfort may be your body's way of warning you that a spinal nerve has become entrapped, or digestive problems could be alerting you of more serious issues like irritable bowel syndrome.
If warning signs don't disappear within a few days of removing the corset, make an appointment with your doctor. It is highly unlikely that corset wearing could cause an ongoing problem, but it is possible the pressure of a corset helped bring an underlying health concern to your attention.
---
To stay up-to-date with weekly blog posts, waist training tips, and the chance to win one of our monthly corset giveaways, follow us on Facebook, Instagram & subscribe to our mailing list today! Want to find the perfect steel boned corset? Shop some of our favorites: underbust corsets, overbust corsets, corset dresses. You can also shop our corsets by material: cotton corsets, denim corsets, leather corsets, mesh corsets, pvc corsets, and satin corsets. Have questions about getting started with waist training or finding the right size corset? Contact us!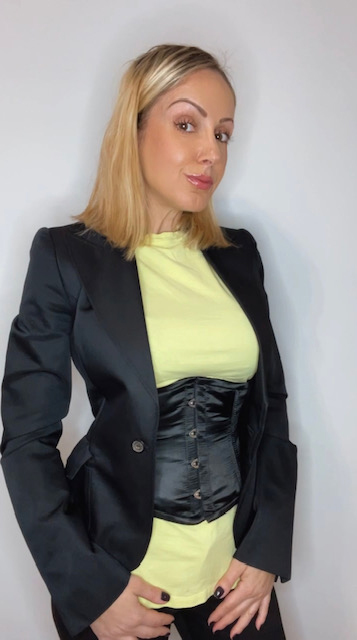 My name is Rachel, I am the owner of Glamorous Corset, a small business founded by me in 2010. Back In 2005, I was in a car accident that left me with a herniated disk. Much to my surprise I learned steel boned corsets were beneficial to several medical injuries including mine. I was always intrigued with corsetry, their history and their beautiful aesthetic. I love sharing knowledge about corsets, educating my wonderful readers and breaking the negative stigma related to corsetry. In combination with my years of research and personal experience I hope my articles are useful and can help anyone who has struggled with some of the same things I have. More about me…