Certain things only get better with age: fine wines and whiskeys, cast iron skillets, cowboy boots, Paul Rudd (seriously, this guy is in his fifties and still looks boyishly handsome… Did he make a deal at the crossroads?). Even garments like blue jeans are a dream to slip into once you've broken them in, and buying secondhand saves you the trouble of softening the stiff fibers.
However, this principle does not apply to every garment in your wardrobe. Steel-boned corsets can certainly be costly, so you might be thinking about saving a few bucks by purchasing secondhand. Is it worth the savings, though? What can you expect when you buy a pre-loved corset?
Softening of the Fabric
Any garment, from the softest jersey tee to the toughest denim, will soften over time as you wear and wash it. The effects of your sweat and natural oils from your skin, movement during wear, and multiple washing and drying cycles will all work to break down fibers over time.
With corsets, there is an added issue of the fabric being under extreme tension. These support garments are made to withstand a lot of use and abuse, thanks to robust textiles and steel boning, but they're not immune to the ravages of time.
When you buy a new corset, you'll enjoy the greatest potential longevity from your garment. Most corsets are good for up to about 10,000 hours of wear. If you waist train for roughly eight hours a day, seven days a week, this amounts to approximately 34 months, or nearly three years of performance.
With attention to care, you'll probably get more life from your garment, but eventually, you will start to notice signs of wear. While you might pay a lot less for a used corset, there's no way to tell how much wear it has already undergone. A well-used corset could significantly decrease your use value and perhaps cost you more in the long run.
Wear and Tear
In addition to issues like fiber degradation, used corsets can go through all kinds of wear and tear that impacts your waist training results. Panels could suffer stretching and rippling; stitching could weaken or start to unravel. You could be left with threadbare fabric that rips more easily.
Even practically indestructible elements like boning and busks could bend. Grommets could come loose. The lacing could also shred, although lacing is somewhat inexpensive and easy to replace.
You might feel confident assessing the condition of a used corset, but the truth is that you're dealing with a product that may have already given the best years of its life to someone else.
A Shape That's Not Your Own
One of the biggest issues with purchasing a secondhand corset is that it has already been seasoned to fit another figure. Choosing the right size corset can be a painstaking process, from taking accurate measurements and understanding how different styles fit your body to determining the best spring for your curves.
A secondhand corset has already softened, so you might think that it could offer easier cinching potential. However, some parts may have stretched to their limit, leaving you with little wiggle room to find your best fit. When you buy a new corset, you can season it to fit your body like a glove from the start.
The Ick Factor
Most people are comfortable purchasing garments like pants, tops, and blazers in gently used condition, but they draw the line at intimate apparel like bras, underwear, hosiery, and swimwear. Which category do corsets fall into?
While technically an undergarment, corsets are generally worn with a layer between the skin and the garment, at least if their owners are long-time waist trainers who know how to protect their skin and extend the longevity of their corset. Unfortunately, there's no guarantee this is the case.
If you get squeamish about the thought of something so close to your skin that has absorbed another person's sweat or body oils, you're probably better off opting for brand-new, even if you plan to wear a base layer yourself.
Perfectly Fitted to Your Body
Generally speaking, you will enjoy the best experience when you purchase a garment that's perfectly sized and then seasoned to your body. If budget is a major consideration, you could opt for gently used corsetry — as long as you know what to look for.
---
To stay up-to-date with weekly blog posts, waist training tips, and the chance to win one of our monthly corset giveaways, follow us on Facebook, Instagram & subscribe to our mailing list today! Want to find the perfect steel boned corset? Shop some of our favorites: underbust corsets, overbust corsets, corset dresses. You can also shop our corsets by material: cotton corsets, denim corsets, leather corsets, mesh corsets, pvc corsets, and satin corsets. Have questions about getting started with waist training or finding the right size corset? Contact us!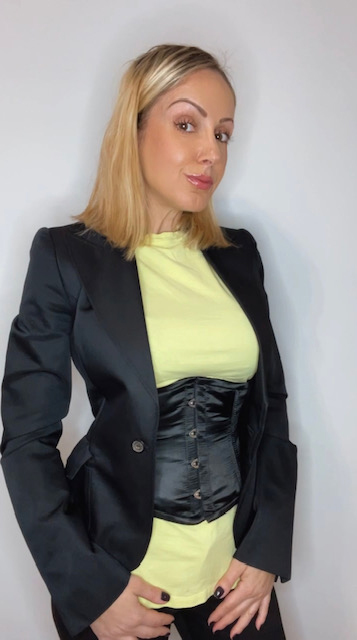 My name is Rachel, I am the owner of Glamorous Corset, a small business founded by me in 2010. Back In 2005, I was in a car accident that left me with a herniated disk. Much to my surprise I learned steel boned corsets were beneficial to several medical injuries including mine. I was always intrigued with corsetry, their history and their beautiful aesthetic. I love sharing knowledge about corsets, educating my wonderful readers and breaking the negative stigma related to corsetry. In combination with my years of research and personal experience I hope my articles are useful and can help anyone who has struggled with some of the same things I have. More about me…